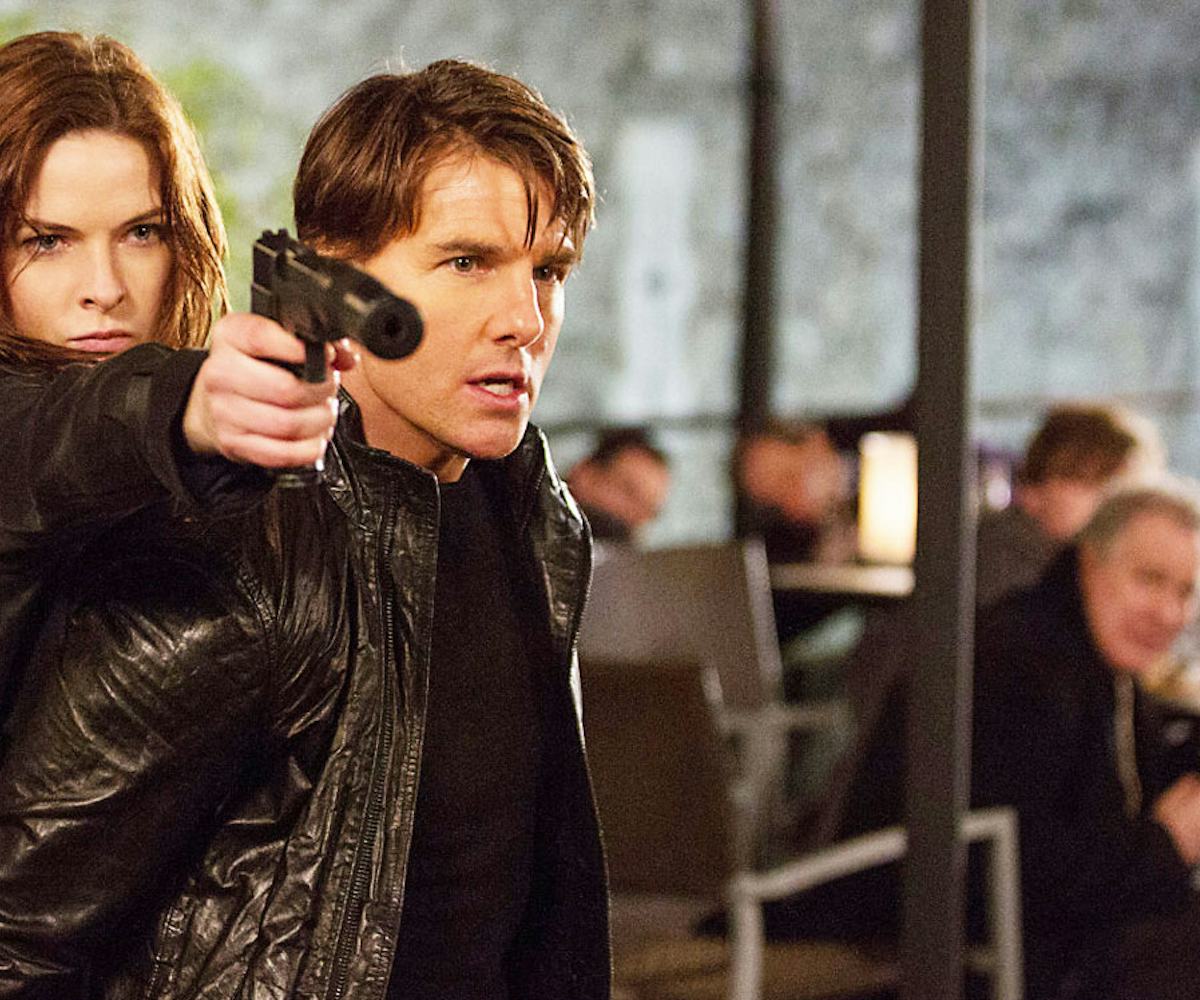 image courtesy paramount pictures
review: 'mission: impossible—rogue nation' is the best kind of bonkers
ladies and gentleman, we have reached peak cruise
Tom Cruise begins Mission: Impossible—Rogue Nation running. Neither he nor the film stop. The best of the Mission: Impossible series by an arm's length, the fifth installment of the reliably bananas franchise is a slick, crackling vehicle for what Cruise does best and, hopefully, will end his decade-long string of movies that, yes, double or triple their budgets, but fail to inspire or leave a mark.
Interested in the plot? Okay, here goes: The U.S. government has shut down Cruise's Impossible Mission Force, leaving his character, Ethan Hunt, on the run from the CIA while he tracks down an international cabal of shadowy terrorists known as the Syndicate. But don't fool yourself into thinking that admirably straightforward premise makes Mission: Impossible—Rogue Nation anything else but bonkers. 
While Cruise's handpicked writer/director Christopher McQuarrie (Jack Reacher) manages to preserve the movie's premise from vibrant set piece to set piece, M:I 5 is—as all films in the series are—really about unnecessarily complex capers, dizzying action sequences, humorous asides, and, well, Tom Cruise. 
At 53, Cruise is a more athletic, intimidating presence than perhaps ever before. Thanks to the creation of a world as high energy as he is, he spends Rogue Nation either bouncing off the walls or quietly, perfectly practicing his particular brand of humor. In his middle age, Cruise has become a more physical comedian who can do more with a twitch of his cheek than most actors can do with a monologue. It's funny—Cruise actually doesn't speak as much as his charming, lovable sidekicks (the wonderful Simon Pegg, Ving Rhames, Alec Baldwin, and Jeremy Renner). But then, he doesn't need to.
It helps that Rogue Nation pairs Cruise with a female lead who, if not his equal, is at least game for the challenge. Swedish actor Rebecca Ferguson is the silky, confident femme fatale foil this series has always lacked. Though she is the only woman in the film and still far too young for Cruise, her Isla is a fully realized badass—a highly physical killer and spy who, you'll be happy to know, introduces herself by taking off her high heels. Neither Cruise nor Ethan Hunt has met a woman like her. 
Oh, and the action? My God, kids, the action. Bouncing from Vienna, to Casablanca, to other world capitals, the action sequences outstrip anything you've seen in a Bond film. From a complex fight sequence set to Puccini to the best motorcycle chase in movie history, it's pure pleasure.
Now, don't get me wrong—Rogue Nation isn't perfect. Though wonderfully creepy, big bad Sean Harris is just no match for Cruise and there are moments of exposition that give the movie just enough breathing room for you to realize it makes absolutely no sense. But, whatever. Screw it. It's the dog days of summer and we deserve Tom Cruise running full speed through a world of judo, gadgets, laughs, convoluted scenarios, and breathless action.