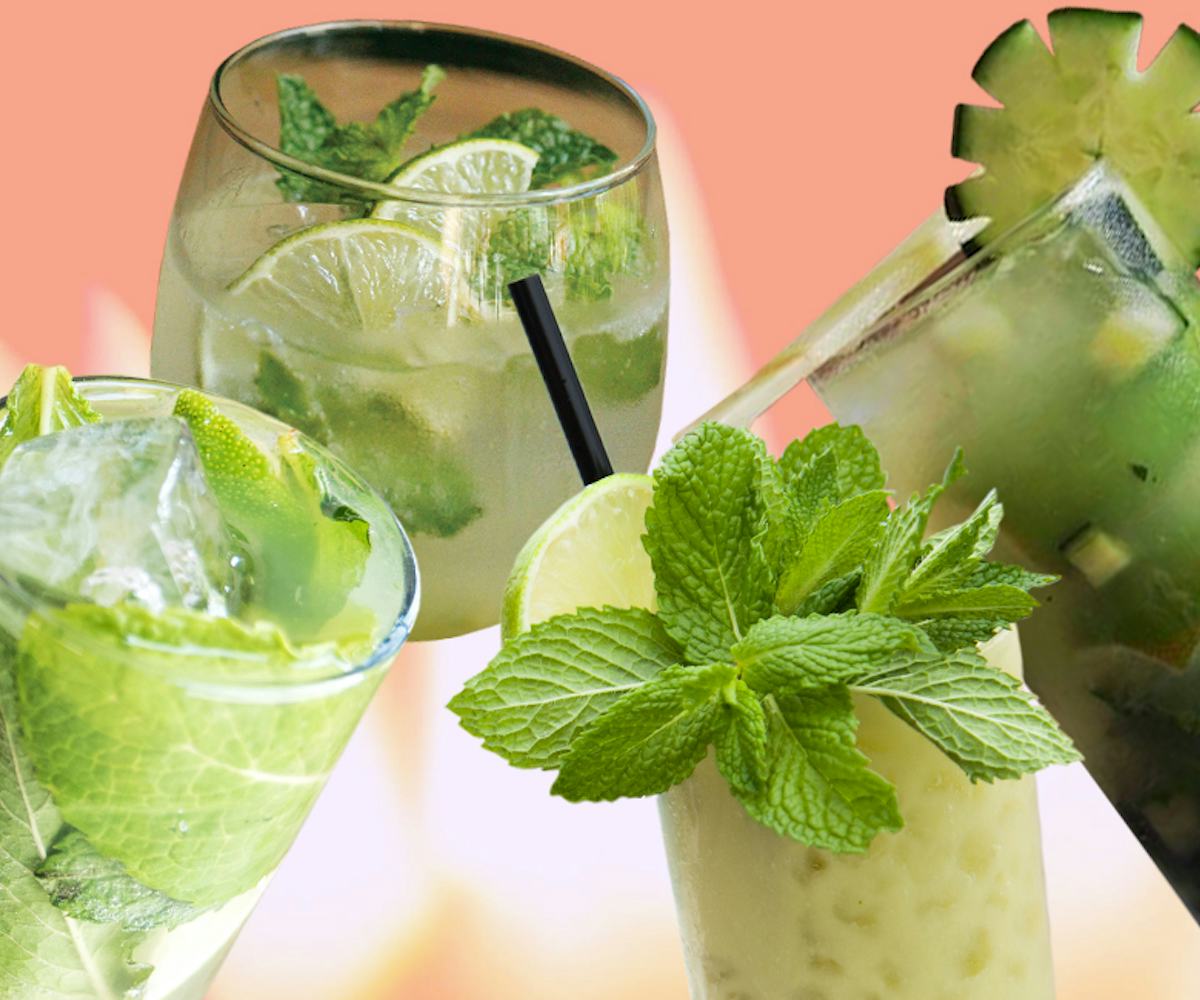 6 Unconventional Mojito Recipes To Try Right Now
Fresh takes on the classic Cuban cocktail on National Mojito Day
In case you weren't aware, today is a very important holiday: National Mojito Day. This traditional Cuban cocktail just happens to be one of our favorite concoctions to sip all summer long, most notably because of its bright, but never overwhelming, taste.
Traditionally, the mojito includes the following: white rum, sugar, lime juice, soda water, and mint. Pretty simple, huh? While we certainly appreciate the classic cocktail for its refreshing, summery flavor, we can't help but want to spice things up once in a while. So, just like any other food- or drink-related holiday, what better way to celebrate than to (throw a party, and) try some of the craziest, most unconventional recipes?
We chatted with six mojito experts from all walks of the booze spectrum about their totally nontraditional takes on the classic mojito. Keep scrolling down for recipes that are sure to impress. Salud!
Gretchen Thomas, Bartaco, multiple locationsAt Bartaco, the upscale street food restaurant drawing inspiration from the beach culture of Brazil, Uruguay, and Southern California, wine and spirits director Gretchen Thomas likes to turn up the heat on classic cocktails. "Giving the classic mojito a spicy kick, the Anchojito Verde is made using Ancho Reyes Verde liqueur, mint, fresh lime juice, and finished with club soda."
Anchojito VerdeIngredients:10 to 12 mint leaves5 sugar cubes1 pinch salt1 oz lime juice1 1/2 oz rum1/2oz Ancho Reyes Verde liqueurSplash club soda7 to 9 whole mint leaves and 2 lime wedges for garnish
Directions:Add mint, sugar cubes, and lime juice to a cocktail shaker and gently muddle. Add in rum, Ancho Reyes, and ice and shake well. Next, double strain into a highball glass and add ice. Rinse the cocktail shaker with a splash of club soda (to grab the remaining sugar) and double strain into the highball. Garnish with mint leaves and limes.
Johnny Swet, JIMMY at The James, New YorkMixologist and co-owner of JIMMY at The James, Johnny Swet knows how to tug on our heartstrings—and taste buds—by incorporating avocados into his magical mojito. "The combination of pureed avocado and lime with rum, mint, and agave nectar makes for a frothy spin on the traditional mojito," he says. "The avocado doesn't come through until the very end of each sip, in the same way you're left with lingering tannins after a taste of wine. If you think of the warmer regions where the avocado is from, it makes sense that it plays so well with rum and tequila." You don't have to tell us twice.
Avocado MojitoIngredients:8 to 10 mint leaves2 oz Sailor Jerry Rum2 oz avocado puree3/4 oz agave nectarMint and lime wedge for garnish
Directions:Muddle mint leaves in a cocktail shaker, then add the remaining ingredients. Shake with ice and strain the mixture into a tall glass. Swizzle with crushed ice and garnish with mint and lime wedge.
Ashela Richardson, Flor de CañaNicaraguan rum brand Flor de Caña is all about adding some complexity and character to their cocktails. Brand ambassador Ashela Richardson feels that when it comes to hosting a party, a little sparkling wine goes a long way—so why not add to the classic mojito? "I think the perfect welcome cocktail ought to have a little sparkling wine with it," she says, "Here, we made a classic aged rum mojito and topped it with some bubbly wine instead of soda water." Another way to mix up your typical mojito? "Use basil in place of mint," she says, "It's aromatic and great for mixing with a complex rum like Flor de Caña."
Ultimate Flor MojitoIngredients: 1 1/2 parts Flor de Caña 7 rum1 tbs superfine sugarLime wedges4 sprigs fresh mintSparkling wine to top
Directions:To create this extra-boozy take on the mojito, begin by muddling mint leaves, superfine sugar, and lime in a mixing glass. Add in the Flor de Caña rum and ice, and transfer all to a cocktail shaker and shake. Strain into a tall glass filled with ice, and top off with sparkling wine and extra mint for garnish.
Jinah Chang, Her Name Is Han, New YorkNew York's Her Name Is Han puts a Korean twist on the classic Cuban cocktail by incorporating a rice-based liquor native to the country, rather than opting for a traditional rum recipe. "By throwing Hwayo's unique flavor from rice into a familiar drink like the mojito, I wanted to create a refreshing cocktail that allows customers to easier approach the Korean dining experience," says Jinah Chang, the restaurant's food and beverage director.
3 to 5 pieces sliced limeFresh mint leaves1oz homemade ginger compote3oz Hwayo2oz sparkling water
Directions:Place limes, mint, and ginger compote into a glass. Using a muddle stick, mash to release flavors. Then, add Hwayo and ice, topping everything off with sparkling water. Garnish with extra mint and limes as desired. 
Luis Zhumi, Oficina Latina, New YorkWho doesn't love a little lychee and ginger? Luis Zhumi, head bartender at Oficina Latina in New York, shares his recipe for the ginger-lychee mojito, one of the restaurant's signature cocktails. "We took inspiration from the Pan-American Highway to develop our restaurant, and we recreate the rich and exotic flavors of Latin America when it comes to our food and drink." The result? A cocktail he describes as both delicious and sexy.
Ginger and Lychee MojitoIngredients:1 oz freshly squeezed lime juice1/2 oz ginger syrup1 oz fresh lychee puree1 tsp granulated sugar3 fresh mint sprigs1 1/2oz white rum1/2 oz lychee liquorClub sodaSpiced rumCandied ginger, fresh lychee, and fresh mint for garnish
Directions:In a highball glass, add fresh lime juice, ginger syrup, lychee puree, granulated sugar, and fresh mint. Muddle gently, not to break the mint but to release its essential oils and aromas. Add in rum and lychee liquor, then fill with crushed ice. Top with club soda and spiced rum and garnish with candied ginger, lychee, and mint.
William Cutting, The Friend, Los AngelesForget the rum. If your looking for a mojito with a bit of smokiness, look no further than head bartender William Cutting's mezcal rendition at The Friend in L.A. "I wanted to create something refreshing and smoky, but with all the familiarity of a traditional mojito," he says. "If this cocktail were a band, it'd definitely be Parliament Funkadelic."
P-Funk MojitoIngredients:1 1/2 oz Vida Mezcal3/4 oz Montenegro3/4 oz lime3/4 oz simple syrup5 to 7 large mint leavesSparkling water
Directions:Mix all ingredients and shake with ice. Top with sparkling water and extra mint sprigs.