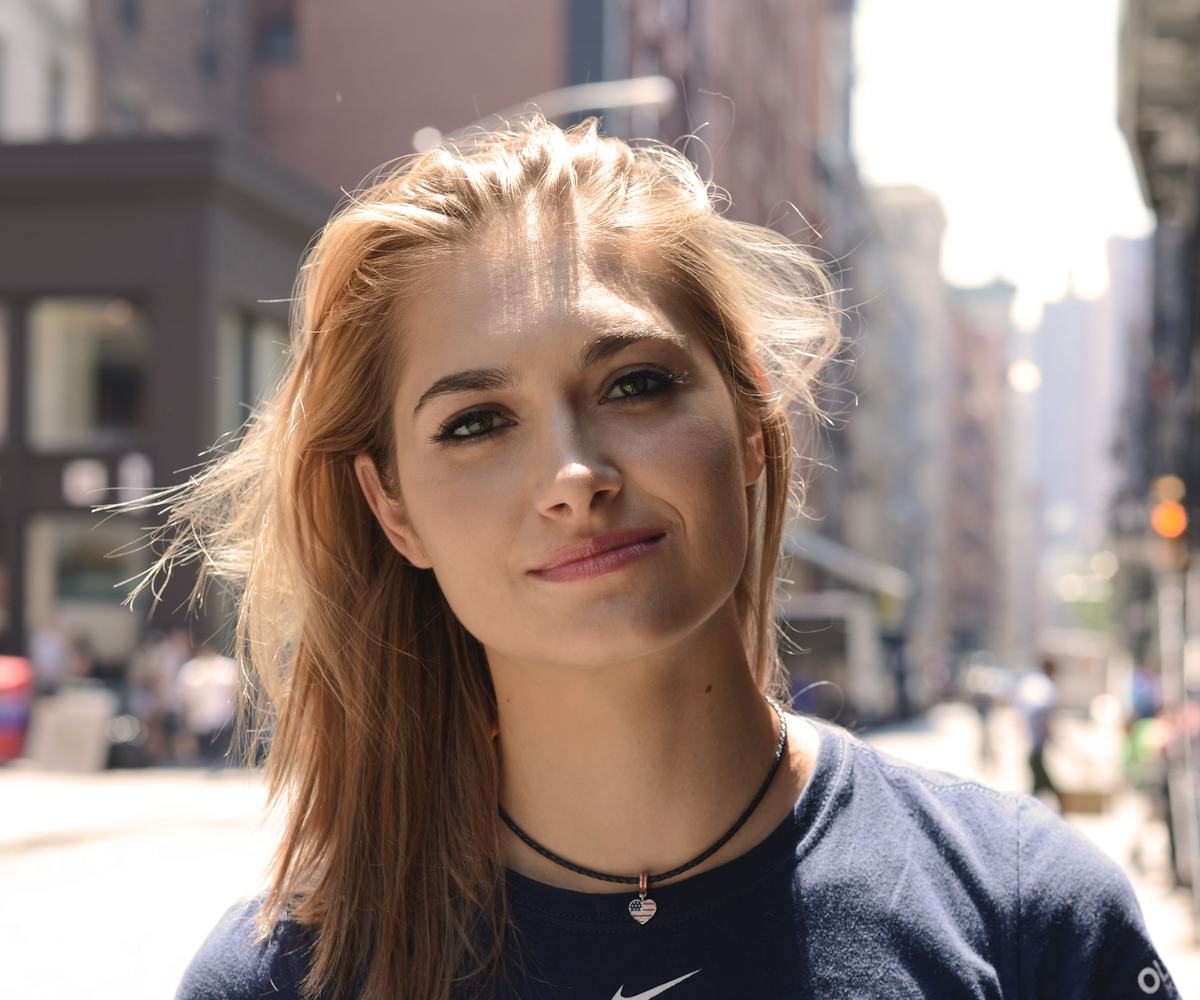 Photo by Ricky Michiels
Fencing Wonder Monica Aksamit's Road To Rio
What it takes to get to the Olympics
UPDATE: Aksamit, along with the rest of the U.S. Women's Fencing Team, have taken home the bronze medal for team sabre event.
While scrolling through my Facebook feed a few months ago, I was so excited to see that one of my oldest childhood friends had just made her dreams come true: She was heading to Rio for the 2016 Olympic games. I've known Monica Aksamit, 26, since elementary school, and I remember the very first time she told me she was going to fencing lessons. "What the hell is that?" I asked her with my fifth-grade potty mouth.
Aksamit's fencing career started around the age of eight or nine (she and her mother still debate this) when her mother sparked a conversation with a fencing coach while at the bank. He worked for a Polish-American fencing school, and since Aksamit and her mother are Polish, her mother thought it would be the perfect fit. 
Aided by the fact that she was very tall at a young age (I do fondly remember my best friend towering over me in the fifth grade), Aksamit excelled fairly quickly. "It was a lot easier to score and hit [the other fencers] because they were little, and probably afraid of me, the giant," she says.
While she fenced throughout her adolescence, it wasn't until she was 14 that she realized how far she could go with it. "I was 14, watching the 2004 games at my grandparents' house in Poland and saw a female fencer win the gold medal. I was like, 'I'm going to be at the Olympics one day.' My grandparents were like, 'Sounds good, Monica, go for it.' That was kind of when I decided I was going to do it—I didn't know anything."
Following this path, Aksamit landed a fencing scholarship at Penn State after high school and continued to be a total badass at her sport. She graduated in 2012 but didn't qualify for the Olympic games that year, so she set her eyes on future gold: the 2016 Rio games.
Aksamit has faced many challenges along the way. Her fitness and diet regimen is pretty strict, to say the least. She trains five days a week, with two-a-day workouts from time to time, on top of week-long training camps six or seven times a year. Food-wise, she maintains a healthy diet with a lot of protein shakes.
But the financial impact of the sport has been one of her biggest hurdles—fencing ain't cheap. "Fencing is a sport that requires a lot of money," she says. "Our suits alone are very costly. Then there's traveling. I've traveled a lot for competitions, the past four years, and have had to pay my own way for the most part—so that's been pretty difficult. I've basically been fundraising this past year."
Although there will always be challenges, Aksamit stresses that you must always push forward and focus. Despite a pretty tough 2015, she managed to fight her way to qualify for Rio due to sheer perseverance. "I was actually in 11th place on point standings, where only the top 4 can qualify. I think even into this past January, I was still 11th—people didn't think I was going to make it. But, I kept fighting. I was like, 'I raised all of this money; I might as well keep fighting.'" And fight she did, having five of the best results of the season since January, landing her a place on the U.S. Olympic Fencing Team.
She explains her success: 
You must remember what is most important in the long run, not for today. You might have a concert you want to go to, but is it really worth missing practice? Are you going to regret that decision later if you don't qualify, or are you going to feel better going to practice, knowing you're giving it your all? Even when things seem pretty far from reach, you must keep pushing. I don't know how I managed to do it, but I fought through it. If I didn't, I wouldn't be heading to Rio.
Watch Aksamit compete once the Rio Olympics begin this Friday.