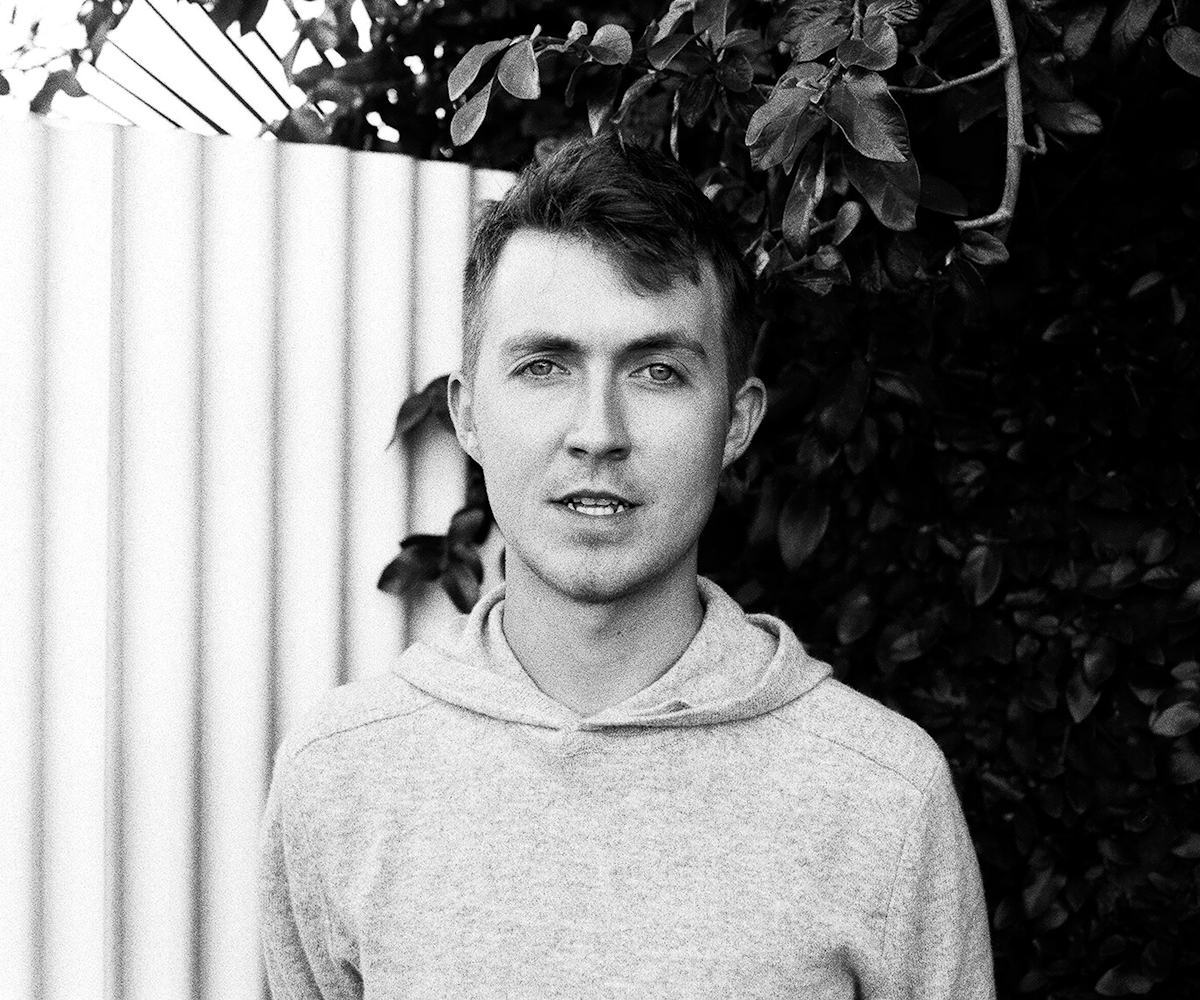 Photographed by Bob Bruderle
Monopol Is Transitioning From Rap's Go-To Producer To Indie Darling
Los Angeles-based producer and artist Christoph Andersson loves many things: a good wine, early morning walks on the beach, and most importantly, creating music. While growing up in a musical family (his grandfather was an opera conductor and his father plays guitar), the 24-year-old New Orleans native spent his teenage years mastering the art of music production. At the age of 22, he started collaborating with California rapper G-Eazy and produced his past two studio albums, These Things Happen and When It's Dark Out.
But under the moniker Monopol, Andersson has switched gears. Now, instead of producing chart-topping rap hits, he's creating lightweight, indie-dance tunes. Today, we're premiering his debut self-titled EP. The four-track compilation is packed with songs that essentially force you to dance, whether you want to or not. With lyrics like "Never thought that we'd end up here / How the fuck can I disappear, gone / I'm so gone" and cheerful synth progressions, Andersson finds his niche in juxtaposing sadness with the upbeat.  
Read our interview with Monopol below while you stream his EP ahead of its release.
Tell us about your journey with music. How did you get started?
I come from a really musical family. My parents gave me my first guitar before I could fully walk. My grandfather was an opera conductor and my dad is a guitar player so music has always been a huge aspect of my daily life. I grew up playing in bands and started producing music when I was in high school. From there, it has just been a natural progression to what I do now.  
What inspired your moniker?
My other obsession in life, aside from music, is wine. The name Monopol comes from the French word
Monopole
, which is a term designating wine that is made in only one specific vineyard, owned by one single producer. I could geek out on that shit for hours.
Your production work in hip-hop with G-Eazy is a total 180 in comparison to your solo project. What is it like mastering two different genres of music? In what ways is your voice in music branching out in both genres?
What's funny is before I started working with G, I had never really been involved with any hip-hop projects. I grew up in New Orleans listening to a lot of early Cash Money stuff, but it wasn't the type of music I made. My role as a producer for those albums was always to try and throw in outside influences into hip-hop records. Monopol is obviously quite different stylistically, as it is much more of my own creative voice. I just write songs that I would want to listen to every day. 
What was it like to work as a producer on G-Eazy's projects like These Things Happen and When It's Dark Out?
I am incredibly lucky to have been involved with those two albums. I learned so much about how hard it is to put together a full body of work from start to finish. I also learned a lot about how to create while being mobile. A good part of both of those albums was made on the road in tour buses and hotel rooms. All you need to make great music today is a good idea and a laptop. 
Has living in L.A. influenced your work with your EP in any way, and how? What does a regular day in L.A. look like for you?
Almost all of the EP was made outside of L.A. actually. The songs were written and recorded in Nicaragua, Vermont, the Gulf Coast, and New Orleans and finally finished in Los Angeles. I live close to the beach out here so most mornings I wake up really early and walk to the ocean. Then I go back to my studio and make music all day until it's time to open a good bottle of wine. I really love being close to the water. It's so different from living in New Orleans.
What artists do you find yourself inspired by in relation to your single and upcoming EP?
Honestly, some of my biggest influences are British new wave bands that my parents brought me up on when I was a kid. For example, the song "Haunting" on the EP is a bit of an homage to Tears For Fears. In terms of contemporary music, I love the new stuff from The 1975, Tame Impala, and The Japanese House.
As you mentioned earlier, it's no secret that you love wine. What wine would you recommend listeners to drink while listening to your EP?
Anything that doesn't come out of a box! Ideally, good Beaujolais.