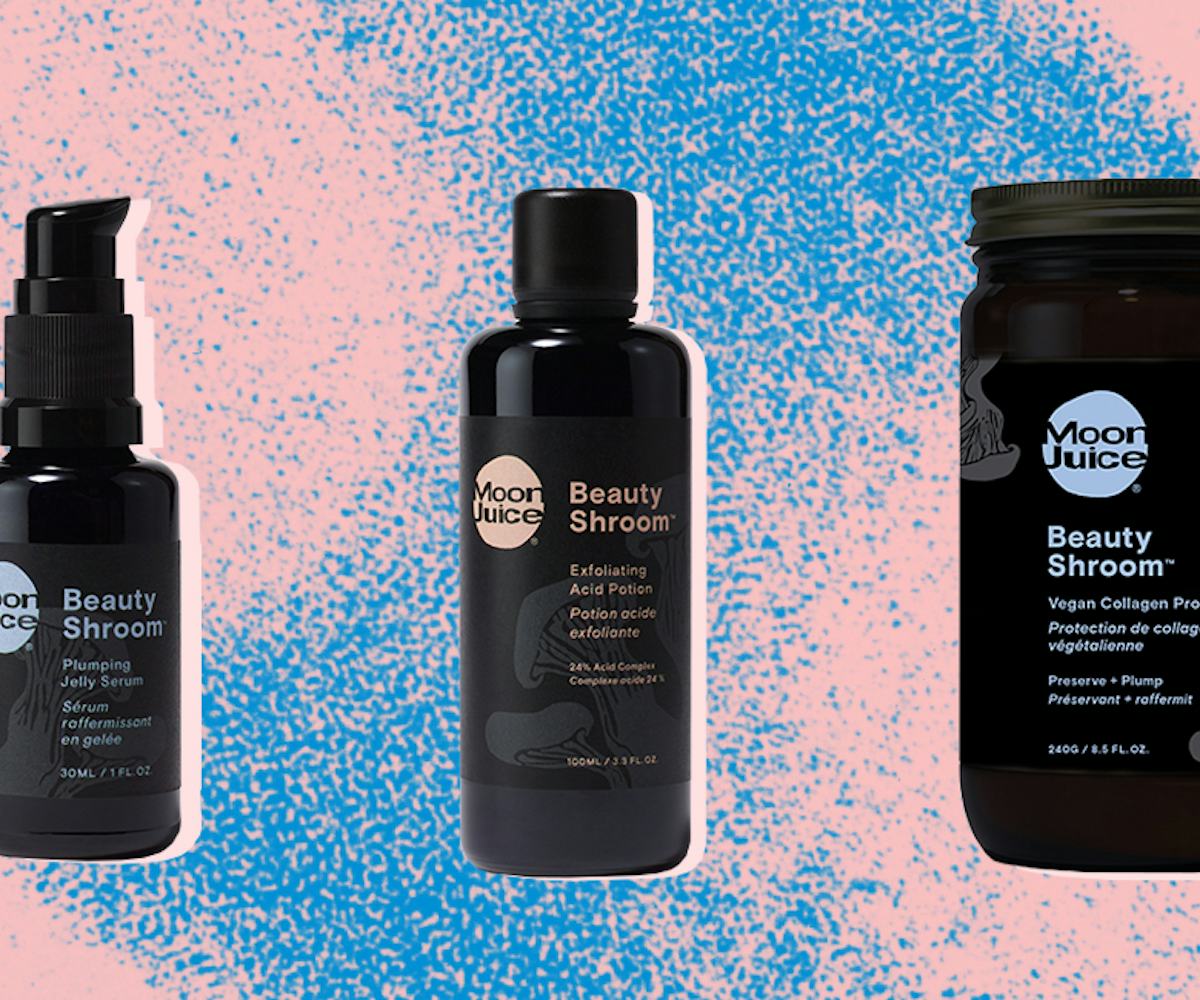 Photos courtesy of Moon Juice
Moon Juice, The Brand Behind Sex Dust, Has Launched Skin Care
And it's all about mushrooms
Even if you're not familiar with Moon Juice, the buzzy wellness brand created by Amanda Chantal Bacon, chances are you've come across its products. The brand behind cult-favorite adaptogenic supplement powders such as Sex Dust and Beauty Dust, which you'll find at just about any hip coffee or matcha shop, is taking its first dive into skin care.
Introducing Beauty Shroom, a three-product skin-care line harnessing the magical benefits of—you guessed it—mushrooms. Okay, the products don't use *magic* mushrooms per se, but you get the idea.
The first product in the lineup is the Plumping Jelly Serum, a morning serum that incorporates silver ear and reishi mushrooms, along with hyaluronic acid, to hydrate and smooth the skin. (This one is a personal favorite, as its light and jelly-like texture instantly melts into the skin sans residue, making it the perfect serum for summer.) Next up is the Exfoliating Acid Potion, a nighttime exfoliant that uses reishi mushrooms, willow bark-derived acids, and vitamin B3 to encourage cell turnover while hydrating the skin.
Last is the Plant Collagen Powder, a versatile vegan collagen powder that can be blended into your smoothie or applied topically to the skin. It uses tocotrienols, hyaluronic acid, and silver ear mushroom to hydrate and moisturize while reducing UV damage and protecting the skin's collagen.
Beauty Shroom is launching this July at Moon Juice, while the Plumping Jelly Serum will launch exclusively at Sephora. Take a closer look at each new product, below.
Moon Juice, Plumping Jelly Serum , $58, available July 2018 at Moon Juice.
Moon Juice, Exfoliating Acid Potion, $39, available July 2018 at Moon Juice.
Moon Juice, Plant Collagen Powder, $52, available July 2018 at Moon Juice.