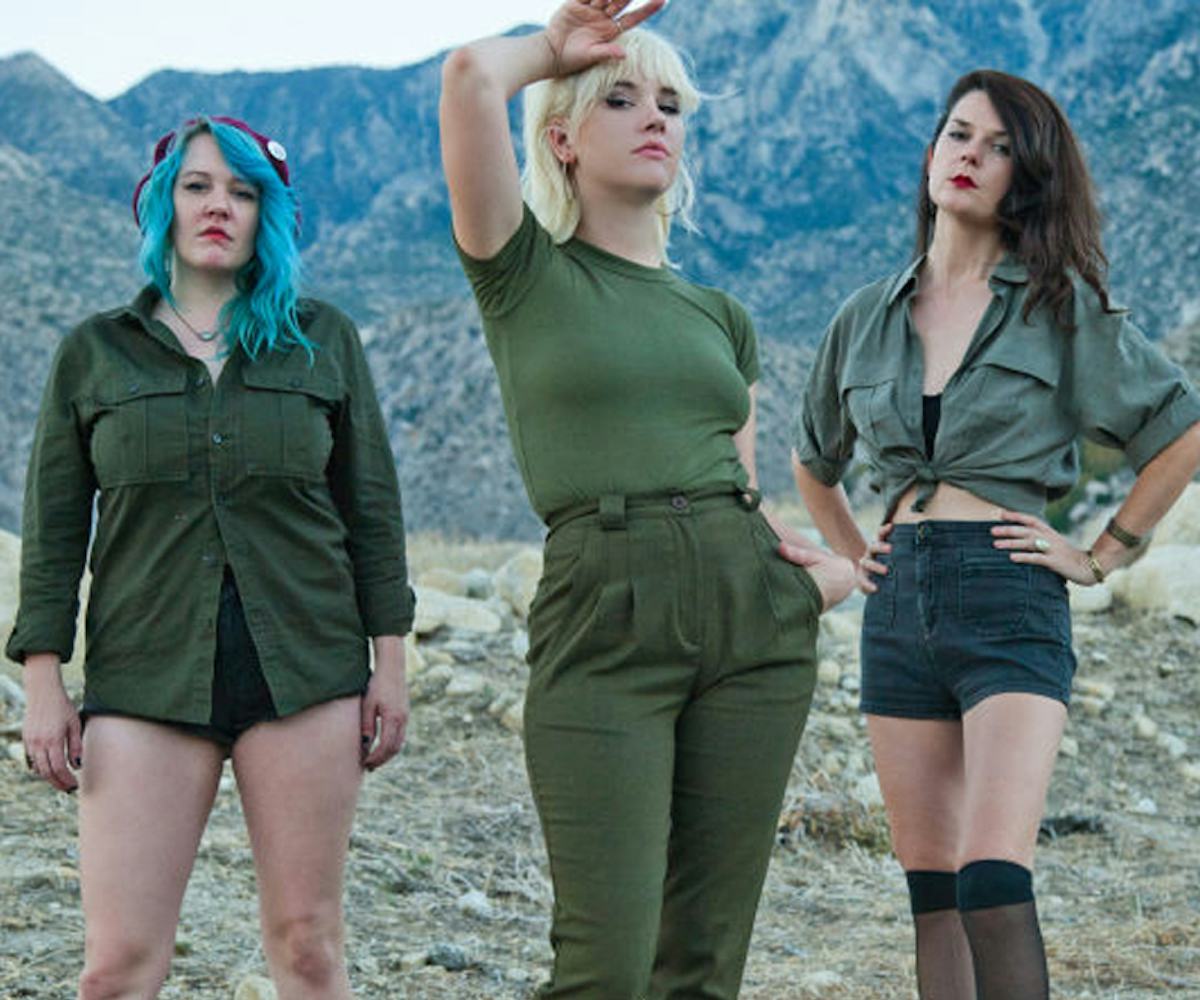 20 Musicians Choose Their Unlikely Songs Of The Summer
Not a Rihanna banger in sight
For a piece of music to be dubbed the "Song of the Summer," a special kind of alchemy must occur. It needs to have a big, stadium-sized hook and an ear-worm quality allowing its melody to burrow inside your head and stay there until the leaves change color. Most importantly, it needs to catch fire at precisely the right time—this is a seasonal phenomenon, after all. But since there is no official committee tasked with choosing a Song of the Summer, this means it's an entirely subjective choice. Desiigner's "Panda" might be the frontrunner for Song of Summer '16, but according to who? After all, summer means different things to different people, and very few songs appeal to all people, all the time. With that in mind, we asked 20 musicians to give us their unlikeliest choices for Song of the Summer, music that embodies the season but would never end up on Top 40 radio. Enjoy.
Gold Panda, "Feel Me Flow" by Naughty By Nature
"In the U.K. in the '90s, there used to be this show on Channel 4 (there were only 4 channels) called
Flava
. It was on at about 2 or 
3am
on the weekends and only ran for about half an hour. If you didn't have cable there weren't really many ways of seeing rap videos. I used to tape the episodes and play them back through my hifi with the volume on max and all the windows open. This was one of those tracks on an episode of
Flava
. I'd be listening to this, trying to dress like Tupac, drinking Baileys on the rocks and playing
Street Fighter; 
walking over to the shops to rent videos and get snacks." 
Icona Pop, "Coconut Kiss" by Niki & The Dove
"We feel tanned by just listening to this song. It makes us wanna dance around on a beach with our friends, sippin' on coconut juice."
Alex Cameron, "Teen Sex" by Infinite Bisous
"Impossible to google. Impossible to stop singing. Infinite Bisous is a filthy hog. A fissure. A writer of beautiful melodies. I've seen him whip ecstatic audience members on their backsides with his belt. He knows what he likes. I like what he does. This is my song of the summer."
Lydia Ainsworth,
"Hissing Of Summer Lawns" by Joni Mitchell 
"With its intro snaking bass line I am instantly transported to a blistering 1970s L.A. summer hillside barbecue. It's as if I can suddenly smell freshly cut grass wafting gently in a summer breeze as Joni ushers her listener into a neo-noir scene taking place in a mansion down the hill. I like to imagine Faye Dunaway in a role similar to Evelyn Mulwray from the film
Chinatown
as the song's protagonist. Luxurious, haunting and full of mystery, a feature film in an auditory matter of minutes."
Xenia Rubinos, "Everything About You" by Glen Washington
"The whole song has this sweet, hazy hot film all over it. You could sing it to your summer crush, to yourself in the mirror, on a lazy afternoon, or play it loud on a long drive to the beach with your hand dancing out the window through the wind. Perfect for a twilight slow dance at the beach with your lover!"
Cole Becker of
SWMRS, "How Does It Feel" by Kamaiyah
"It's really cool to see someone from my hometown making good music. Whenever this song comes on the radio at home we all shiver and sing along, proud to hear a young woman breaking through into the rap world and putting it on for Oakland. Equal parts nostalgic golden-era hip-hop production and innovative songwriting and voicing, Ill Yaya is already among Sly and the Family Stone, Operation Ivy, Hieroglyphics and Mac Dre on my list of East Bay classics." 
Hannah Hooper of Grouplove,
"Nylon wouldn't let us pick our own song 'Welcome To Your Life,' haha, but I've had Dilly Dally's song 'Desire' on repeat since I heard it way back when. It's got this raw pop quality that makes me wanna go out, make out, and break shit all at once. We love them so much, we are taking them out on tour with us in the fall."
Sarah Jones, "Lipslap" by Kero Kero Bonito 
"This song keeps me fit. That's not why I like it but it's a bonus. Listening to it feels as though you are on a trampoline. I don't know about you, but I'm not usually on one so it's a good feeling. While listening to this I'd probably would do something cool like back flip off the trampoline into a swimming pool that also happened to be nearby." 
Jeremy Lloyd of Marian Hill, "Lonely Lonely" by Jamila Woods ft. Lorina Chia 
"This is definitely an unconventional vibe for a summer song, but I haven't been able to stop listening to it lately. The groove is so smooth and relaxing, the harmonic language so easy yet complex, the melody so simple and beautiful. It's exactly what I wanna hear when I'm sitting on my roof sipping a cold drink and grilling up some burgers as the sun sets."
Mutual Benefit, "Thinning" by Snail Mail
"I saw these precocious Baltimore youngsters play in my neighborhood a while back and it was so good that I picked up the cassette and have been playing it a ton. These angsty slow burners are perfect for late night rooftop hangs (bonus points if there is a full moon)."
Girl Talk, "My Shit" by A Boogie
"This song has amazing production from D Stackz and a high sing-along-ability for windows-down, summer cruising. The melodies offer a complex emotional range." 
Rachael Yamagata,
"You and I" by Margaret Glaspy
"I found Margaret Glaspy a few years back on Facebook I think, a clip of her singing or something , and I was immediately crazy for her voice. I tracked her down, told her I was a fan, and found out we had some mutual friends. Her new album
Emotions and Math 
is fierce and 'You and I' has an insane hook and such sass. I love a gal with grit and beauty and humor, and she's a total find."
Imad Royal, "Caroline" by Aminé
"My approach to producing and writing my own music has always been to keep it simple and minimal. Aminé achieves exactly that with his song 'Caroline.' He pays homage to Outkast writing a song about the character Caroline that they refer to in their song 'Roses.' Everything about this song is infectious. The production is tasteful. The craziest part to me actually is that the song is so high energy but has zero 808s, or bass of any kind. Aminé's pocket overall is perfect, he does exactly what you want to hear vocally at all the right times. Making a song this good but also this simple is an amazing skill and is by far my favorite song of the summer. Promise you it's gonna take over. "
HONNE, "Angels (Feat. Saba)" by Chance The Rapper
"Our favourite song of the summer is 'Angels (Feat. Saba)' by Chance The Rapper. We fell in love with this song in the first 20 seconds of hearing it. It sounds like they were smiling in the studio while they were recording it, and the harmony, beat, and feel of the song all make for a great feel-good summer track. One of those tracks where we heard it and thought 'damn, wish we'd written that.'"
Black Marble,
"Nothing makes you want to buy a hula dancer for your dash and swerve through the desert quite like this song. I saw Draa recently in Los Angeles when I got to the venue early to catch the opening bands. It was one of those experiences at a small show on a weeknight were you see a new band for the first time and are blown away.  And really, what says summer more than four kids from Phoenix in high-waisted pants and hollow body Rickenbackers playing shimmery Cherry Red Records-esque songs like its 1982? To me, the song is really evocative of all those hot summer nights when you're young that are filled with anticipation and also a little bit of melancholy."
Starchild & the New Romantic, "Friends" by Francis and The Lights
"Francis and Aaron are new friends of mine, but I know this is an old song they've had for a long time. It's as if Gladys Knight and Prince made a song lost in the vault and it got repurposed by some of todays best and brightest. Only thing more perfect than this song is the video, which acts like a semi-autobiographical Icarus-esque epic done in one shot. We're welcoming Francis Farewell Starlite back with open arms and have this song on repeat all summer long. Oh, and FFS & Bon Iver should definitely be on Jimmy Fallon soon btw fyi..." 
Jay Som, "Short Walk" by The Spirit of the Beehive
"This is my jam right now. It's a heavy and perfectly crafted tune with the sickest lyrics. I've been listening to this band nonstop for tour. They are too good."
Rockie Fresh, "All Night" by Jai Paul
"This song is great to make s'mores to at a summer bonfire."
GOTFY of PC Music,
"Gotta Be A Better Way By Squire of Gothos"
"This is my feel good hit of the hot blazin' summer. It makes me wanna sing on a sun bed; wearing factor 30 makes my skin feel silky and I prosper in the sun. Listen to the sick bass in this smashing song. It reminds me of the summer and summer is my favorite time of the year because I was born in July and an interesting fact about me is that I am also the queen of the sun." 
Bleached's Jennifer Clavin, "Nobody's Baby" by Sheer Mag
"This song is so catchy and the sounds are great. I can't stop playing it over and over! It's so freaking hot in L.A. so I get into my air-conditioned car and drive around listening to this gem on repeat." 
The Knocks, "Friends by Francis & the Lights and Bon Iver"
"Francis is one of the most slept on artists ever in our opinion andd he's back in a huge way with this new song. Sounds like 2016 Peter Gabriel, it's so fresh. It sounds effortlessly breezy and cool."