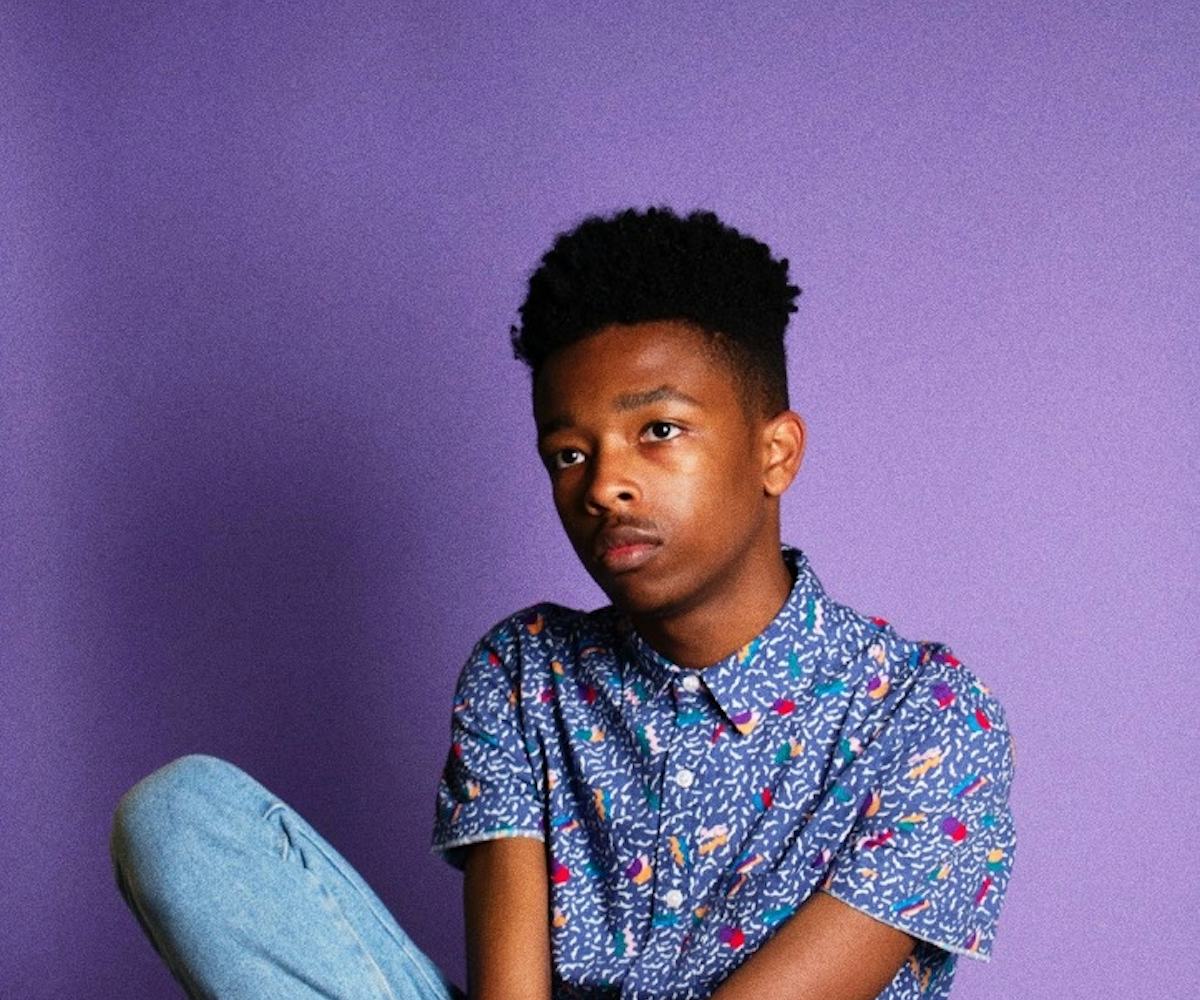 Photographer Myles Loftin Deserves Your Attention
And all the praise hands emojis
Combing through the portfolio of 19-year-old photographer Myles Loftin, it is abundantly clear why he's become an in-demand hired gun for progressive magazines. His work combines youthful exuberance—even his staged portraiture is brimming with organic warmth and intimacy—with a powerful commitment to eroding problematic stereotypes and uplift his fellow artists.
Loftin, who is currently finishing up his freshman year at Parsons School of Design in Manhattan, became enamored with photography between eighth and ninth grade when his family brought his uncle's camera with them on vacation in Italy. From there, the Maryland native began developing his soulful eye and artistic principles.
"When I first started, I was taking a lot of pictures of myself just because I wasn't really confident enough to take pictures of other people," Loftin explains over the phone. "And then, at some point, I started branching out and photographing my friends. I just really enjoy interacting with people and creating great images with them whether they be candid or posed."
Now, Loftin balances commissioned shoots for outlets like Oyster, The Fader, and Urban Outfitters, among others, with personal projects that use both stills and film to make incisive statements about racial inequity in America.
As with many young artists balancing academic and professional careers, it can be tough to keep the two from bleeding into each other. Loftin was asked to shoot a feature for The Fader on ex-Baltimore Raven Eugene Monroe, who is battling the rampant prescription painkiller abuse in the NFL by advocating for medicinal marijuana instead.. Loftin was offered the opportunity after contributing to a Fader piece on contemporary teen culture. The only problem was that Loftin was in the midst of his college orientation in New York, nearly 200 miles from Baltimore where the retired offensive tackle resides.
"I think the editor thought that I was still in Maryland, not that I'd moved to New York for school, so I ended up taking a bus down one day during orientation," Loftin says. "I shot him, and then got on a bus back to school, so it was a pretty cool day."
But while he's honed his skills as a commissioned photographer, and hopes to also begin branching into editorial fashion work as well, Loftin is best known for HOODED, a multimedia project that peels back the layers of coded language and imagery to expose the fraught media portrayal of black teenagers in hoodies.
The project debuted this March on Milk, where Loftin is interning this summer. The images are joyous and playful; the models wear pastel hoodies in front of saturated backdrops, showing intimacy and vulnerability that defy trite notions of masculinity. But Loftin also juxtaposes captures of the Google results for "black boy in hoodie," which include two versions of the enduring black-and-white shot of Trayvon Martin staring into the camera, and "white boy in hoodie."
"I saw a tweet that was a comparison of the two Google searches that I ultimately included in the piece: four white teenagers and four black teenagers," he explains of HOODED's genesis. "It annoyed me that that was what you get when you Google it, and so when I saw that I internalized it, and it was in the back of my mind."
It's a staggering work, and the video is perhaps its most haunting component. As the models (and Loftin himself) rotate, they are peppered with a series of audio clips, beginning with Hillary Clinton's "super-predator" comments from 1996, followed by George Zimmerman's call to the police in 2012, mere minutes before fatally shooting Martin, and ending with a barrage of TV news anchors using the phrase "black male" to describe suspects. Loftin begins by pulling on the thread of how we vilify African-Americans in hoodies, and when it's all finally unraveled, we're left with the frayed heap that is the state of race in the media today. The piece also includes a powerful untitled poem by Leo Avedon.
HOODED is his most striking project, but in his other pieces he's shown a knack for capturing the resonance of quotidian moments, as he did in a photo essay for Rookie where he turned a family reunion in South Carolina into subtitled film stills, as well as a keen understanding of staging and framing, evident in the elegant "Panther Girl Visits the MET." In the latter, Loftin's subject dons a black beret and carves out a space for herself in the lily-white halls of one of the world's most famous museums.
"It's a critique of the museum being predominantly white and male for so long," Loftin says. "Then the moving images were supposed to be her kind of taking it back for herself and creating her own art within the museum as a form of rebellion."
While Loftin is eager to begin studying the formal conventions and history of his medium as a sophomore, the photographer draws much of his inspiration from social media, particularly Instagram. He made his account just before getting his first camera in 2012 and currently has more than 18,000 followers. He uses it to promote his own projects as well those of his friends.
"Ever since I got my camera I've been posting pictures and finding photographers I liked, and through finding those photographers I found what I like to shoot," he says. "Interacting with different people who were in my area or all the way across the world or across the country and just exchanging ideas and supporting other artists and building community, it's been really, really cool."
Loftin's love of Instagram and his desire to promote the works of other talented artists of color (he recently started a Twitter thread celebrating many that he knows and follows) culminated in him being featured as part of Instagram's new Praise Hands campaign. He used the opportunity to shout-out Teen Vogue, writer-model Anzie Dasabe, and Moonlight director Barry Jenkins.
"I've been using Instagram for five years, and now that I'm on Instagram's Instagram, it's completely full circle. It's something I never would've imagined would happen as a 14-year-old posting self-portraits or pictures of my breakfast on Instagram," Loftin said. "I understand it's important to be selfish about your own work because it's yours and you need to be concerned about your growth and your career, but it's also important to uplift the people who are in your community and the people who support you, especially for minority artists because it's so hard sometimes for us to be seen and heard."
With his prodigious talent, work ethic, and penchant for moving, inimitable portraiture, Myles Loftin is doing all the right things to be seen and heard, and he's made it abundantly clear that he has something crucial to do from his platform.
Photo by Myles Loftin
Photo by Myles Loftin
Photo by Myles Loftin
Photo by Myles Loftin