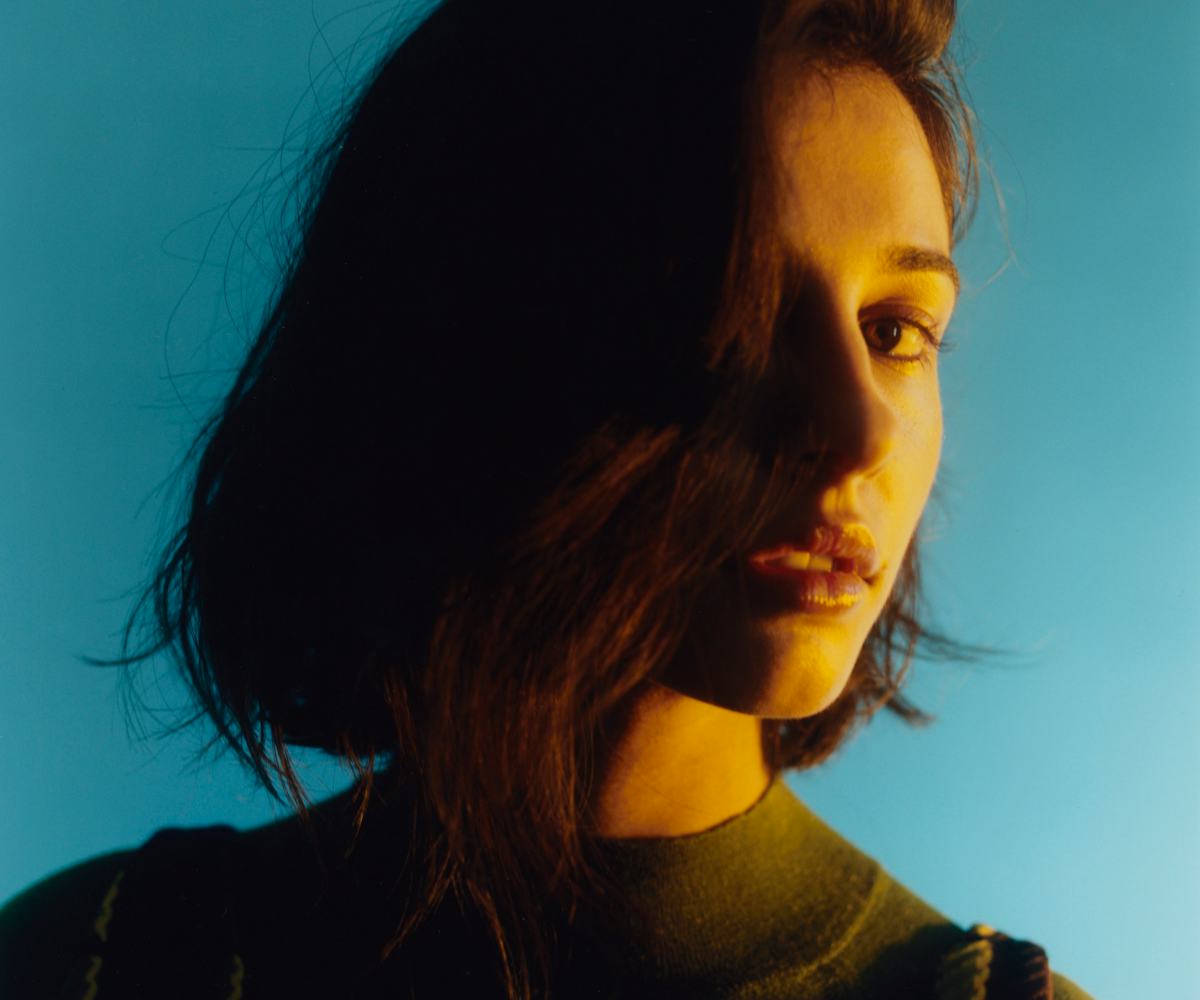 Photographed by Maxine Imbert. Styled by Jeanie Annan-Lewin
It's Morphin' Time For Naomi Scott
As she takes on a leading role in 'Power Rangers'
The following feature appears in the March 2017 issue of NYLON.
"I wanted to be purposeful about making Kimberly not this stupid airhead," says Naomi Scott in her best Valley Girl accent. "Nah," she says, her voice switching back to broad East London mode. "That ain't me." It's an icy afternoon in Highbury, a district of North London, where I find the 23-year-old actress tucked in the back of a neighborhood coffee shop. The Kimberly she speaks of is better known as the Pink Ranger, one of the five color-coordinated, masked heroes in the action fantasy Saban's Power Rangers, a big-budget reimagining of the '90s cult-classic television show and movie.
In Mighty Morphin Power Rangers, which ran from 1993 to 1995, the original Kimberly (played by Amy Jo Johnson) began as a composite of Valley Girl clichés. In the modern-day version, Kimberly Hart is less of a stereotype. A fallen queen bee, Scott's Kimberly finds herself exiled from her school's popular clique, before she and five other students accidentally discover the Power Coins and become the Power Rangers. "It's about the characters, it's not a mask movie," she explains. "We've specifically tried to challenge stereotypes. Kids in high school nowadays aren't just one thing. It's not just like the jocks sit with the jocks." With its ragtag group of teenage outcasts, I tell her the film sounds kind of like a superhero version of The Breakfast Club. She confirms that Rangers director Dean Israelite got her and her fellow castmates to watch John Hughes's delinquent drama in preparation for their roles.
"Funny thing is, I don't actually like pink," she says with a laugh, when I point out her pink iPhone case. In person, she's sporty but stylish, dressed casually in a structured white turtleneck, black jeans, and spotless Adidas Stan Smiths. Scott isn't "into makeup" or fussing over her appearance, but there's no avoiding her girl-next-door good looks. "I think when people see the way I look, they're kind of like, 'Oh, OK! We just want to make you look really pretty,' and I'm like, no!" Throughout her career she's tried to rebel against being typecast as The Hot Girl. "Sometimes in scripts it's very demoralizing," she says. "When you read a comedy, it's exciting because you're like, 'Oh, great! I'm funny! I can improv!' But then you read the script and the female character's not the funny one. She's just there to look hot while the guy's being funny."
Scott was born to a Gujarati Indian mother and a British father, a pastor who raised her on gospel music. While she's not overtly religious, the music left its mark. "Obviously with worship music and stuff, there's a spiritual element to it that you can't fake," she says. "Like Chance the Rapper. You're like, 'This guy, yo, so churched!' But the thing is, he's just doing him." Scott spent her school days in swing band and school plays, dreaming about making music, but it was her acting career that took off first, when she was cast in the Disney Channel UK series Life Bites and Steven Spielberg's short-lived dinosaur saga Terra Nova soon after. 
Today, Scott considers herself a musician as much as she does an actress; she has released two EPs—Invisible Division in 2014, and Promises last year. Her music, which she writes and records in a makeshift studio inside a shed in her parents' backyard, is "alternative R&B pop." She calls FKA twigs a major influence on "the sub-bass, the dirty synths, the low frequencies" and "the grittiness" of her newest EP, due out this month. "I wanted to be very purposeful about waiting for the right time to know exactly who I am musically, otherwise someone else will put that stamp on you," she says. "If I wanted to be a manufactured artist, I could've been. I just think I've got more to give than that."
Top and bra by Miu Miu. Hair: Shukeel at Frank Agency using Bumble and Bumble. Makeup: Megumi at Carol Hayes Management using M.A.C Cosmetics.