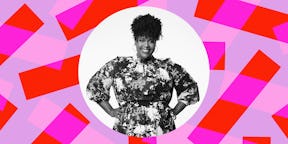 Natasha Rothwell Knows How To Be Funny And Political At The Same Time
It Girl: Natasha Rothwell
It takes a lot to steal every scene from the main character, but that's exactly what Natasha Rothwell does as Kelli on Insecure. She's the funny one who isn't afraid to tell it like it is, enjoys having a booming sex life, and might just take Molly during Coachella and end up getting tased. She has the best one-liners (a lot of which are improvised) and plays the friend everyone wishes they had with such fervor that, well, we wouldn't be mad at a Kelli spin-off show.
Rothwell started out writing on SNL (she interviewed to be a cast member, but didn't end up getting it) and went on to star in Netflix's original show The Characters. A short while after, she met with Issa Rae and, as she tells us, it was love at first sight or, asRothwell's puts it, "awkward recognize awkward."
Now, at 38, she's only just warming up. She'll appear in Wonder Woman 1984 next year and has booked a role in Paramount's live-action Sonic the Hedgehog film. But she hasn't let any of it get to her head. When I ask Rothwell how she feels about being one of the new queens of comedy, she's humbled. "I'm so appreciative of the love and support, and so incredibly thankful for the opportunity to bring joy to so many people."
Below, we talk with Rothwell about how she knew she was funny, why it's important for her to be political, and who her own It Girls are.
When was the first time you knew you were funny? 
I used to play a game with my siblings called "make me laugh" where we would try to crack each other up. Let's just say one of us (me) tended to win (crush) most of the time (all the time). Making my family laugh is still one of my favorite things to do.
You're very politically minded on Twitter, why is it so important for you to use your platform in that way?
Under this current administration, marginalized groups are under attack. I don't have the luxury of staying quiet, so silence is not an option. My platform is a wonderful perk of getting to do what I love, and I'm grateful for the bandwidth and opportunity to speak truth to power, voice my dissent, and galvanize my followers to do the same—and, most importantly, TO VOTE.
For your hypothetical but hopefully future rom-com, who would be your dream love interest?
Ryan Reynolds, Donald Glover, John Chu, John Boyega, Jordan Peele, Idris Elba, Henry Golding, Jake Johnson, The Rock, Chris Pratt, both Hemsworths, Chris Evans, Michael B. Jordan, Trevor Noah… I'm sorry, what was the question again?
Who was your It Girl when you were growing up? 
A three-way tie between Lisa Bonet, Halle Berry, and Mariah Carey.
Who is your It Girl now?
Literally all of the women on the front line of the movement and the moment we're having right now: #MeToo survivors, intersectional feminists, activists, progressive politicians, artists, journalists—ALL. OF. THE. WOMEN. They are my It Girls right now and forever.