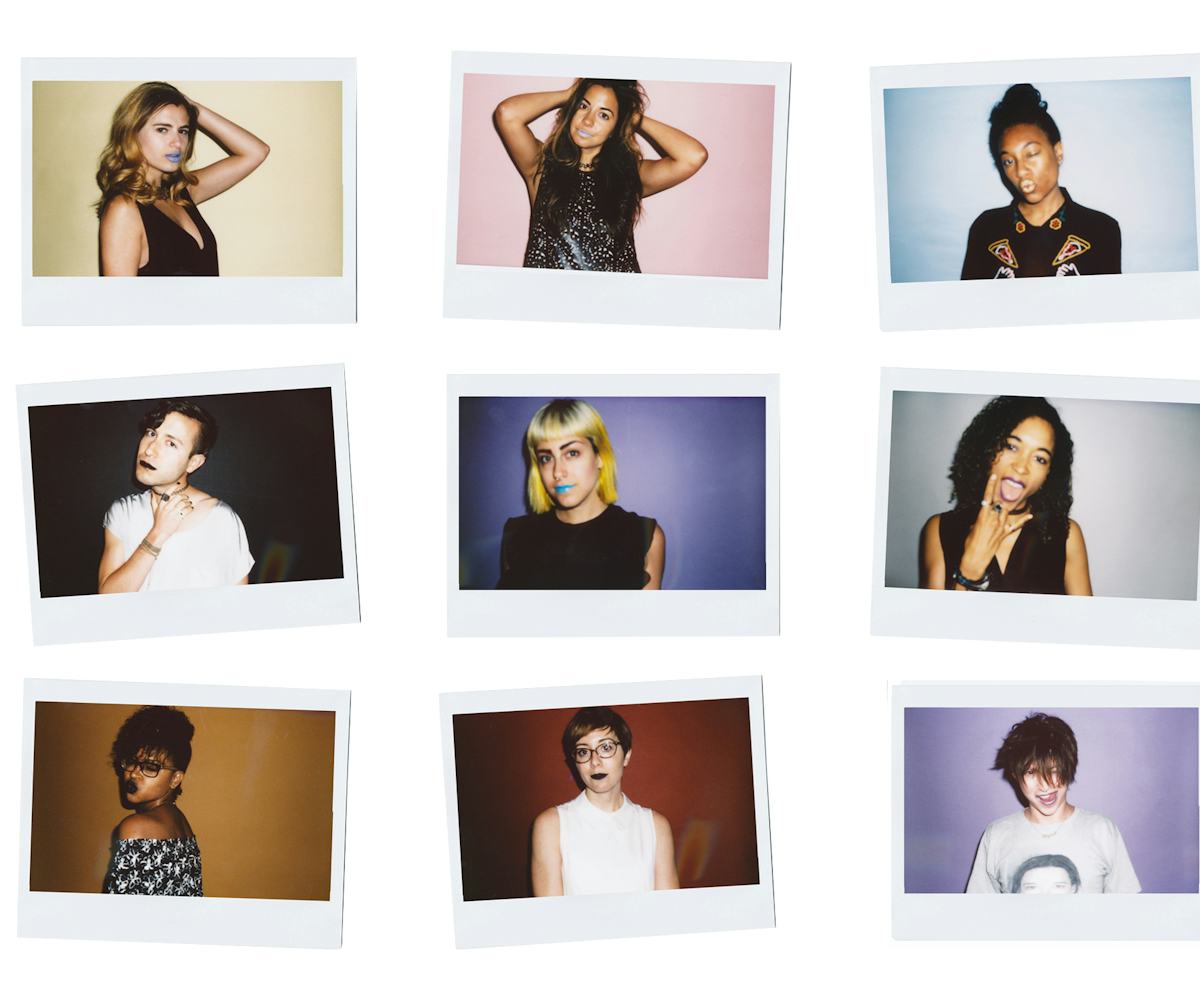 Photos by Ricky Michiels
Happy National Lipstick Day From NYLON
Our editors rock their favorite new shades of the season
Today marks National Lipstick Day, a day to celebrate—you guessed it—lipstick.
While now lipstick may seem like just another beauty product in our makeup bag, once upon a time, it was actually pretty controversial. Believe it or not, it was formally referred to as a form of witchcraft and even banned by the British Parliament in 1770 for being a way for women to trick men into marriage. 
Thankfully, nowadays, lipstick is the norm, allowing us to alter and enhance our looks in a fun and temporary way. 
In honor of this important holiday, NYLON editors wore their favorite lipsticks of the season—and not just your average reds and corals. The summer's new releases encompass a rainbow scale of colors, from black to golden-lime and sky blue. Naturally, being NYLON, we opted for these anything but run-of-the-mill shades.
Click through the gallery below to check out our favorites picks.
Kristin Iversen, digital deputy editor
I usually stick to pretty classic shades, and so a dramatic lipstick has traditionally meant one thing to me: bright red. But I wanted to try something new, and, as it turns out, blue. Just a few clicks down the color spectrum from Yves Klein, this rich hue flattered my pale skin and was far less harsh than black would have been. Plus, it's dark enough that I didn't look too much like Laura Palmer, not that there's anything wrong with that.
M.A.C., Good Luck Trolls Lipstick in 'Midnight Troll,' $18, available at M.A.C. Cosmetics.
Tina Vaden, video editor
I wanted to try a color that was bold, but still in the darker range that I've been exploring lately. I love how vibrant the color is, and it reminds me of the riot grrrls from the high school that I was too young to join up with. It stays on super well—even after eating—and leaves behind an amazing hot pink trace when it does finally rub off.
Urban Decay, Vice Lipstick in 'Pandemonium,' $17, available at Urban Decay.
Austen Tosone, editorial assistant
I love periwinkle, but I usually don't buy clothing in such a bright color. This lipstick was a great way to incorporate a color I love into my look, making it feel more playful with an added element of surprise. As always, I was impressed by the M.A.C. formula—it went on smoothly and held up well.
M.A.C., Lipstick in 'Dew,' $17, available at M.A.C. Cosmetics.
Irina Grechko, digital content editor
I have been obsessed with Tom Ford's 'Black Orchid' lipstick since I first tried it three years ago. While previously I would have thought it was obscene to spend more than $50 on a lipstick, it's incredibly long-lasting, smooth, and I receive compliments every single time I wear it. For the last month of summer, I thought it would be fun to trade a dark burgundy for a pop of neon pink.
Tom Ford, Lip Color Matte in 'Electric Pink,' $53, available at Tom Ford.
Hayden Manders, staff writer
Kylie Jenner said it best when she declared 2016 the year of "realizing things." For me, I've realized a lot of things, like beauty is fun and there's comfort in embracing a fluid gender presentation. Though I don't typically wear lipstick, I love bold, dark lips on others. BITE Beauty's latest iteration of the Amuse Bouche line comes in a variety of shades, all rich with saturated color and food-based ingredients that leave lips soft. I particularly love the versatility of purple, as it's both royal and can—depending on your attitude and outfit—be vampy or understated.
BITE Beauty, Amuse Bouche Lipstick in 'Taro,' $26, available at Sephora. 
Gabrielle Korn, digital editorial director
This color is so dark it's almost black—but like, it's clearly not black, which is nice because I think that part of my life is over. I love that you can't really tell what exact hue it is, it's just DARK. It's also very creamy and fades to a nice deep stain.
BITE Beauty, Amuse Bouche Lipstick in 'Whiskey,' $26, available at Sephora.
Daniel Huskey, producer
Mammoth fossils abound, my obsession with the preservative nature of tar arose from my many field trips to L.A.'s La Brea Tar Pits. Needless to say, dark lipsticks appear prominently in my beauty routine, and Katy Kat Matte's easy application ensures an accessible prehistoric fantasy for all.
Cover Girl, Katy Kat Matte Lipstick in 'Perry Panther,' $8.99, available at Ulta.
Keryce Henry, associate editor
When it comes to lip color, I use nude, red, or burgundy almost exclusively. So when faced with the challenge to think outside of the box (or lipstick tube, rather), I went for navy blue—or so I thought I did, from how this Make Up For Ever x Icona Pop lipstick looked at first. When I applied it, it turned out to have way more of a teal tint to it and, frankly, I didn't hate it. Looks like I have a new hue to add to my rotation this fall.
Make Up For Ever, Artist Rouge Crème in 'C603,' $22, available at Make Up For Ever.
Katherine Martinez, director of e-commerce
I can honestly say I've never worn a lipstick this shade—but I've been made a quick convert! I love the idea of gray makeup (that isn't an overly sweet pastel) as an alternative to all the dark goth-chic shades of the season.
M.A.C., Lipstick in 'Lightly Charred,' $17, available at M.A.C. Cosmetics.
Liz Riccardi, digital design director
I love this deep purple cream lipstick because it's dark without actually being black, which lends versatility. I can wear it and maintain an alt vibe while still feeling like a classy adult. It also has crazy staying power, so the application must be precise—but after that, you're set!
NYX, Liquid Suede Cream Lipstick in 'Oh Put It On,' $7, available at NYX.
Sydney Gore, digital editorial assistant
Like a true material girl, I love shiny things. But when it comes to my appearance, less is always best. I don't like to draw too much attention to my face—especially with makeup—so I usually opt for the natural look highlighted by a subtle, shimmering eye shadow. I never would have thought to try a gold lip, but now that I have, I'm totally into it. Mark my words, this is the official stamp of the glow up.
M.A.C., Lipstick in 'Wild Extract,' $17, available at M.A.C. Cosmetics.
Jenna Igneri, digital market assistant
When it comes to my lips, I'm used to wearing classic reds or super dark, gothy color. However, I fell in love with this super-pigmented turquoise blue from Make Up For Ever. It may be a bit more on the wild side, but hey—why not? Besides, it looks pretty damn good against my yellow-green hair.
Make Up For Ever, Artist Rouge Crème in 'C602,' $22, available at Make Up For Ever.
Yasmeen Gharnit, web editor
Nearly everyone has an arsenal of pink and red lipsticks, but for some reason throwing on a purple-blue hue is considered avant-garde. Perhaps that's the appeal of this shade, or perhaps it's the fact that it makes me look like an extraterrestrial life form. Either way, this vibrant hue is one of my favorite new additions. And at $7, this NYX creation is the perfect introduction to experimental beauty—so go grab one, trust.
NYX, Velvet Matte Lipstick in 'Disorderly,' $7, available at NYX.