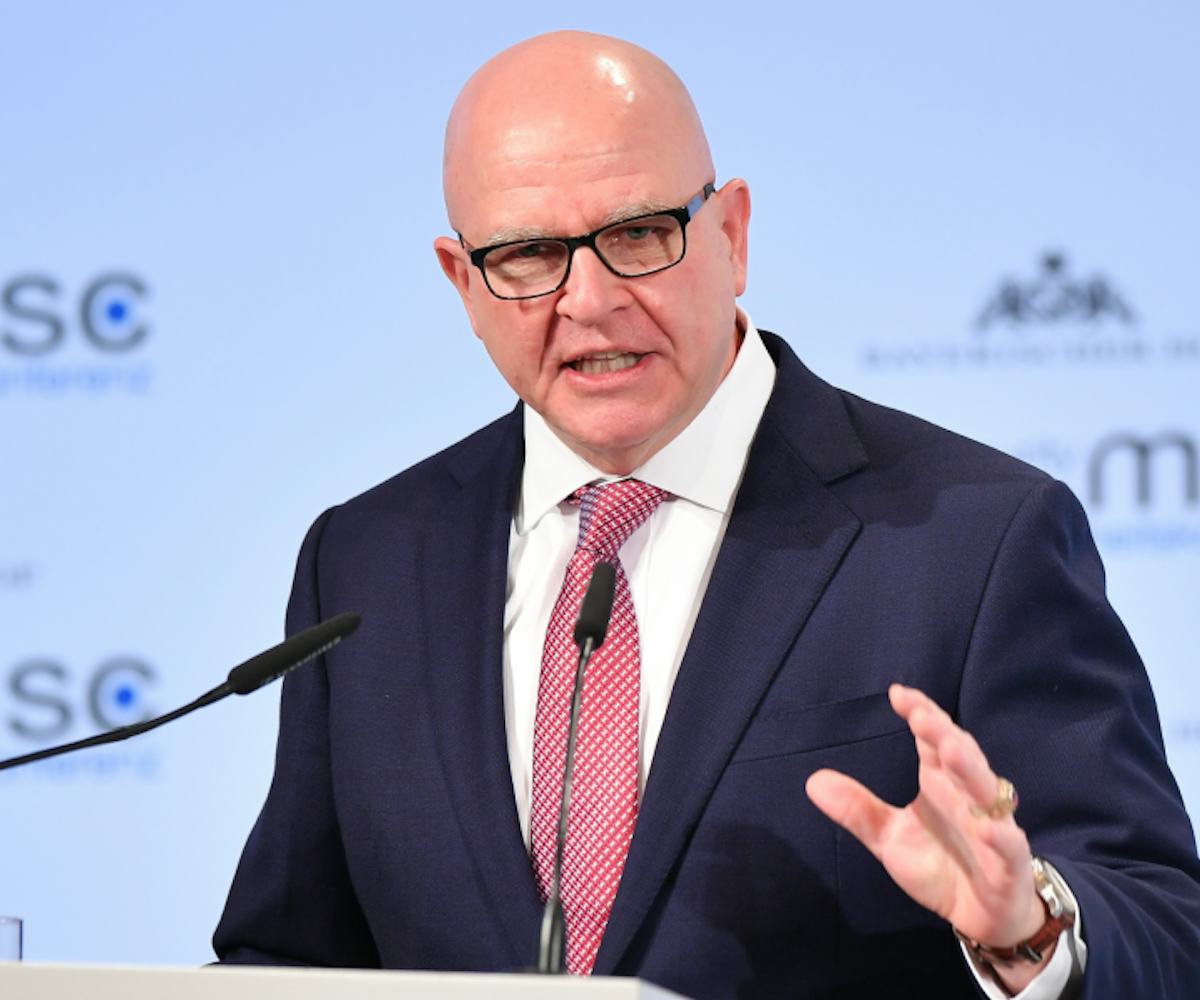 Photo by Sebastian Widmann/Getty Images
Trump's National Security Advisor Says Russian Meddling In U.S. Election Is 'Incontrovertible'
Even though the president has long denied it
At the 2018 Munich Security Conference on Saturday, U.S. National Security Advisor H.R. McMaster confirmed that evidence of Russia meddling in the 2016 presidential election is beyond dispute—a statement that's in direct contrast to what President Trump has been saying since he took office.
"Russia started their anti-US campaign in 2014, long before I announced that I would run for President," Trump tweeted on Friday. "The results of the election were not impacted. The Trump campaign did nothing wrong - no collusion!"
While McMaster said Russian influence in the election is undeniable, he added that Moscow's overall mission to divide the West through this kind of interference is "just not working."  
He made these comments one day after the Justice Department indicted 13 Russians for interfering with the 2016 election. Russian Foreign Minister Sergey Lavrov, who spoke before McMaster at the conference, said of the indictments, "Until we see the facts, everything else is just blabber."
Trump has long claimed that Russia had nothing to do with his unexpected election to office. 
"President Donald J. Trump has been fully briefed on this matter," White House Press Secretary Sarah Huckabee Sanders said in a statement following the indictments, "and is glad to see the special counsel's investigation further indicates that there was no collusion between the Trump campaign and Russia and that the outcome of the election was not changed or affected." 
But McMaster made it clear on Saturday that Russia definitely interfered with America's democracy, saying the evidence is "now really incontrovertible." U.S. authorities are only now speaking out about the meddling because, as McMaster explained, "you didn't want to divulge your intelligence capabilities."
Officials are now working to prevent attacks like this in the future. "The United States will expose and act against those who use cyberspace, social media and other means to advance campaigns of disinformation, subversion and espionage," McMaster said. "We are already improving our ability to defeat these pernicious threats."
When the chair of the foreign affairs committee in Russia's upper house of parliament, Konstantin Kosachev, suggested Russian and U.S. cyber experts meet to discuss the issue of Russian hackers interfering with the election, McMaster shut it down. 
"I'm surprised there are any Russian cyber experts available," he said, "based on how active they have been in undermining our democracies across the West."