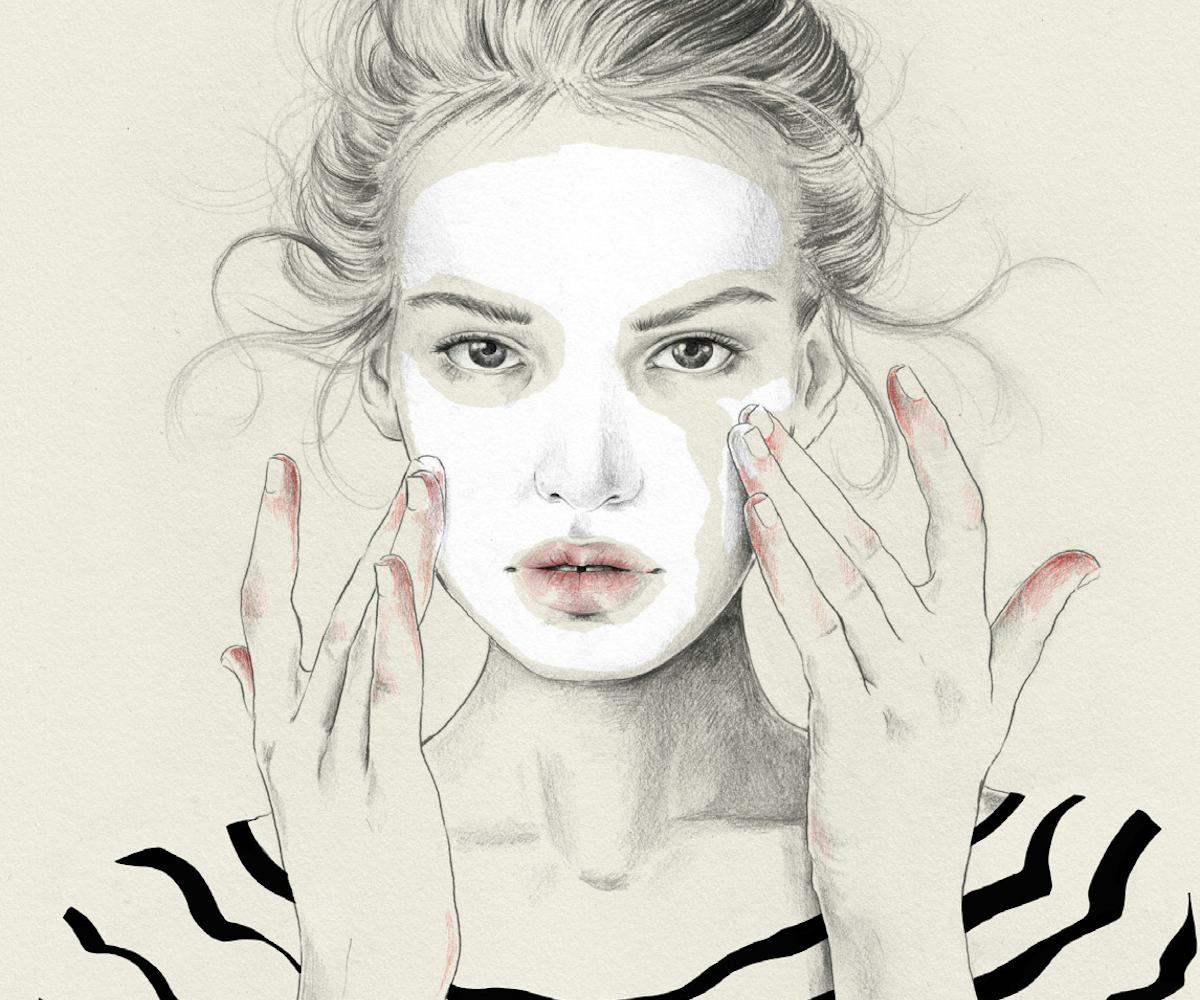 illustration by esra røise 
6 natural beauty oils that aren't coconut
At this point, if you haven't been preached to about the many wonderful benefits of coconut oil, then either we have failed you or you have been living in some sort of cave, probably one with an ideal level of humidity—in which case, we are jealous. But whether you're coconut oil devotee or you're sick of hearing about the natural beauty cure-all, there are a ton of other oils that deserve our love and attention. And change is always a good thing.
With plenty of benefits like skin protection and hydrating powers, these six natural moisturizers are the basics your beauty cabinet is really craving. Leave the coconut oil behind—there are some new (and old) oils in town.
A common ingredient in moisturizing lotions and creams, jojoba oil is one of the most popular oils. It's revered for its hydrating powers. Extracted from the seed of the desert jojoba plant, this oil has a composition similar to sebum—the oil naturally produced by human skin. If you have dry skin, jojoba oil can help balance moisture by acting as both a substitute for and complement to sebum, helping your skin to produce the optimal level of oil. Desert Essence recommends gently rubbing a few drops of oil onto your face, lips, and entire body for instant hydration. Try out this natural treatment if your skin isn't already naturally oily—jojoba can increase shininess in excess.
It may not be the most common oil on the shelf, but rosehip seed oil is a multi-tasking skin-care staple. Rich in essential fatty acids (like omega-3s!) and antioxidants, the cold-pressed oil not only hydrates skin, but replenishes it with revitalizing vitamins—like vitamin A, which works to combat aging. Filled with vitamin C, the moisturizer also helps to stimulate collagen production, resulting in a fresh, youthful appearance. If your skin is naturally oily, don't shy away from adding rosehip seed oil to your beauty regime: This oil penetrates skin quickly without leaving any greasy residue, so you can keep rocking the matte look.
This isn't the type of almond oil you'll find in the grocery store. Sweet almond oil is a lightweight, cold-pressed oil venerated for its anti-inflammatory powers and emollient properties—meaning that this natural moisturizer not only soothes irritated skin but also absorbs into skin quickly to avoid leaving an oily appearance. Also rich in fatty acids, this oil works to help shed dead skin cells and repair damaged cells when applied to skin in a light layer. Bonus: Sweet almond oil works as an all-natural makeup remover. Just add a few drops to a soft cotton ball and swipe off that smoky eye.
Cold-pressed carrot seed oil (not to be confused with essential oil) is an easily-absorbed source of vitamin A, making it a soothing option for all-natural anti-aging skincare. The oil is extracted from carrot seeds and has some of the same properties as not-safe-for-skin carrot-seed essential oil—like its ability to help heal wounds and skin sores. Since essential oils are dangerous to use on skin without the addition of a carrier oil like coconut oil or olive oil, choose cold-pressed carrot oil for an easy-to-use and safe skin-revitalizing moisturizer.
We know that avocados are one of the healthiest fats to add to our diets and we've made our own avocado face masks since we were wee ones, but the oil version of this tropical fruit is changing the skin-care game for the better. Rich in skin-soothing vitamin E, the edible oil sometimes used in cooking is widely used to comfort sunburnt skin and soften rough, cracked calluses. A healthy dose of vitamin A also helps increase collagen production for glowing, youthful skin.
Extra virgin olive oil may be the most widely used culinary oil, but that doesn't mean that it shouldn't be praised for its many beauty benefits. The Mediterranean oil is filled with vitamins and antioxidants that do a body good, even when just applied to the skin's surface. Massaging oil onto the skin helps to repair damage like scars and blemishes, thanks to its healthy dose of vitamin E. Moreover, since olive oil penetrates deep into the skin, it works to moisturize and protect skin cells from exposure to smog and other environmental toxins. Even if your skin is naturally oily you don't have to relegate this ingredient to the kitchen—just apply it when your skin is already damp to help it to fully absorb without leaving any shiny residue.