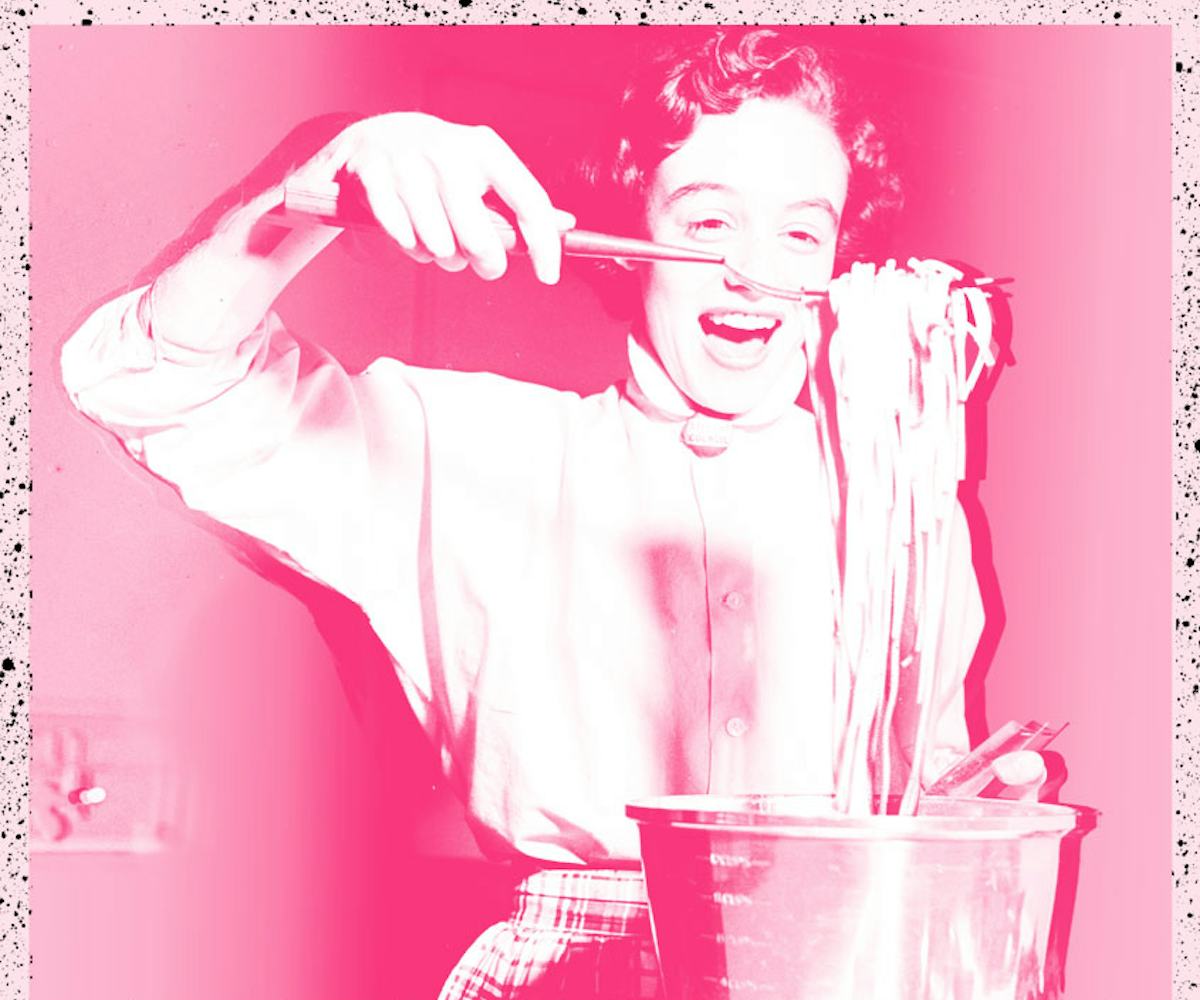 Photo by Orlando / Stringer / Getty Images
8 recipes every adult should know how to make
The first few years living on your own can be tough: Grocery shopping suddenly becomes a necessary chore instead of something you do to help your parents out every once in a while. College living offers the safety blanket of all-you-can-eat dining halls, and takeout makes it easy to forget all about cooking for years on end. But there comes a point in every person's life when they must embrace adulthood full-on and learn how to make at least one meal from scratch. 
We're not saying that being an adult means being a gourmet chef, but knowing your way around the kitchen does have its benefits. Cooking is a valuable skill that saves money and gives you the ability to throw a bomb dinner party to impress all your friends. But if you're not sure where to start, never fear: These eight recipes will get you started on your culinary adventures.
Rachel Schultz's One-Pot Spaghetti
Photo via Rachel Schultz.
This pasta dish will become your go-to on nights when you don't feel like scrubbing a ton of pots and pans, but are limiting your Seamless orders. All you need is one large pot to cook a pound of ground turkey to perfect tenderness and to give spaghetti a delectable creamy touch. Throw in some fresh basil and red pepper flakes for some instant oomph.
Pass the Sushi's Homestyle Mashed Potatoes
Photo via Kita Roberts, Pass the Sushi.
You can do better than instant mashed potatoes. Really, you can. Pass the Sushi's take on this favorite side dish is everything you need in your life: butter, carbs, and comfort rolled into one delicious food with the consistency of a fluffy cloud. This classic can be made with just four ingredients, so what are you waiting for? There's no excuse not to take your mashed potato game to the next level.
CincyShopper's Oven-Baked Eggs
Photo via Cincy Shopper.
Whether you're hosting brunch at your place or you're saving the stovetop for making pancakes and bacon, baking scrambled eggs makes your life so much easier. Cincy Shopper's oven technique will seriously streamline your morning cooking routine and result in some seriously delicious eggs.
The Garden Grazer's Roasted Vegetables and Chickpeas
Photo via Kaitlin M., The Garden Grazer.
The sad, boiled vegetables of your youth have nothing on veggies paired with a little salt and oil. The Garden Grazer drizzles some olive oil over chickpeas, carrots, potatoes, broccoli, cauliflower, onions, and mushrooms for one nutritious side dish (or main course). The addition of garlic and herbs make this healthy dish even more savory.
Damn Delicious's California Quinoa Salad
Photo via Chung-Ah Rhee, Damn Delicious.
For an easy, packable lunch, quinoa salad makes a healthy and tasty option. With some veggies and herbs, this superfood becomes a tantalyzing meal. Damn Delicious makes this California quinoa salad a perfectly sweet dish with coconut flakes, sliced almonds, and raisins. A light dressing and squirt of lime adds a final boost to the simple meal.
Apples + Sparkle's Cuban Black Beans and Rice
Photo via Crystal S., Apples + Sparkle.
You can't go wrong with rice and beans. They're affordable, easy-to-make, and always delicious. Apples + Sparkle uses just the right mix of spices and tomato paste to turn regular white rice into something to write home about. This dish will soon enough become your weeknight staple.
Photo via Photo via Jaclyn Bell, Cooking Classy.
Whether it's taco night, game night, or literally any night of the week, guacamole makes for a universally beloved dip. With a couple ripe avocados, it's easy to make the side dish from scratch. For a fail-proof guide, follow Cooking Classy's basic recipe for the zesty tortilla chip topping. Grab some fresh cilantro and get chopping.
Baker by Nature's Flu-Fighting Chicken Noodle Soup
Photo via Ashley Manila, Baker By Nature.
It may not be your mom's homemade remedy, but Baker by Nature's flu-fighting chicken noodle soup is filled with all the good stuff that keeps you feeling your best. Freshly squeezed lemon juice and minced dill add a refreshing twist to the classic cold remedy, and tender chicken packs in the protein.