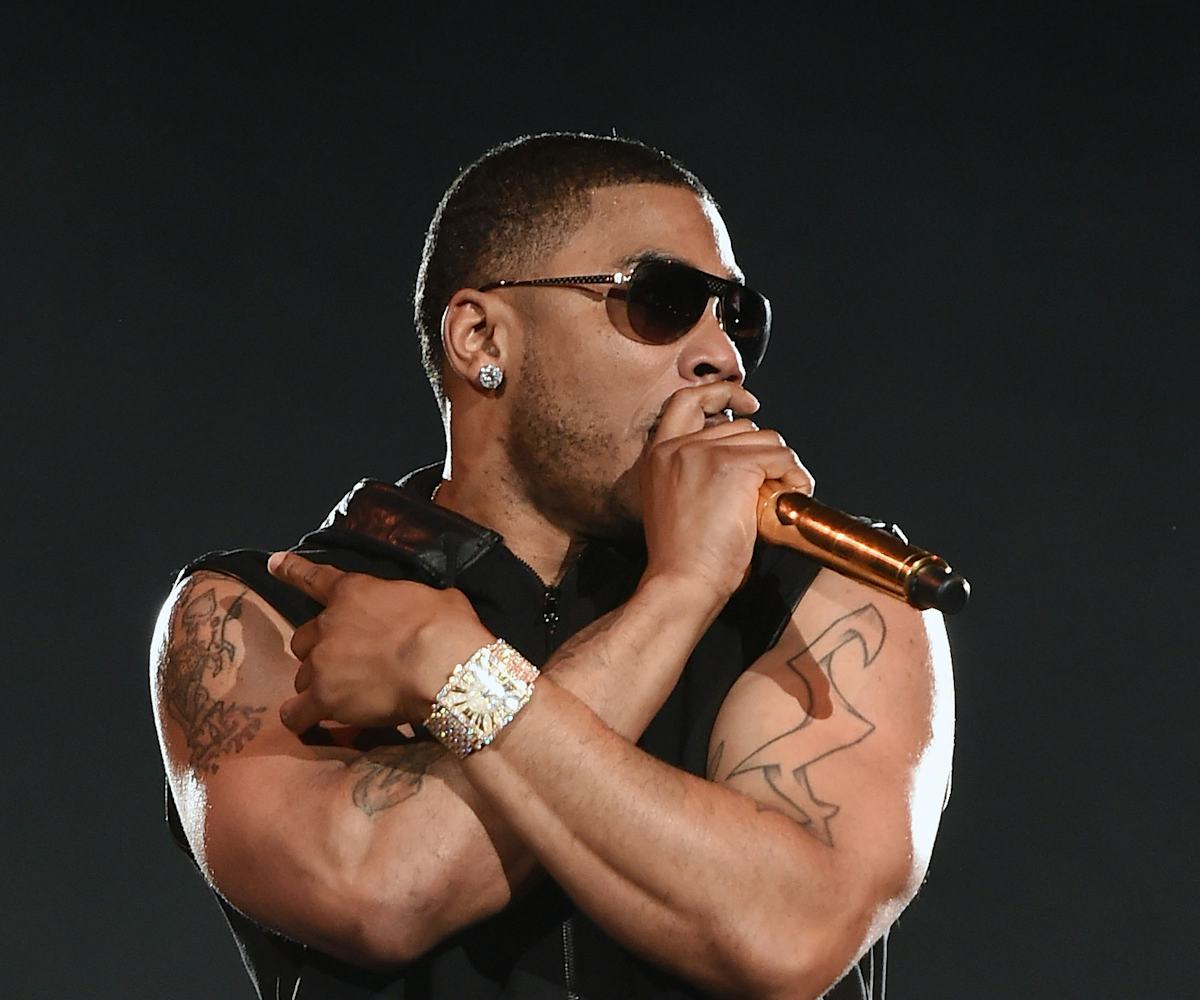 Photo by Ethan Miller/Getty Images
Nelly On Fatherhood, Sexualized Lyrics, And His Legacy
the hip-hop legend looks back
The music industry is littered with the careers of washed-up rappers from the 2000s who never learned to consolidate their gains. More often than not, they'd release one or two club bangers after signing away their music rights to labels, later succumbing to bankruptcy. For every Kanye West, there is an endless sea of Uncle Murdas and Shop Boyz, hip-hop one-hit wonders who fade into irrelevancy after failing to set industry trends and transition to the questionable world of venture capitalism.
Even though Nelly hasn't recently had a hit on the level of his dance-floor classic "Hot in Herre," the St. Louis native has carved out a unique brand for himself after selling more than 21 million records. He launched the female clothing brand Apple Bottoms (the muse behind Flo Rida's iconic single "Low"), along with the male-oriented fashion company Vokal, an in-your-face line of urbanwear with more flare than Fubu. Something a lot of people also don't know is that Nelly is also heavily involved with charity outreach. In addition to running his own non-profit, 4Sho4Kids Foundation, which educates minority youth about leukemia, the hip-hop mogul also started his own music-production school in his hometown. With a new single out, we called up Nelly to discuss business, his philanthropic projects, and legacy.
Why'd you give up the white Band-Aid?
I don't know. It got old. It wore off. 
What's some advice you'd give to younger rappers from a business standpoint?
Just learn the business, that's the biggest thing. Just know what it is that you're getting into. Just know what it is you're supposed to give, and understand what it is that you're signing away when you do a deal of any sort. Understand what they're responsible for. 
What a lot of people don't know is that you actually started your own business and music school in St. Louis a while ago. Where did the inspiration to do so come from?
It's just an idea that I've always had. Kids just want to understand a little bit more about [the music industry] and what goes on and what goes into it; it helps people like myself become who we are. A lot of times, things behind the scenes get overlooked. Not everybody can be in front of the camera, but everybody can be a part of this business. So, that's what we try and help provide, as far as who we teach mixing and mastering. We teach people how to be producers, we teach the Business 101. It's a lot of different variations of where people can help, people such as myself or such as their own self, or people who they think takes further steps than them. 
What's been one of the proudest moments that you've had with the school?
Just graduation, you know? Having kids take it so seriously and having them excited about something. A lot of these kids don't have a high-school education or a GED. A lot of them are lacking that regiment of where they want to go right now. In their lives, they're about 19 or 20 years old and a traditional college might not be in their future, but they still want to make sure they can be an addition to what it is they want to do in life. Some of these kids have made mistakes but want to change. 
What are some ways to motivate children? 
You just hope that your success is some type of inspiration if you can't light a fire under the kids, which sometimes is a little difficult to do. But a lot of times, just being alive is the encouragement; it helps get the brain started. 
You lived in St. Louis for a period as a teenager. Currently, it goes back and forth between Detroit and Baltimore as the most dangerous city to live in with the United States. What are some local efforts you think could be implemented in order to give it more of a turnaround?
You just have to be mainstream and who you're involved with and try to inspire a little bit more. You know, everybody's got their own issues. I love the city of Baltimore and D.C., they've supported Nelly all throughout his career. Hopefully, you reach the ones who want to be reached. 
What do you think about in terms of state policies that could be implemented in order to provide change? 
I mean, now you're getting more into politics. That's a little different. That's a little different walk of life. But I always try to encourage fellas from the neighborhood to, if you're able to make it out, go on to higher education and put yourself where you can get support so you can then contribute to the neighborhood, whether it be politically or mentally. It could be talking to the youth or a speech to the nation, but you obviously know that you come from certain situations and certain restrictions to make it, you know?
In your recent song "The Fix," some of the lyrics go, "So come and get this dick/bust it open every time I get up inside soakin' wet/we turn the bed into a Slip n' Slide." Is this referencing anyone specifically?
No man, that's just a good song. 
Have you ever thought about being more subtle with highly sexualized lyrics? 
No, no, no, you're not talking about sexualized lyrics, you're talking about actual creativity. Music is hard. Let the artist be the artist. When you start tampering and you start stifling creativity, you don't have art anymore, you have a controlled substance. Listen, I get it—all art isn't for everybody, but that's what being creative is. 
Who would you say is the main target audience?
Anyone who likes it. You try to be as diverse as you can, but you just want to make music for those who understand it. But don't get it twisted, I understand that there is some music that is for children and there is some music that is geared toward adults. That's a lot of things in life. With alcohol, you have to be a certain age to drink, but you have to be a certain age to do a lot of things. I suggest that if you're a parent and you're listening, and you're uncomfortable with your child's age, whatever age that is, then I suggest you try and get an edited type of version. If you're confident and you understand and your child understands the logistics of what's going on, then maybe you let them listen to something. That all depends on the age, whatever it is. I thought 18-year-olds were old enough, but I don't know. 
How do you think your artistic style has evolved over the years?
I've been fortunate enough to be in the business for well over 16 years and just get really good. I just think the only way you last is if you come up with different ways to implement yourself in what's going on. 
If you could take shots with anyone from history, who would it be?
Who wouldn't want to take a shot with Michael Jackson? I'd take a shot with 2Pac and Biggie. I'd like to take a shot with Elvis. I bet you Elvis could probably turn up; he's probably got some stuff waiting. 
What are some life lessons you've learned as a father?
Patience is the biggest thing. 
What do you want your legacy to be?
I don't know yet. That's something I have to figure out, and no matter what you want it to be, it's going to be what it is. I just try to work on what I got and be as true to myself. I can't let anyone stifle my creativity because they have an opinion about it, but I just try to give the people that supported me my honest reaction.