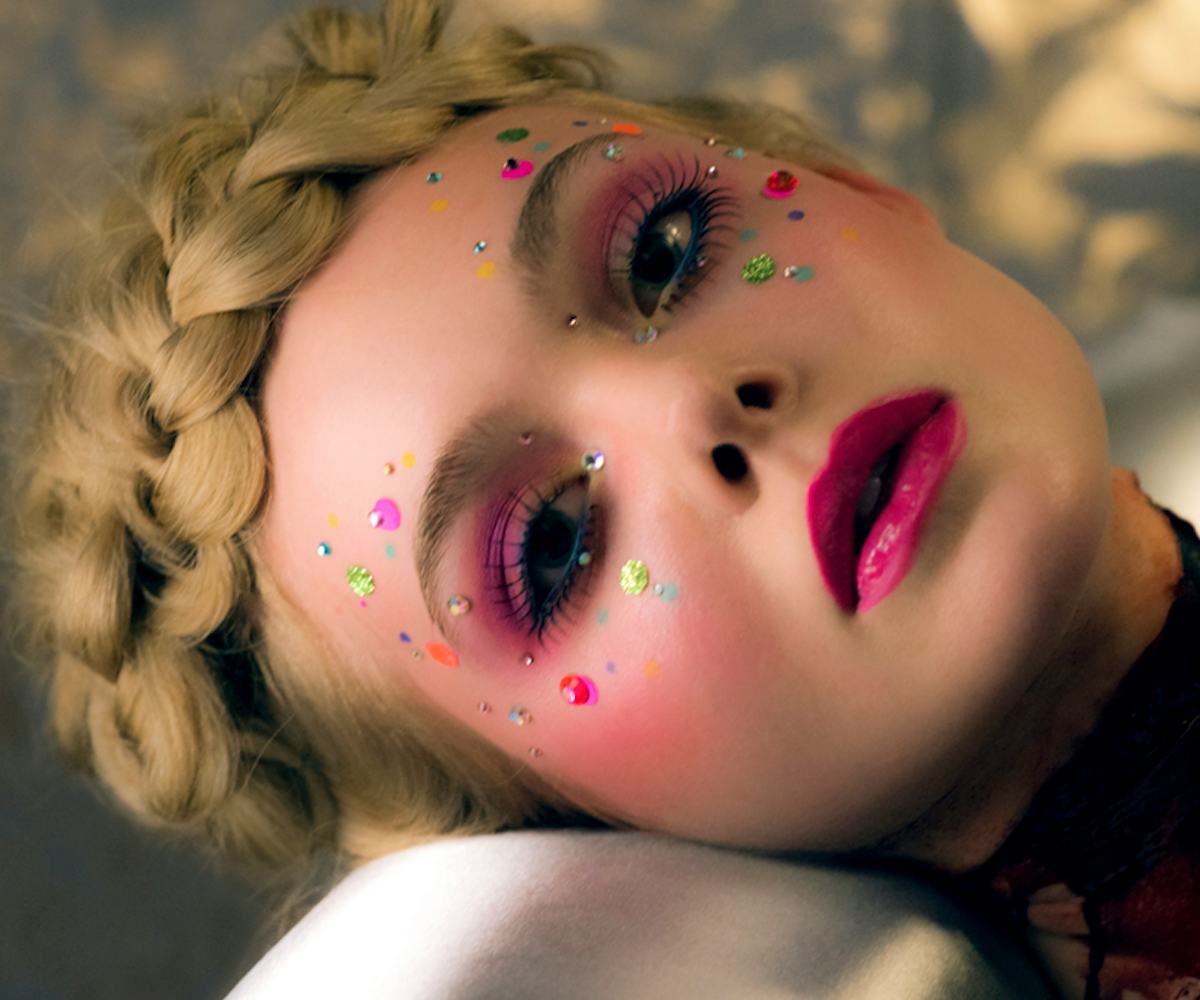 Photo via Gunther Campine
The Beauty Looks In 'The Neon Demon' Are Out Of This World
We chatted with lead artist Erin Ayanian about what influenced her stunning work
Today marks the release of Nicolas Winding Refn's new film The Neon Demon, starring Elle Fanning, along with Jena Malone, Abbey Lee, Bella Heathcote, and Keanu Reeves. The story follows the life of 16-year-old Jesse (played by Fanning), an orphan who moves to L.A. to pursue a career in modeling, where she gets sucked into the dark side of the industry. 
While the actual plot is getting mixed reviews, it can't be denied that film itself is visually stunning, with the runway-inspired fashion and beauty looks playing a crucial role. I had a chance to chat with Erin Ayanian, lead makeup artist for the film, to talk more about the creative hair and makeup.
When I asked Ayanian what the inspiration for the beauty looks in the film were, she said she was influenced by Refn's vision and script. "The phenomenon of social media, pop culture's worship of beauty, and the social elevation of anyone lucky enough to possess it has given birth to the celebration of narcissism," she says. "It's a new idea in our culture, one that was unthinkable just 20 years ago. Nic [Winding Refn] takes all these elements and extrapolates them to a possible conclusion that is chilling in its implications. I wanted the makeup to reflect that extremity while maintaining an inherent sense of humor throughout."
"Nic [Winding Refn] is color blind, so he likes a palette of vivid color and contrast," she continued. "He creates a real think-tank atmosphere on set and encouraged me to use my imagination," However, Fanning also played a big role in the final looks, collaborating with Ayanian on the final decisions.
Being that the looks were so extravagantly editorial, Ayanian had to use some products that weren't typical. "We used everything from Swarovski crystals and bits of neon fabric cut out with a hole punch to actual gold vinyl and multi-colored iridescent powders," she says. The gold vinyl look happens to be her favorite look of the entire film, which she had actually made for Fanning year prior to filming.
She also noted that there were a few products on set for every scene that were her go-tos: M.A.C. Fluidline Liner in Blacktrack, which she notes (in all caps) "WILL NOT BUDGE," M.A.C. Silver Dusk Iridescent Powder (which, unfortunately, is no longer available anywhere), and a surplus of individual lashes.
Be sure to check out The Neon Demon in theaters, and click through the gallery below to get a sneak peek at some of the striking beauty looks Ayanian created, below.
Elle Fanning in The Neon Demon
Elle Fanning in The Neon Demon
Elle Fanning in The Neon Demon
Elle Fanning in The Neon Demon
Elle Fanning in The Neon Demon
Abbey Lee in The Neon Demon
Abbey Lee in The Neon Demon
Bella Heathcote in The Neon Demon
Bella Heathcote in The Neon Demon