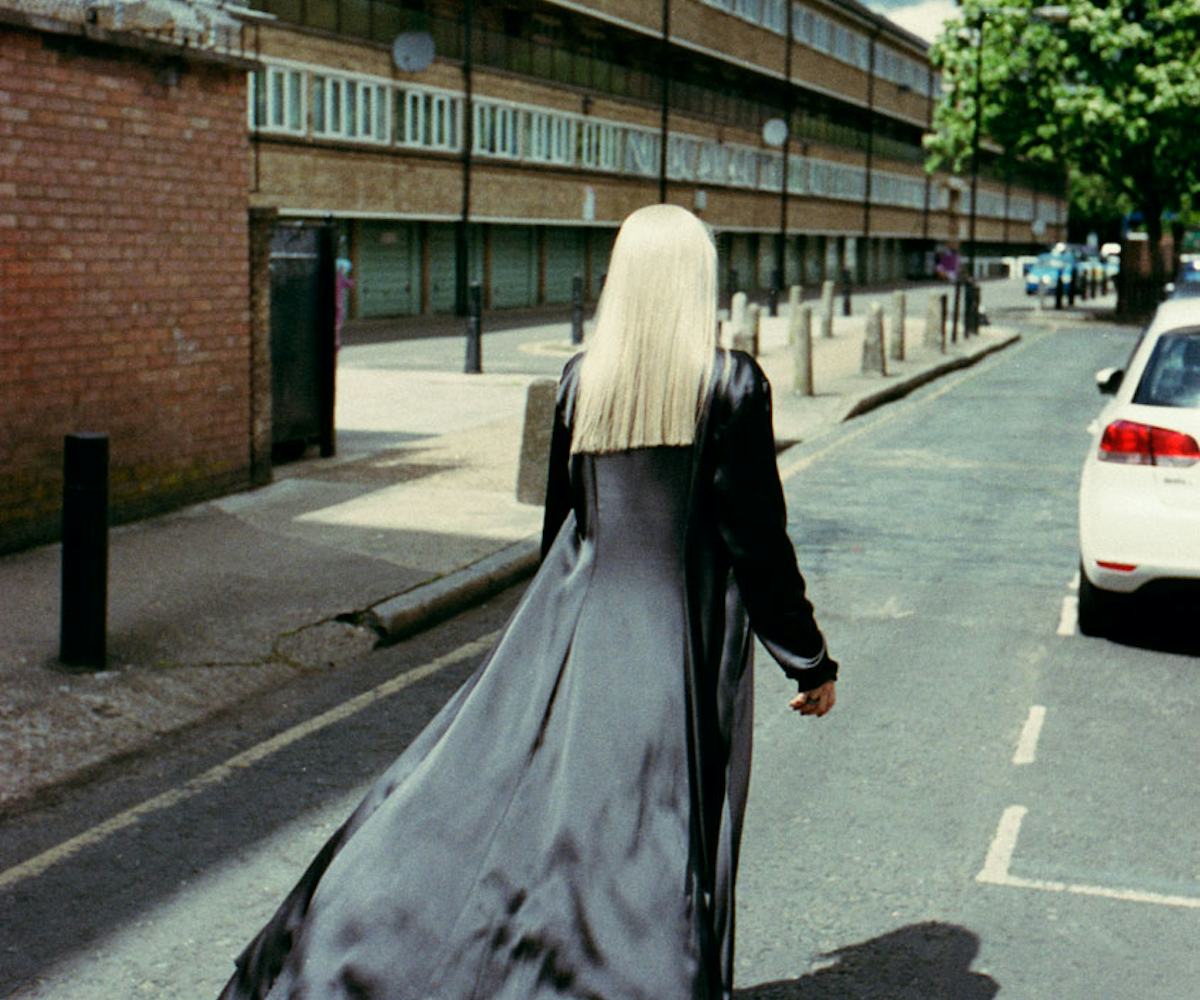 photo by Dan Wilton
nero's alana watson is bringing cyborg realness to edm
"I think of myself as a cyberpunk fembot," says Nero frontwoman Alana Watson with a laugh. She's trying to explain how her mix of leather bondage gear with flowing ethereal garments enhances Nero's music, which pits her crystalline vocals against the gritty production of bandmates Daniel Stephens and Joe Ray. "I like to put on a costume and become a character in the world we've created," continues Watson. Said world is set in 2808, and inspired by retro-futuristic movies like Blade Runner. "If you asked me to go up onstage as Alana, who's talking to you now, I don't think I'd have the balls," she says.
Since their 2011 debut album, Welcome Reality, Nero have won a Grammy (along with Skrillex for a remix of the EDM group's "Promises"), collaborated with director Baz Luhrmann on the Great Gatsby soundtrack, and toured North America, the U.K., and Australia. Despite their worldwide success, the arresting vision of Watson, with her bright white hair and icy blue eyes, may not be familiar to all—and for good reason. "Making the first album, and even when it hit No. 1 in the U.K., I was pulling a 50-hour week as a midwife," she says. "It was mental." Watson's nursing colleagues concurred with this assessment, almost forcing her to focus on music full time. "They told me I had to go and do it," she says.
Click through to read the entire story.
And so, on the band's sophomore album, Between II Worlds, out this month, Watson is taking more of a lead role. The title is "a play on where we've come from and where we're going to," says Watson, and it's a phrase that perfectly sums up her life over the past few years. Even now, with her hospital days behind her, Watson's life is one of extremes. Seated in the pretty Victorian home she shares with Stephens and their two Bengal cats in Chiswick, a leafy London suburb, she explains how she tried to keep with the house's original details while decorating, with era-specific tile in the hallway and a sweet garden out back. It's a far cry from the electric King's Cross music studio where Nero recorded their album, let alone the frenetic life of an EDM act on the road for essentially three years. "When you're on the roller coaster of it all, you're sort of in it, so it took about a year before I could look back and say, 'Oh my goodness, we actually did that.'"
Five years in, it is little surprise that the group's sound and live set have congealed. "Keeping it to just the three of us emphasizes the Nero sound in its entirety," says Watson. "The music is so much more structured now. It's much more of a band feel." It's also an anomaly in a genre that typically relies on a conveyor belt of featured vocalists. But, in truth, the band members have been conspiring for even longer, growing up as best friends. "We started raving together when we were about 17, going to a lot of drum 'n' bass nights," says Watson, and her involvement in the project happened "quite by mistake—I came back from university, and they were trying to find a vocal sample. I jumped on the mic, and the rest, as they say, is history."