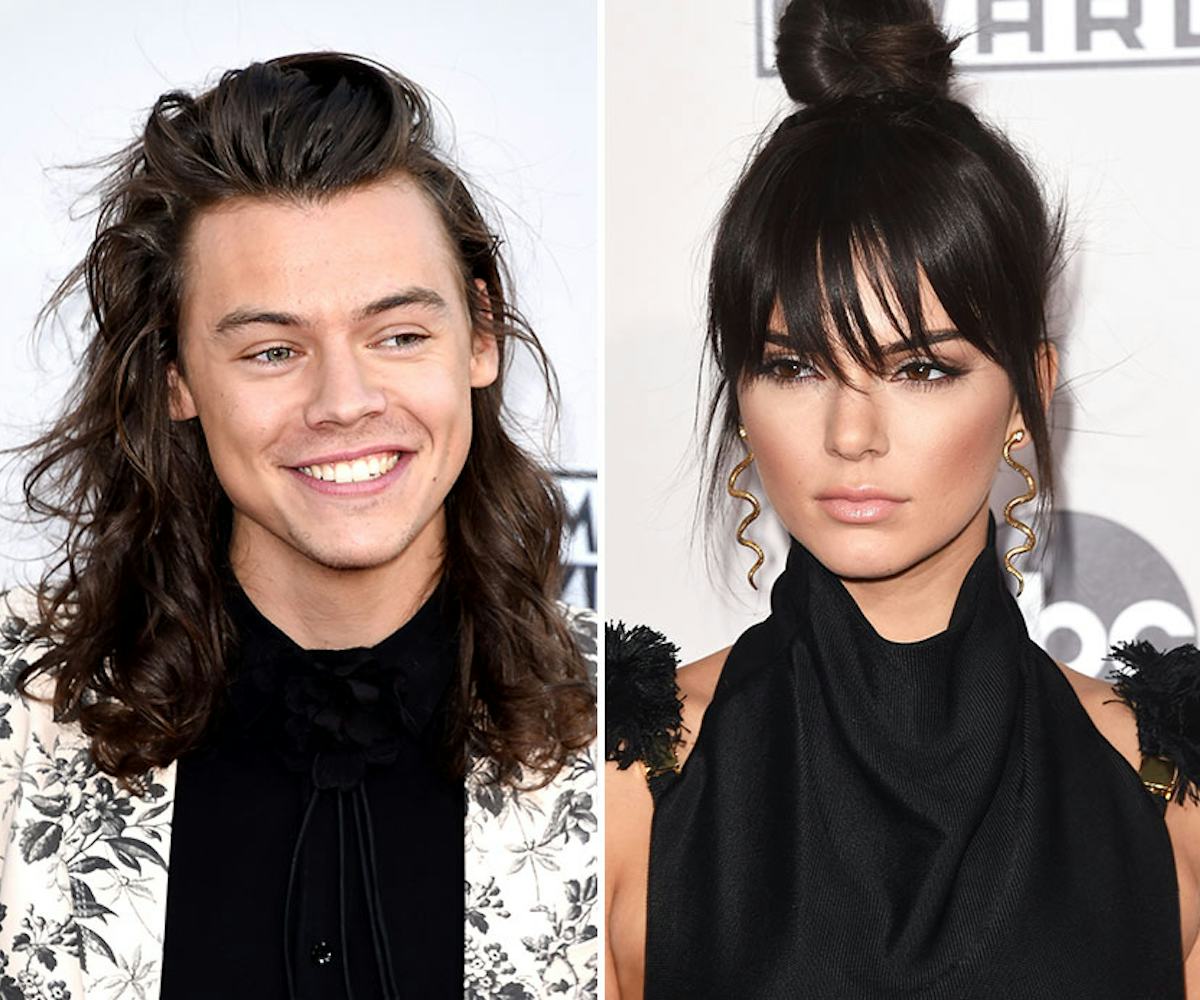 Photos by Jason Merritt/Getty Images
2016's New Maybe Celebrity Couples
the past two weeks were filled with love (and lust)
It's officially the week where your co-workers, classmates, and other distant acquaintances dole out questions like, How was your break? and What did you do with all of that time off? Chances are, you'll give them some vague, uninformative answer like, good or nice and possibly even politely inquire about their holiday, even though you know exactly what they did from Snapchat, Instagram, and the like. In this social-media age, real life is sometimes a game of pretending you don't know things about others when you do. When it comes to the lives of celebrities, however, this concept is essentially extinguished. Everyone knows what Young Hollywood is up to at all times—where they are, who they're with, and who they're even thinking about hooking up with. It's a strange, strange way to live life, and yet this holiday break, the celebrities with the biggest social-media followings decided to flaunt their relationships out in the open, on their own terms.  
Ahead, a recap of the newest maybe celebrity couples.
Gigi Hadid + Zayn MalikJust before Thanksgiving, the Internet was amuck with rumors that Gigi and former One Direction member Zayn Malik were hooking up. "They're just seeing where it goes," one insider then told Us Weekly. "I wouldn't call them boyfriend and girlfriend," said another mysterious insider. "But seeing each other? Definitely. He's chuffed." He must have been chuffed indeed because one month later, the two started posting photos of each other on their respective social media channels, which, in this day and age, is somewhat equivalent to shouting "I love you" from the mountaintops and much more effective in terms of reach. There are also rumors that the two are shopping for apartments together, so there's also that.
Justin Bieber + Hailey BaldwinAs with any Young Hollywood pairing, there were whispers that Bieber and Baldwin were together long ago. The whispers died down and Bieber was once again rumored to be in relationships with multiple women over a multiple period of months. But this holiday break, Baldwin joined the Bieber family on vacation in St. Barts and Biebs posted a photo of them kissing, which could mean that they're just friends who like to make out, but could also mean more. Now the Internet's infatuated with uncovering the details of their relationship. MTV even made a timeline of their relationship, from their initial introduction in 2009 to present-day.
Mandy Moore + Taylor GoldsmithEarly last year, Mandy Moore announced her divorce from indie rocker Ryan Adams, and it broke the public's heart faster than a guitar string. But now she has a new musician in her life, Dawes singer Taylor Goldsmith, and their Instagrams from their snowy winter getaway were sweet like candy.
Harry Styles + Kendall JennerThe two were caught by invasive, wide-zoom lens-yielding paparazzi while on Ellen DeGeneres and Portia de Rossi's private yacht over New Year's weekend. "He has thought all along that Kendall is hot and was sort of just waiting for a chance to spend more time with her again," a "source" told People. "New Year's worked out perfect, and he loved it... They will stay in touch and plan on meeting up soon again." Another source told the publication, "There has been a lot of flirting, touching, and snuggling going on. They have acted like a couple. They look very cozy and happy." We can only speculate whether they are a thing or were at one point, but we do know one thing for sure: If you're a beautiful, young, and insanely wealthy person vacationing on Ellen DeGeneres' yacht with another beautiful, young, and insanely wealthy person, you're gossip rag fodder, whether you hook up or not. 
Abel Tesfaye + Bella HadidIf rumors are to be believed, Bella Hadid and the singer best known as The Weeknd broke up just after Christmas. Maybe they did, maybe they didn't, but they're together again now, so it doesn't matter anyway. 
Halsey + Ruby RoseHere are the facts: Halsey and Ruby Rose, much like the majority of the human population, are fans of one another who happened to see the biggest film, Star Wars: The Force Awakens, of the past few years together. TMZ would like us to believe that they are dating. If they did, it would be super cute and they may just take over the entire planet with their combined beauty, talent, and individualism. Only time will tell, we suppose.