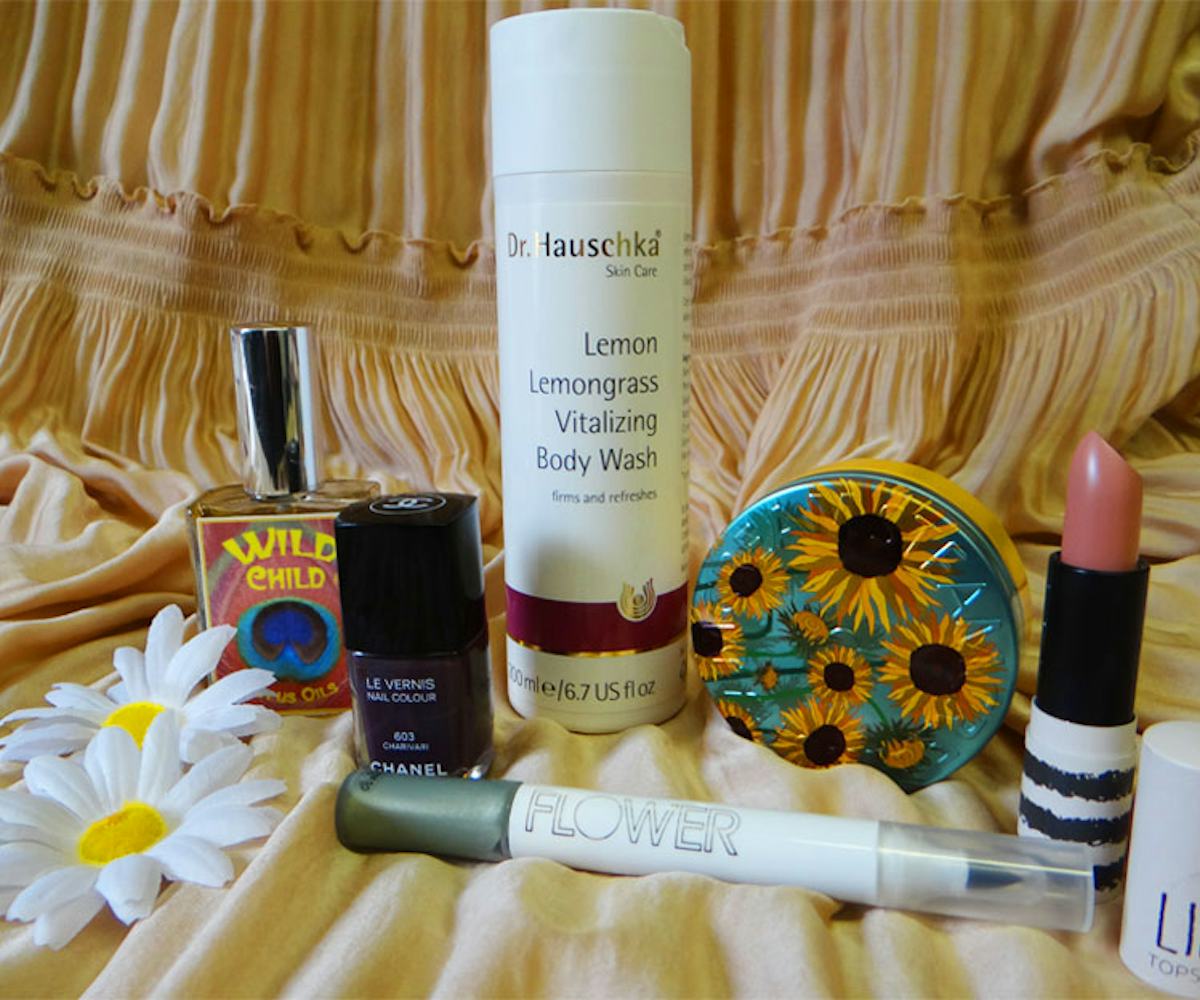 photo by jade taylor
vanity case
chanel's new nailpolish, and more of our beauty obsessions.
OLFACTORY GIRL
WHAT IS IT:
WHY I LOVE IT:
I know I've featured fragrance geniuses Opus Oils in my Vanity Case segment before, but I can't help but include them again because their fragrances are just so rad! My latest obsession (I literally can't stop spritzing myself with it) is the Wild Child #13 scent, decked out with a bright peacock feather and filled with key notes of dark patchouli, saffron, honey, milk, black currant, tuberose, peach, sandalwood, and vanilla. Think: Woodstock in a bottle--or at least what Penny Lane would carry inside her fringed suede bag.
FOR THOSE:
Whose favorite movie is
Almost Famous.
FLAMING LIPS
WHAT IS IT:
WHY I LOVE IT:
One of my all-time favorite beauty icons (and this is a no-brainer) is the enchanting Edie Sedgwick. Over the years I've attempted to re-create the iconic "Edie eyes" makeup look several times--like, an embarrassing amount of times--and although it's been a hit/miss situation, I can always rely on nailing the perfect mod pink pout to match. My newest discovery is Topshop Lips in Petal, a pale pink that's both frosty and shiny--without entering the dangerous Jersey Shore lipstick zone (why do tan girls wear such pale pink lipstick???)--and is long-lasting, moisturizing, etc. Now if I only had the balls to pull off Edie's pixie cut...
FOR THOSE:
Who want to be Edie Sedgwick, duh.
EYES WIDE SHUT
WHAT IS IT:
Flower Beauty Double Take Eye Marker & Creme Shadow in Poolside Kiss
WHY I LOVE IT
: Fact: There is nothing Drew Barrymore can't do. Case in point: Her awesome cosmetics line, Flower Beauty, which features an assortment of multi-purpose, high-quality products that won't put your bank account in the red. It was a hard choice, but my favorite product in the collection thus far is the Double Take Eye Marker & Creme Shadow in shade "Poolside Kiss," an olive green pen that has a creamy shadow stick on one end and a thick liquid liner on the other. For those with hazel eyes (like myself), consider this shade your new best friend.
FOR THOSE:
Who want to be Drew Barrymore, duh.
CLAWS OUT
WHAT IS IT:
Chanel Le Vernis Nail Colour in Charivaridr
WHY I LOVE IT
: Everyone knows Chanel releases the coolest limited edition nail polish colors every season (remember their iconic holographic shade?). So it comes as no surprise that I once again have fallen in love with their latest offering: Charivari. French for "rough music," the muted eggplant color definitely lives up to its name, since I'm fairly certain it's an exact match to Stevie Nicks' purple velvet kimonos. Get it before it's gone!
FOR THOSE:
Who love Fleetwood Mac.
BODY ELECTRIC
WHAT IS IT:
Dr. Hauschka Lemon Lemongrass Vitalizing Body Wash
WHY I LOVE IT:
I know I've reviewed/raved about a ton of different body oils in the past, but it's rare for me to become obsessed with a body wash in the same way. Drum roll, please: Dr. Hauschka's Lemon Lemongrass Vitalizing Body Wash. What may sound like something off the menu at Juice Press is actually a body wash fusion of lemon, lemongrass, and sunflower oils for toning and fortifying the skin, preventing dry skin, and leaving behind the fresh smell of sunshine. Bonus: Sunflower seed oil is a calming ingredient, so you can literally just relax.
FOR THOSE:
Who need a break.
FACE TIME
WHAT IS IT:
WHY I LOVE IT:
For those unfamiliar with Steamcream, let me quickly break it down for you. Steamcream is a multi-purpose moisturizer (for face, hands, and body) that's developed with a unique steam process that fuses and holds the ingredients together so they sink past the surface of your skin and keep it hydrated all day without wearing off. Formulated with natural materials like orange flower water, oatmeal, vegetable glycerine, almond and jojoba oils, and cocoa butter, the eco-friendly (and limited edition) tins are not only collector's items, but can also be used and re-used for storing things after you've finished the moisturizer inside (and believe me, you will). I'm especially fond of this Arles tin, featuring sun-drenched sunflowers--inspired by Van Gogh, who famously chose Arles as his home in a quest for sunshine.
FOR THOSE:
Who love the sun.
HAIR METAL
WHAT IS IT:
Claire's Oversized Daisy Hair Clip
WHY I LOVE IT
: OMG you guys, who remembers Claire's?!?! Silly question, I know, but I've recently re-discovered the '90s flower power brand and--with the exception of swapping out the I <3 NSYNC merch with I <3 ONE DIRECTION garb--not much has really changed. They're still serving up all different types of girly girl, quirky accessories like they were back in the day, so naturally I gravitated towards something I owned way back when: Oversized Daisy Hair Clips. Considering I recently chopped my hair and dyed it pastel orange a la Marc Jacobs F/W '14 show, I have the perfect canvas for braiding and intertwining flowers in my hair just like in the iconic 1966 Czechoslovakian film
Daisies
. Be sure to check out more of Claire's offerings for the ultimate #TBT!
FOR THOSE
: Who want to unleash her inner Lana Del Rey.