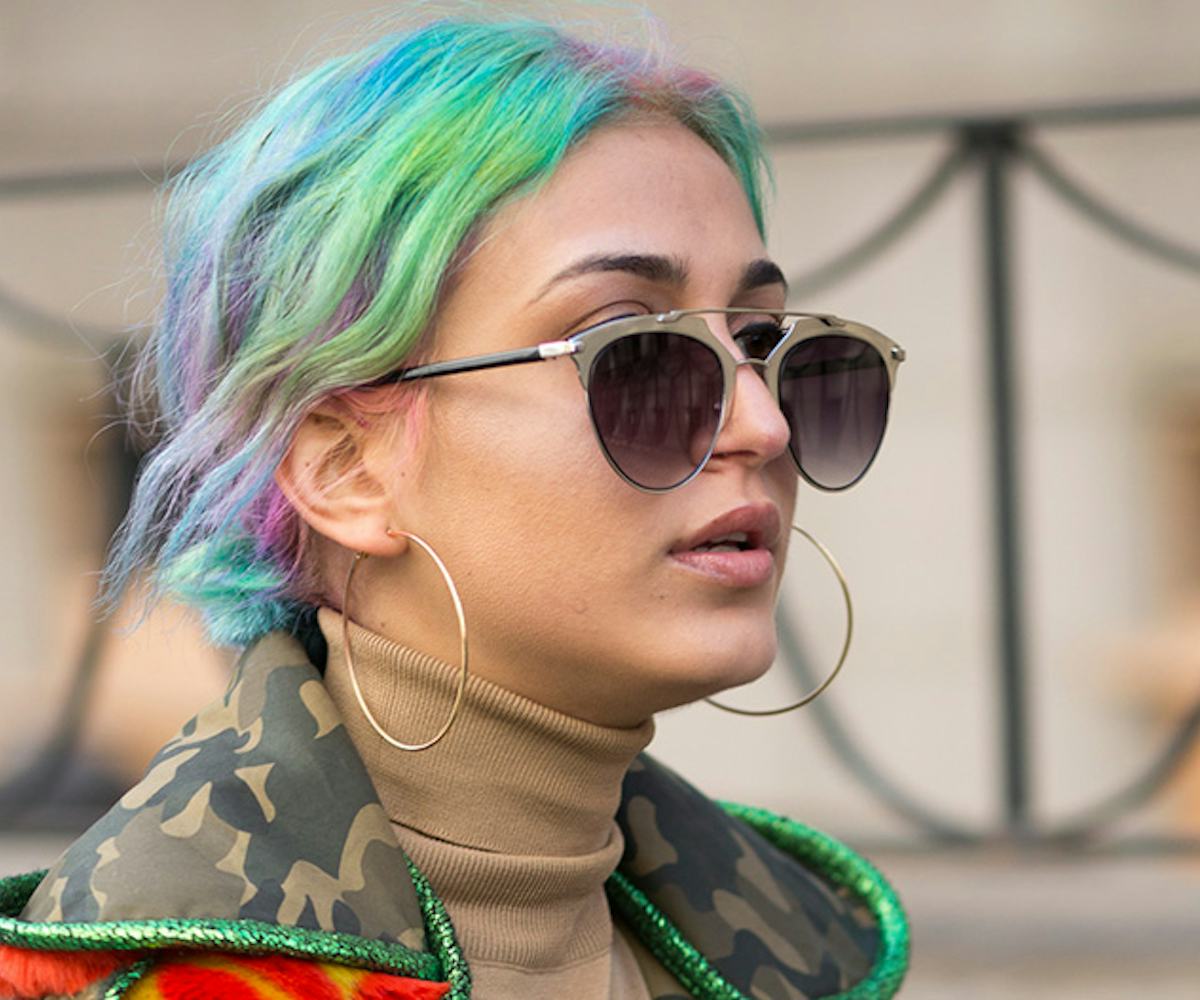 Photographed by Jack Maffucci.
Ice-Cold Street Style From NYFW, Day One
It's cold here in New York City. Like, it's not cool. It's cooler than cool. It's ice-cold! That's not stopping the New York Fashion Week crowd from pulling out all the stops, though—even if it means looking like a chic walking sleeping bag all day. Whoever said we have to suffer for fashion has clearly never been to NYFW, where waiting outside to get into a presentation can freeze your cheeks and render your gloveless fingers incapable of Instagramming, Snapchatting, or both. Some, though, stick it to nature and wear whatever the hell they want because—well, we don't quite know why. This weather sure does make for one diverse array of street style, though. Feel the cold in the gallery ahead. Six more days to go!
Winter means looking like a pretty fluff and that's just magical.
Did you know that YSL also stands for "You're So Lovely"? No? It does now.
This look is peachy. No, really: peachy-pink Karen Walker glasses, peach lip, peach coat, peach earrings. Work.
Now that's what we call an architectural coat.
Getting mermaid wavy—erm, envy.
Details. Details. Details.
"Oh, it's cold out? Whatever."
That bomber jacket is—ahem—the bomb! [Sees myself out]
Casual luxury.
Dress? Check. Fuzzy-warm clutch? Check. Coat? Meh, but these gloves work.
Maybe never. Maybe so.
Pastel perfection.
Pattern play like this is sophisticated fun. Add on that leather coat, and you've got an instant street style classic.
Well, now we know what we're looking for during our next vintage shopping outing.
The cold never bothered us anyway.
The look says, "I woke up like this." The stare says, "Try me."
Pro tip: turn your scarf into a pseudo coat dress. It'll drive photographers wild.
PEEK! Hello! This is amazing!
[bows down]
Oh, hey! It's NYLON's Fashion Market Editor, Marissa Smith rocking a Karen Walker Lilac Jumper!
Man Repeller, what's good?
The iconic street style shot, everybody.
Warm and soft looks to try.
Spotted: a strong sock game.
Rosario Dawson!
Groovy.
Yes! Let's.
If you can't be in tropical weather, wear it.
Now this, this is glamour.
[faints]