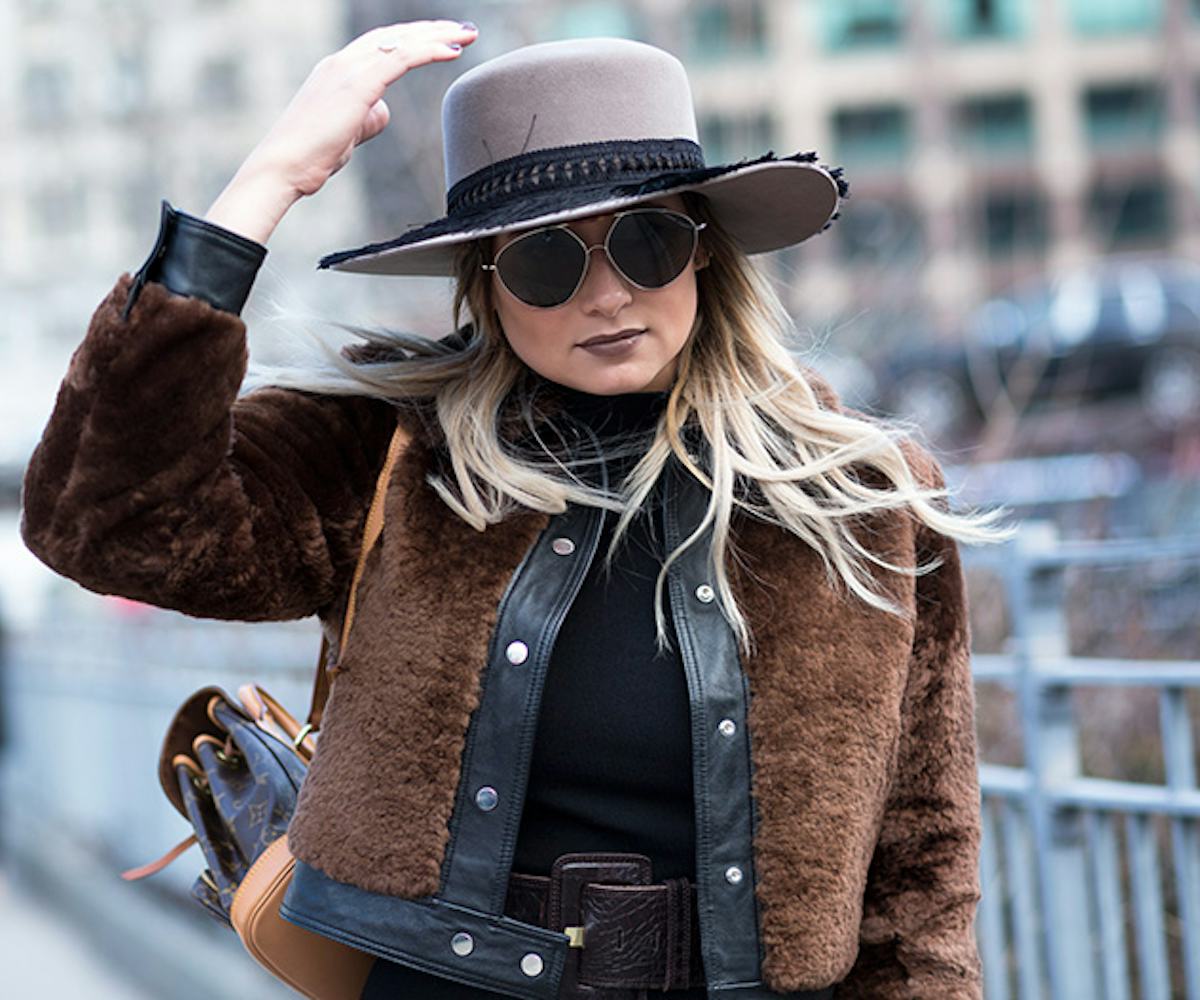 Photographed by Jack Maffucci.
Get Windswept By These Street Style Pics From NYFW, Day Three
when nyc became the windy city.
Just when you thought New York couldn't get colder, Saturday came blowing through with near-zero temperatures. Did that stop folks from dressing like it was above freezing? Take a wild guess. How anyone's fingers were able to Instagram during any NYFW show is a mystery. Do fashion people just not get cold the way other people do? Paging Anna Wintour! What's the secret? While we're at it, how do people keep their draped coats from flying off their shoulders in the intense wind tunnel that is the west side of Manhattan? How?! We get it: it makes for one stunning street style photo, but, like, what? Anyway, day three of NYFW was the day the wind came and conquered. Since we New Yorkers are known to trudge through whatever obstacle nature throws our way, so, too, did the style. See for yourself in the gallery ahead.
This Way For More New York Fashion Week Street Style:
You know the sleeves would help keep this coat on, but whatever. Anything for the photo, right?
Alright, alright! Strapped up and ready to go. That's the spirit we thrive off of.
Hang on to your hat!
Aesthetic.
Hang on to your hat, part deux.
What would Andy do?
TFW it's so cold and you have a few more hours of going to shows and walking through flocks of street style photographers to go.
Grin and bear it, right? Right.
Chriselle Lim (far left) is wearing an ARME DE L'AMOUR choker and Clare V. clutch.
Life, liberty, and the pursuit of style.
Majestic is the only way we know how to describe this photo.
TK & Cipriana Quann, everyone. (Plus check out those Karen Walker sunnies!)
The shoes. The holographic clutch. The blue hair. The coat. The everything.
It's lace and leather weather somewhere.
Same exact.
Alright, everyone can go home now. Michelle Lee just showed us the proper way to dress for a windy day: billowing skirts.
There's a certain feeling of power that comes with a jacket that trails in the wind, no?
Hang on to your hat, part trois.
We see your laces and raise you a fluffy pom-pom.
Goals.
As NYLON's Fashion Market Editor Marissa Smith knows, the brighter you dress, the warmer you'll feel.