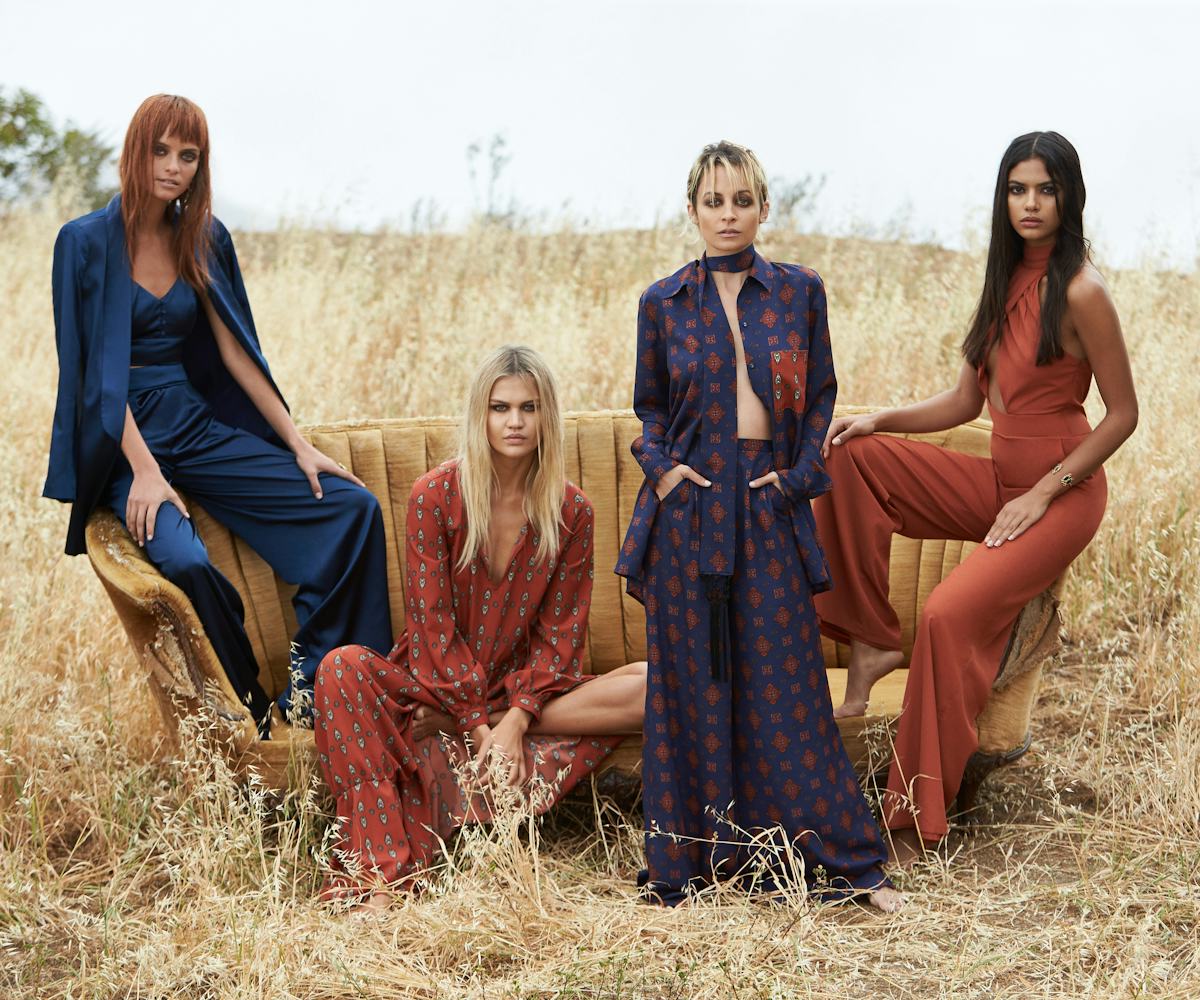 photo courtesy of House of Harlow 1960 x Revolve
Nicole Richie Just Gave Us Our Dream Summer Wardrobe
Introducing House of Harlow x Revolve
Over the past decade, as media and the very nature of celebrity shifted, the term "triple threat" expanded from the traditional singer-dancer-actress to encompass those who could utilize their platform with business savviness. The new triple threat is someone who can run their own business, be a leader in their field, and dominate social media. While many have tried to become one through one-off retailer collaborations and beauty lines, very few have succeeded. But through her House of Harlow line, books, and web series, Nicole Richie not only succeeded, but she has set the precedent for this new era.
Over the past seven years, Richie has delivered dreamy bohemian wardrobe staples and accessories through House of Harlow 1960. Yesterday, the brand launched its latest project, a capsule collection with mega-retailer Revolve. The line features vintage-inspired kimono dresses, bodysuits, easygoing slip dresses, rompers, and super-chic evening pieces like suit sets and gowns. It's basically our dream summer wardrobe come to life. We caught up with Richie to hear more about the House of Harlow 1960 x Revolve collection and get some summer styling tips.
How did this collaboration with Revolve come about?
They're based out of L.A., so they called me, and I went and spent some time with them; I got to tour their offices and just understand their business model. Right away, they were just somebody that I wanted to collaborate with. They're young and innovative thinkers and just had so many new and fresh ideas as far as ways to present apparel to customers. They know their customer so well; they just have everything on lock, and they were immediately people that I wanted to partner with. 
What was the inspiration for this collection in particular?
Since they're from L.A., and so am I, I thought, "Let's do a collection inspired by L.A. and all of the amazing different parts of it: being outside, the space, the smells, all the different color palettes." Also, because it's the summer, I was thinking to myself, "Okay, what are my friends and I wearing this summer? What's our feeling? What's our vibe?" I would say it's more of a combination of what I feel like my girlfriends and I want to wear this summer and my overall love and appreciation for L.A.
Why do you think that L.A. style feels so different from that of other cities? Are people kind of able to explore a different side of fashion there?
I don't know. I mean, you hear a lot of talk about "New York style" or "L.A. style," but it's hard to narrow down what that is now. I think people were really associating New York style with wearing all black and being super sophisticated, and then thought of L.A. as more colorful. I don't necessarily find that true anymore. There's such an eclectic group of people in both. For me, when I go to New York, I wear black shoes all the time just because I'm walking more. I think it's little things like that—taking in the environment and the weather, and the things you're doing. In L.A., you're outside a lot.
How would you kind of define your vibe for Summer '16?
In summer, I like to feel like I'm not wearing anything, so fabric is very important to me. It plays a big role in what I am wearing. The slip dresses that I did in this collection are some of the favorite ones that I own. I've been living in them already because it's very warm out here right now. I'm tan, and I always put some coconut oil in my hair and kind of slick it back. I just want to wear things with ease, and also have what I'm wearing lift me up. That's why I'm really drawn to colors and prints and that kind of detail.
House of Harlow is so very much inspired by vintage fabrics, styles, and designs. How have you brought the mind-sets from previous decades into 2016? How do you modernize vintage?
I think that you'll be able to see it really well in this collection because there are still kimono dresses and things that are very much from the '70s, but then I did pieces that are a little bit more tailored and fitted. I think it's really important to have both. To be able to mix things and layer things is how I bring it into 2016.
What are some of your favorite ways to style this collection in particular?
We did some really amazing bodysuits. I've been wearing them every single day. I've been thinking about things that I can just throw on with a pair of [Levi's] 501s and some sandals, slick my hair back, and show a lot of skin.
House of Harlow 1960 x Revolve, Bree Crop, $110, Mona Pant, $130, available at Revolve.
House of Harlow 1960 x Revolve, Blaire Wrap Maxi, $240, available at Revolve.
House of Harlow 1960 x Revolve, Quinn Sweater, $160, available at Revolve.
House of Harlow 1960 x Revolve, Mila Long Sleeve Romper, $158, available at Revolve.
House of Harlow 1960 x Revolve, Emma Lace Hem Slip Dress, $148, Chloe Boyfriend Jacket, $198, Lola Off The Shoulder Crop, $70, Wren Tank Bodysuit, $98, Stella Sheer Inset Slip Dress, $140, available at Revolve. 
House of Harlow 1960 x Revolve, available at Revolve. 
House of Harlow 1960 x Revolve, available at Revolve. 
House of Harlow 1960 x Revolve, available at Revolve.