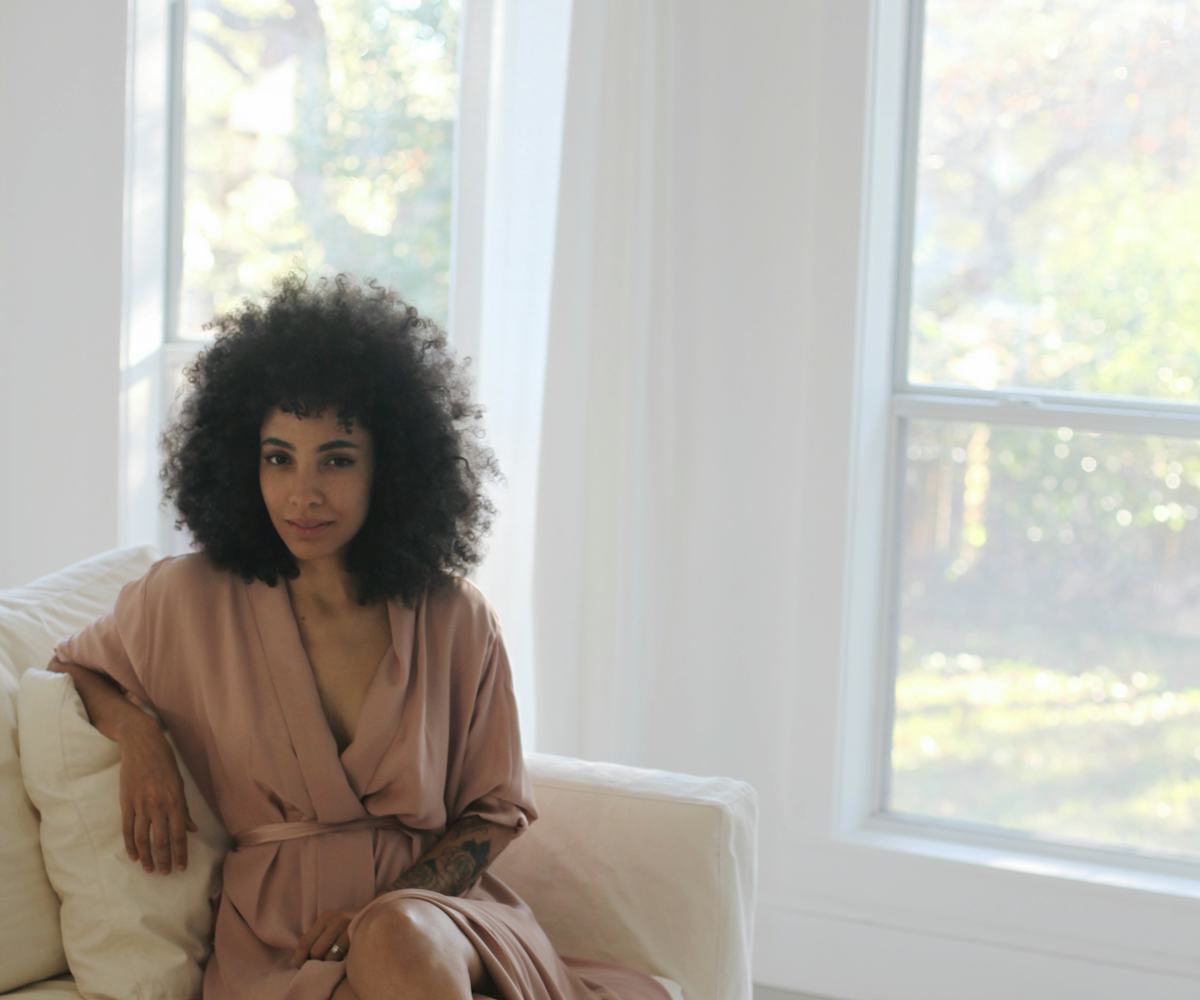 Photo courtesy of Nikisha Brunson
You Won't Be Able To Keep Your Hands Off This Saint Heron-Approved Apothecary Brand
Meet the founder of Folie
A few months ago, NYLON introduced you all to one-half—or rather, two-thirds—of Urban Bush Babes, twin sisters Cipriana and TK Quann. The lifestyle blog's other founder, Nikisha Brunson, might not have been born with a double, but she is a woman who wears many hats. Originally born in Toronto, Brunson grew up in Brooklyn, New York, where she lived for 27 years of her life. Years after graduating from the Long Island University, she moved to Washington, D.C. with her husband and son, and has since then moved again to now reside in Austin, Texas, a city that she says has a strong sense of community with its "small-town vibe" and cultured aesthetic. 
Beyond the parameters of her southern environment, Brunson has managed to cultivate a loyal following through Instagram and, through that, connect with independent artisans in a variety of professions from apothecary and art to clothing and jewelry. "I'm very much in that world of the makers," she says. "There's something that's magic behind people who are just doing the stuff themselves and it's not mass-produced. There's something more special about it to me." 
When Brunson isn't busy keeping up with her family, her main focus is on running her apothecary brand, Folie. Last month, she announced that a few of her items were being carried at Saint Heron's newly relaunched online shop. The whole purpose of the concept store is to "celebrate diversity in design" and "empower and inspire its community," something that Brunson has aimed to do through her own individual work.
We caught up with Brunson after SXSW to learn more about how she built her own brand and manages a successful business. After reading our conversation, click through the gallery to shop the entire Folie for Saint Heron collection.
How are you able to balance doing both Urban Bush Babes and Folie?
Honestly? Okay, I have ADHD. It's a help and a hindrance at the same time because I will start a bunch of things and then have a bunch on my plate, but I don't know any other way to function but to do a bunch of things at once. As far as my line, I'm very picky with who I work with. I don't take every offer from stores, to have my line in their shop, because it's just going to be too overwhelming and I'm only one person making everything. I want to keep it special by keeping it small-batched, me making everything, so that's one way. I think it helps that I'm very particular with what I support and what I stand by—I won't take every offer, and I only blog about things that I'm really into and that I stand behind.
Having my line has affected my blogging because I don't have as much time. I think that Instagram really helps because people can still stay connected to me there and see what I'm doing on a daily basis. There's stuff on Urban Bush Babes that's pretty timeless, like information that people might ask for. I definitely take it day-to-day. I would say my line is my priority right now. When I have time to blog, I'll try to tie it into what I'm doing.
What was the timeline of your process to launch Folie from planning it all out to getting ready to launch the line?
I would say I started planning maybe around last year, but I had thought about it years before when I was living in the D.C. area. I lived in Virginia for a year, but I just felt like it wasn't the right time, that I didn't have the creative space to just create things and start something. So I kind of prioritized and I was like, "Okay, I'm going to put this off." But I would say probably like four years ago I started thinking about making my own products, and I really didn't take it seriously until about last month where I was just like, "Alright, I'm going to do this." I was already doing DIY videos and people were like, "Well, could you make this and sell it? Because I'd buy it." I was just like, "Yeah, why am I not making this?" To me, that was a sign of "Yeah, do it now. I have my own house, I have my space, and just go for it."
How did you learn how to make everything? How have you figured out how to make all the formulas?
So I'm like a big fat nerd and in my free time, I'm always reading articles and researching stuff that I'm into whether it's psychology or health-related. I had a lot of stuff that I knew about already that I was blogging about, and that was already part of my lifestyle, so when I was serious about starting Folie, I just researched even more. I taught myself how to make soap. I read a ton of books and articles, watched videos, and started studying herbalism. I learned more about the oils because I kind of only had different pieces from over the years that I was already incorporating into my own lifestyle, and I refused to go back to school because I'm like, "I already have my masters in education, I'm not going back." So just me self-learning as I go, making sure that I research a ton, and that [I make] stuff that works for me and my loved ones before I put it out there. That's what I stand behind.
I know that Folie is being carried in the Saint Heron shop now. How did that come about?
Armina Mussa reached out to me of behalf of Solange a few weeks before they relaunched the Saint Heron shop. [The SXSW launch event] was amazing, and there was a dinner before that. It was so chill, laid-back, private, and small.
Of all the products that you have created, which one is your favorite right now that you can't live without?
My prickly pear face serum, definitely.
What is your usual skincare routine?
I use Thayers Witch Hazel as a toner, and my
in mornings and evenings—it's gentle, exfoliating, and detoxifies. Then, I use my
, and I use Proactiv SPF because it's the only SPF that's never broken me out so I just stick to it.
What are you thinking for the next steps of Folie?
Because my face serum does so well and I have repeat buyers, they're like, "I go through it so fast. Can you make a bigger version?" I finally got my label today for a
. I'm about to come out with my
rose and vanilla cardamom dead sea and magnesium bath salts
. I just got my labels. We just have to shoot the products now and edit that to put them out. I'm definitely going to work on more soap stuff. I'm thinking of a turmeric soap. That's pretty much it.
Right now, I'm working on ceramics. I don't know how far that's going to go after my class is done because I'm like, "I don't know if I'm going to buy a kiln for my house—that sounds really expensive" or "Do I keep taking the classes?" I took them back in undergrad years ago, and I definitely want to incorporate maybe selling ceramic pieces. We'll see.
Folie, 3 Piece Soap Set, $36, available at Saint Heron
Folie, Prickly Pear Face Serum, $38, available at Saint Heron.
Folie, Cardamom + Vanilla Body Butter, $16, available at Saint Heron.
Folie, Rose + Chamomile Facial Scrub, $22, available at Saint Heron
Folie, Palo Santo + Peru Balsam All Purpose Mist, $22, available at Saint Heron.