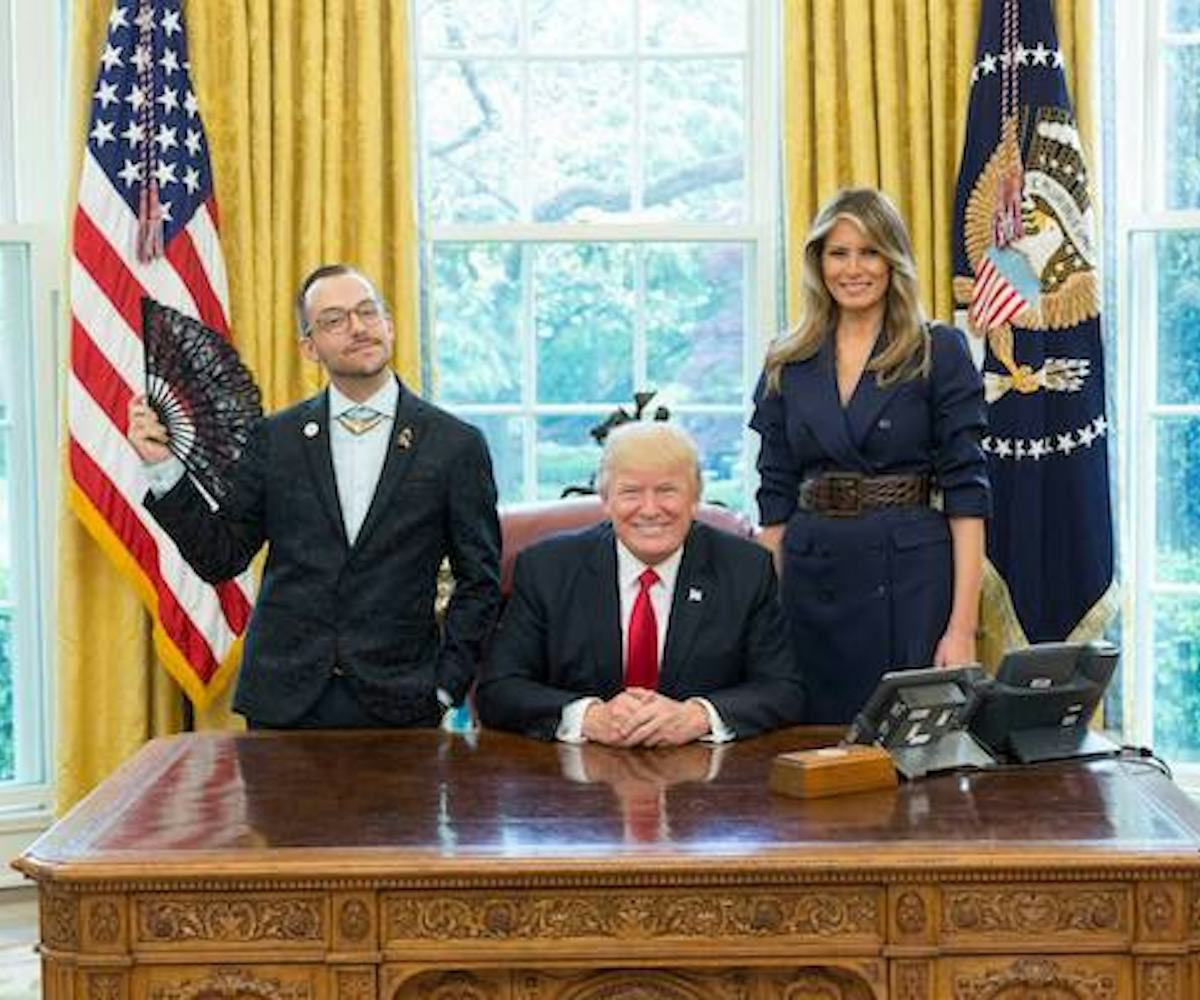 via Facebook / Nikos Giannopoulos
Give Rhode Island's Teacher Of The Year More Awards, Please
The hero we need in these dark times
Rhode Island's Teacher of the Year, Nikos Giannopoulos, wasn't about to let the Trump administration's deplorable record on LGBTQ rights prevent him from being anything less than himself on his trip to the White House. White House that, most recently, left out a clause in an Equal Opportunity Employment statement preventing discrimination due to sexual orientation, gender identity, or sexual harassment. Rather than cowing to the heteronormative pressure the administration pushes, Giannopoulos literally wore his LGBTQ pride on his sleeve—and the internet is gushing over it.
First things first: Why was he at the White House in the first place? Giannopoulos, a 29-year-old special education teacher at the Beacon Charter High School for the Arts in Rhode Island, was selected as the state's Teacher of the Year. As part of their award, all Teachers of the Year get to go to Washington and meet the president. Giannopoulos meticulously chose his outfit for the occasion, donning a boldly-printed blue jacket, an LGBTQ Pride pin, an elaborate silver statement necklace with an anchor on it as a tribute to Rhode Island, and of course, the black lace fan—which, turns out, actually belongs to his partner. In an interview with NPR, Giannopoulos says the fan has been a regular prop for him for the past few years. He describes himself as "extremely campy" and says that, for him, the fan symbolizes "being unabashedly myself in a society that's not always ready to accept that".
As it turns out, Trump actually loved the fan and told Giannoppoulos that he has "great style." Although he was told to put the fan away as he was ushered into the Oval Office for his private picture with the president and his wife, Giannoppoulos ended up asking the president if he could use it just before the photo was snapped. And perhaps surprisingly, the president said, "Absolutely, go for it." And results? C'est magnifique.
Giannoppoulos told The Hill: "It was a great honor to be received in the Oval Office, and it really meant a lot to me that I was able to express myself authentically and represent for my community" and that, "When I think back to my time in the White House, I will not remember the person seated at the desk." The teacher made a bold statement for members of the LGBTQ community to continue to be everything they are despite the constant, exhausting, and cruel ways they are kept down. A small act of defiance and pride for one teacher, a roar for countless others.