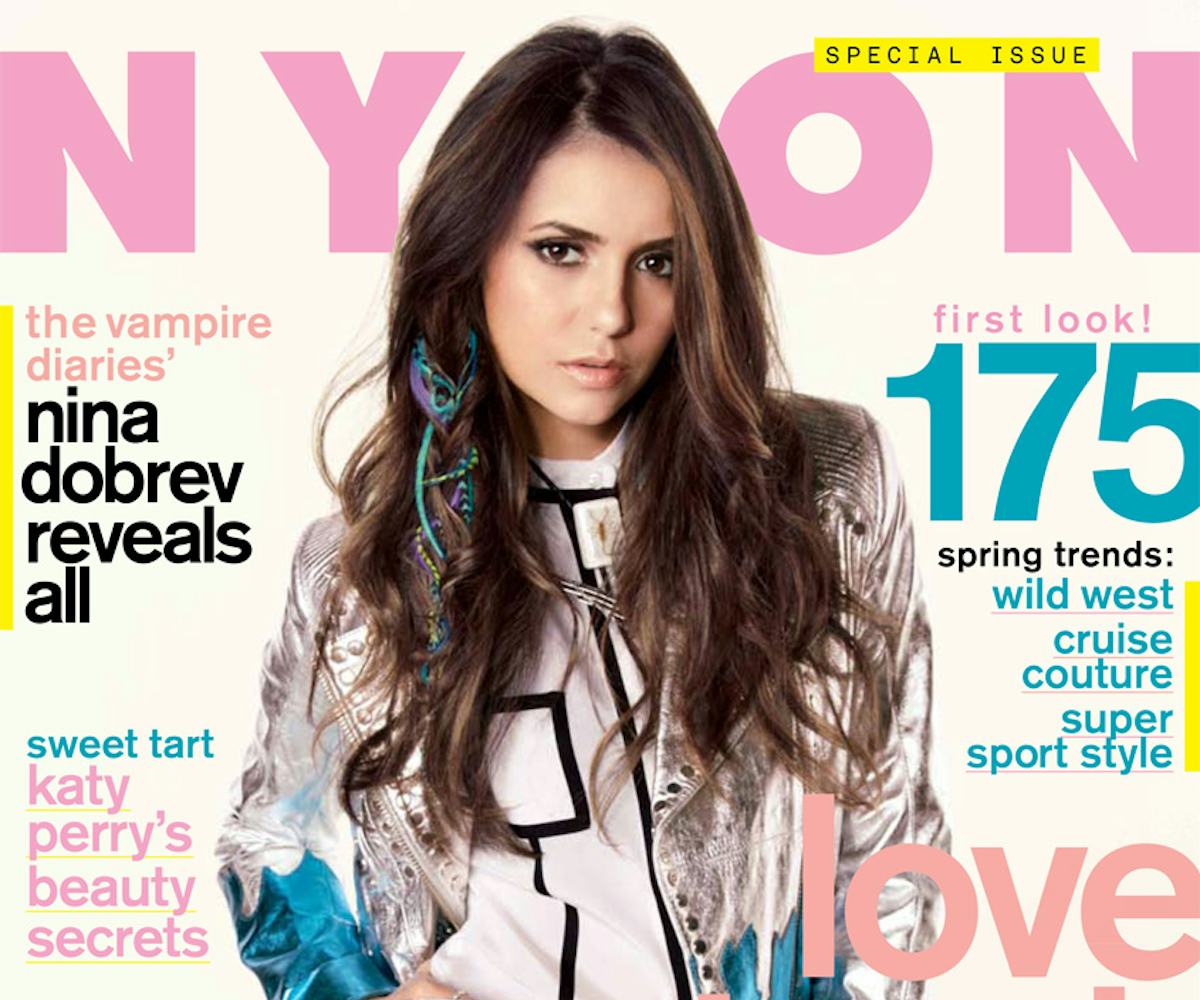 photographed by marvin scott jarrett
flashback friday: vampire kisses
reread our cover story with nina dobrev from 2012!
Bummed that The Vampire Diaries season is over? Cheer up your spirits with our Flashback Friday to our February 2012 cover starring Nina Dobrev! Read on to hear her discuss her role, her life, and her pet cat.
"Did you know that the daddy long legs is the most poisonous spider on earth?" asks Nina Dobrev, widening her kohl-rimmed eyes. We've been talking arachnids for a while, and though she confesses to a deep-seated fear of the eight-legged creatures, Dobrev seems to brandish little factoids like this one with pleasure. "Its teeth are too small to penetrate your skin, which means it can't distribute the venom. But if it bit you in an open wound, you would die immediately." She laughs. "I don't know if it's immediately. I might have made that up."
In fact, Dobrev made up the entire thing--or at least was told it was true by someone who made it up (who may herself have been lied to, and so on and so on). Turns out the danger of the daddy long legs is no factoid at all, but rather a persistent urban legend. According to the Entomology Department at the University of California at Riverside, "There is no scientific basis for the supposition that they are deadly poisonous." I've no way of knowing whether or not Dobrev is in on this secret; perhaps she's gauging my (pitifully meager) knowledge of the animal kingdom over coffee one December afternoon in Los Angeles. But I don't challenge her on it, because the 22-year-old Bulgarian-Canadian beauty sells the tall tale with such conviction that, like somebody in a George Orwell novel, I simply assume it must be so.
You needn't arrange a sit-down with Nina Dobrev to experience this benevolent deception for yourself. Just tune into the CW every Thursday night at 8, when she helps put across the delicious Southern-gothic nonsense of The Vampire Diaries, two-time Teen Choice Award winner for television's best fantasy/sci-fi show. Dobrev plays a pair of roles on the hit series, which was developed by Kevin Williamson of Dawson's Creek fame and is currently in its third season. First there's Elena Gilbert, the mild-mannered Everygirl caught in an interspecies love triangle with two bloodsucking brothers called Stefan (played by Paul Wesley) and Damon (Ian Somerhalder, Dobrev's rumored real-life boyfriend). Then there's Elena's harder-edged doppelgänger, Katherine Pierce, with whom Stefan and Damon were both in love a century before Elena's birth.
Mercifully, The Vampire Diaries--set in the imaginary burg of Mystic Falls, Virginia, and based on the books by L.J. Smith--is a show that understands its own absurdity: In Season 1 alone we were treated to episodes titled "Friday Night Bites" and "You're Undead to Me." But Dobrev portrays her characters with an intensity that gives the melodrama real weight.
"Nina mixes this genuine down-home warmth with the idea that inside she's a naughty little minx," says the series' executive producer, Julie Plec, who recalls auditioning Dobrev during the early stages of the Vampire Diaries casting process. "I think she was having a bad day and was a little sick, and Kevin and I were like, 'Oh, she's pretty. Next!'" Vaguely bummed, Dobrev returned to Toronto, where she was living at the time. But soon, Plec says, the actress had a realization. "She said, 'Wait a second--I'm better than what they thought of me,' and she went to a studio and put herself on tape and sent it back to us. And she was perfect--she completely came to life. It was like, 'How dumb are you to have not seen this properly?'" Plec laughs. "She didn't know it at the time, but after that Nina had the job almost instantly."
So what do you discover in a sit-down with Dobrev that you don't get from The Vampire Diaries? That she considers herself a cat lady, for starters. "Actually, I'm gonna say 'cat woman,' because 'cat lady' makes me sound 500 years old," says the actress, young-Hollywood casual in a baggy gray sweater, slim-fit blue jeans and black-leather riding boots. "But I love my furry friends. I even made a calendar for 2012. It's called My Pussies: A Hairy Love Story." Here Dobrev emits a sort of half-giggle, and again I'm inclined to take her at her word. "They just migrate to me. I'm pretty sure I was a cat in a past life."
Dobrev and her flock of felines live in Atlanta, where The Vampire Diaries is shot, in a home she refers to as her "zen sanctuary." (Think candles, reclaimed wood and a dedicated yoga room.) Her first place in the city was in a downtown skyscraper--"this beautiful building out of a Tom Cruise movie or something," she says. "But I kind of felt like a caged animal because I was so high up. You're overlooking the world and you start to feel imprisoned, like you're separated from it." On the bright side, she notes, she never saw a single spider.
She landed in her current spot after a search of something more stabilizing. "Everything's so hectic in this business," Dobrev says. "There's no routine, ever; there's no schedule you can rely on to be consistent. So your environment--your home, your bed--that's the only thing you can depend on."
"That grounding element is really important to Nina," says Somerhalder. "She totally seeks it out, and I think it takes a certain amount of insight to realize how important that is. For such a young person, she's a very old soul. I also think it has something to do with the fact that she's European. It's a much different sensibility than the average bear."
Strictly speaking, Dobrev wasn't European for long: The actress and her family left Bulgaria for Canada when Dobrev was two. But traces of the Old World do indeed remain, including her admitted mangling of various English-language expressions. During our chat, for example, she requires some assistance unraveling "caught in the crossfire" and "jack of all trades." "It's the Bulgarian in me," she insists. "My friends always make fun of me."
Dobrev grew up flitting from tap to ballet to gymnastics, then enrolled in a performing-arts high school in suburban Toronto. "I was kind of the overall overachiever," she says. "I wanted to be good at everything. But I found joy in the creative stuff." At 16 she began taking the bus into Toronto for auditions, eventually booking a small part in Sarah Polley's critically acclaimed directorial debut, Away from Her. Another breakthrough arrived when she landed a starring role (as a teen mom) on Degrassi: The Next Generation, the Canadian TV drama that also introduced 90210's Shenae Grimes and Aubrey Graham, better known today as the hip-hop megastar Drake.
"He was so sweet," Dobrev says of her former castmate. "It's almost weird to me that he's a rapper and a sex symbol now. I remember being in the car going to a party, singing along with the radio, and somebody said, 'Isn't that your buddy Drake?' I was like, 'Who's Drake?'"
As Plec's recollection of her audition suggests, Dobrev wasn't exactly over the moon on The Vampire Diaries when the script made its way to her. "I thought, 'Twilight for TV--been there, done that,'" she says. "It wasn't until I dug a bit deeper, and they explained to me the dual characters and the fact that Mystic Falls has a whole essence of its own, that I realized it's so much more than what the posters look like." Which is? "Oh, you know: just a couple of pretty people with blood all over them."
Two and a half years after the show's premiere in September of 2009, Dobrev believes that Diaries has proven itself to the skeptics. "It stands out on its own, and it's not what you typically see," she says. "It's not about teenage girls who are worried about what they're wearing. It's about the characters and the people. There's a lot of death and a lot of loss; there are periods and accents. It's multi-dimensional."
If that sounds heavy, Somerhalder insists the show's set isn't all dark-side sturm und drang. "We have a lot of fun, despite the fact that somebody is always about to die," he says, crediting much of that easygoing vibe to Dobrev. "Nina works harder than anyone else on the show: Elena is in virtually every scene--and if Elena's not, then Katherine is. But even when she's exhausted, she brings a light to the people around her." She's also crazy-helpful: After I somehow manage to drop my sunglasses into a trash can, Dobrev immediately extends her arm into the unknown rubbish within to retrieve them.
Like plenty of other young stars, Dobrev thinks TV is where it's at right now--that the medium has grown sophisticated enough in recent years to satisfy the creative hunger of even the most ambitious actor. "Kate Winslet just won an Emmy," she points out, referring to Winslet's award-nabbing turn in HBO's Mildred Pierce. "And if I may be so bold to say, she looked more excited than she was when she won her Oscar." Still, Dobrev admits that moving into movies hasn't lost its allure. "I wanna become a different person, and that's what working in film allows," she says. "I wanna be a punk or a sweetheart or a drug addict. There are so many things to explore."
Later this year Dobrev will do some of that exploring in The Perks of Being a Wallflower, writer-director Stephen Chbosky's adaptation of his own 1999 novel. A kind of emo-literary cult classic, it's the pop-culture-soaked story of an introverted freshman grappling with his best friend's suicide (among other issues) in beautiful Pittsburgh, Pennsylvania; Dobrev plays the kid's older sister, Candace, and appears alongside Paul Rudd, Logan Lerman and Emma Watson.
"At the risk of dating myself, I'm not exactly in the CW's core demographic anymore," Chbosky says with a laugh. "So my first real exposure to Nina was from a tape she sent." (Living nine months out of the year in Atlanta means Dobrev often auditions the same way she did when she was in Canada.) "And immediately I was like, 'Who is this girl?' I was so taken with her." Chbosky remembers conducting Dobrev's callback over Skype while she was shooting Vampire Diaries' Season 2 finale. "We'd do a scene, I'd give her notes, then someone would knock on her trailer door saying 'We need you.' And she'd be like, 'OK, just gimme two minutes!' That blew me away."
For Dobrev, part of the appeal of doing The Perks of Being a Wallflower derived from the differences between the movie and her show. "Once you do something and you do it well, people just want you to keep doing that," she laments, adding that she can't even count the number of vampire-related scripts she's received in the last few years. There's also the CW's gloss factor to contend with. Surely I can't be the first person to make a Gothic Girl joke, can I?
"Sometimes they'll be like, 'She's not plain enough.' Or 'She's not edgy enough,'" Dobrev says. "That frustrates me. I feel like a blank canvas, and I wish people would be a little more open-minded. That's actually why I've kind of held back a little bit from [pursuing more movies]. I'd rather not do anything than do something that doesn't challenge me. If I'm not afraid of it, I'm not really interested."
"I think people will be very surprised to see how easily Nina lost herself in Candace," Chbosky says. "And I think in the future she can probably do anything she wants, from Devil Wears Prada-style comedy to really profound drama. I think she'd make a great Bond girl, too."
Plec adds that she can see Dobrev producing or directing. "I always joke with her that one day she's gonna become Sherry Lansing," Plec says, referring to the actress-turned-executive who led Paramount Pictures to Academy Awards for Forrest Gump and Titanic. "Nina has an intelligence and a point of view that's very compelling."
Of course, further moves toward the big screen are only bound to intensify the public's appetite for all things Dobrev, a fate she finds unsettling. "People wanna know so much about you, and they wanna get in your life," she says. "That's why I'm conflicted about Twitter. It gives you the opportunity to reach so many people and do good things, if that's what your goal is. But at the same time, you're letting them into your day-to-day existence, and they get to know you so well that there's no mystery left. There's nothing left to find out."
That's a professional liability, Dobrev points out, explaining that a high personal profile makes it harder for an actor to disappear into her characters the way Chbosky describes. But it's also a matter of privacy, and how much of it a celebrity can reasonably expect to enjoy. "At the beginning it was definitely odd," she admits of life in the Age of the Google News Alert. "People would seem to know things that felt so close to me."
Dobrev tells me about a picture of an exotic fruit she posted to Twitter a few days earlier with a cheeky caption in which she wondered if eating the fruit would result in death. "I was trying to be funny," she says. "They sold it at Whole Foods--obviously it's not gonna kill me. But then my mom emailed me and said, 'Check this out.' It happened to be Ian's birthday, and so there was this article: 'Dobrev afraid to die on Somerhalder's birthday.'" She laughs. "I'm like, 'What!?'"
On the subject of Somerhalder, Dobrev stiffens slightly when I bring up a recent Us Weekly item that appeared to quote the two actors confirming their relationship. (The headline? "Ian Somerhalder and Nina Dobrev: Why We Love Each Other.") "We haven't told anyone anything," she says. "I remember that interview. They asked us, 'What do you love about your co-stars?' And we said like 10 different things about every single person on the show. But they'll choose what they wanna write about. And it's fine--people have that fascination. I can't say I'm not interested in Angelina Jolie and Brad Pitt and their family. But it's something you fight really hard to preserve and keep private."
That's somewhat easier to do in Atlanta, Dobrev says, where the only time she's snapped by paparazzi are when the BET Awards are in town or Ben Stiller is shooting a movie a block over from her local Starbucks. After The Vampire Diaries ends, she's been entertaining the idea of moving to New York in order to take advantage of its lost-in-the-crowd potential. "I feel like there's a lot of eyes on me right now," she says. "So there's some kind of comfort in being somewhere and being anonymous--being able to explore and experience things on your own."
Until then, Dobrev's policy is to resist entering the fray. "People can speculate and believe or not believe what they see or hear," she says. "I just try to stay out of it and not comment on it, because then it's gonna turn into a whole thing, and it's not worth it. I just don't wanna fuel the fire." For a second her eyes soften with something that looks an awful lot like sadness. Then the light--and a bit of the cat-woman mischief--return. "Wait, did you hear that?" she exclaims. "I got an expression right!" -- MIKAEL WOOD