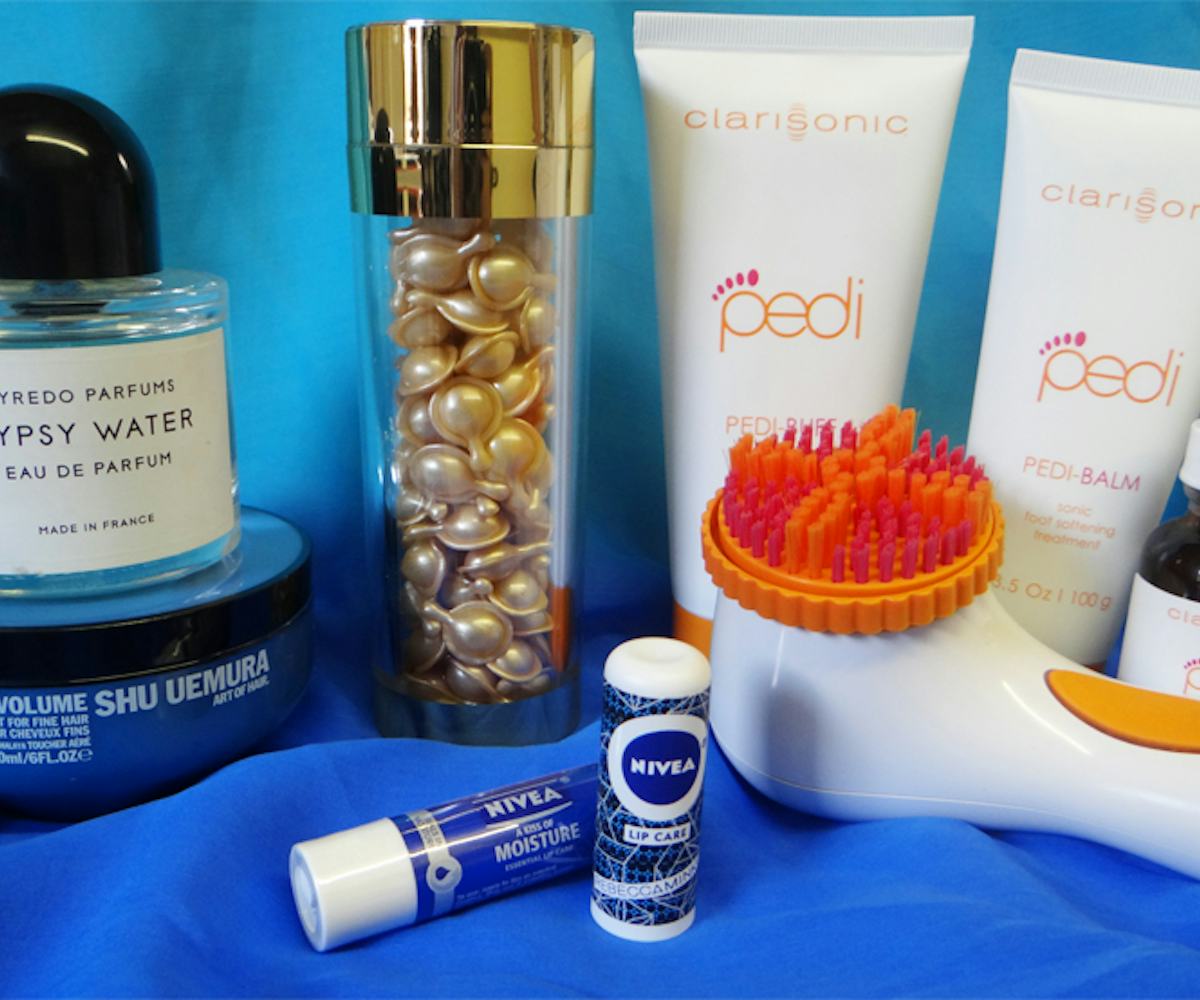 photo by jade taylor
vanity case
gypsy water, designer lip balms, and more of our favorite beauty products this week.
OLFACTORY GIRL
WHAT IS IT:
Byredo Parfums Gypsy Water Eau de Parfum
WHY I LOVE IT
: Often, when on the hunt for new scents, I'm drawn by the name. Case in point: Gypsy Water by Byredo Parfums. Because what exactly does Gypsy Water smell like? Stevie Nicks' hair? Turns out, the smell of a bohemian goddess is a spellbinding blend of bergamot, lemon, pepper, incense, pine needles, amber, vanilla, and sandalwoods notes--as if you put on your favorite velvet dress and kimono, got lost daydreaming in the woods, and came out smelling fabulously witchy--and your name was Rhiannon, of course.
FOR THOSE:
Who identify with Lily Rabe's character Misty on
American Horror Story: Coven.
FLAMING LIPS
WHAT IS IT:
Nivea Style, Uncapped Rebecca Minkoff A Kiss of Moisture
WHY I LOVE IT:
For me, lip balm is essential year round-- but considering I just busted out my gloves for the first time this season, it should go without saying that my lips are already starting to dry-out, crust, and ruin any lipstick I planned on wearing this week. Until now. Nivea's lip balms have been favorites of mine since I was a kid, but they've really upped their ante with their Style, Uncapped site, a place where you can custom design some fancy-ass lip balm covers, and finally answering the daunting question, "Will lip balm ever be cool?" The answer is yes, by the way, since they've partnered with designer Rebecca Minkoff on limited edition caps to pop on to your favorite balm. My favorite? "Amelia," a '20s and '30s-inspired graphic pattern.
FOR THOSE:
Who want their lip balm's outfit to look just as cute as their own.
BODY ELECTRIC
WHAT IS IT:
Clarisonic Pedi Sonic Foot Transformation
WHY I LOVE IT
: It's undeniable: The best part of getting a pedicure, is, um…everything. I mean, who doesn't love a luxurious foot scrub while they relax, get a leg massage, and have their toes painted while reading their favorite magazine (which is obviously ours) and scrolling through their Instagram feed? But pedicures can often be pricey, time-consuming, and difficult to get during the winter months--but your feet shouldn't have to suffer from it. Enter: The Clarisonic Pedi Sonic Foot Transformation. That's right, everyone's favorite cleansing device is upping its game with a system devoted to giving you the best at-home pedicure of your life. Equipped with three speeds, a disc to smooth and soften dull skin, a buffing brush to exfoliate, a lactic acid Pedi-Buff complex, a hydrating Pedi-Balm moisturizer, and a renewing Pedi-Boost peel, it's safe to say: your feet are in good hands.
FOR THOSE
: Who are going to turn their bath into their own personal nail salon after they get one.
FACE TIME
WHAT IS IT
:
Elizabeth Arden Ceramide Capsules Daily Youth Restoring Serum
WHY I LOVE
IT: If you've read the name of this product above, you might be asking yourself, "What exactly are ceramides?" Let me give you a run-down: Ceramides are essential lipids (aka molecules that hold things like waxes, sterols, and vitamins together) in the outermost part of your skin. Basically, they hold your skin cells together, so they're like, really important--which means it's crucial to replenish your skin's natural ceramide levels for smoother and firmer skin. This is where these little gems (literally, they look like golden jewels) come in. Twist open one of these capsules to expose a silky-smooth serum to use on your skin and décolletage, and you'll immediately see how smooth, plump, and hydrated your skin looks after one use. This is a game-changer, you guys.
FOR THOSE
: Who are gold diggers.
HAIR METAL
WHAT IS IT:
Shu Uemura Muroto Volume Pure Lightness Treatment Masque
WHY I LOVE IT:
"I want my hair to be dry and brittle," said no one. But with so many oils, serums, potions, gels, creams, whips, butters, conditioners, leave-in's, sprays, miracles, and treatments on the market, what actually works for the deepest hair hydration? Masks, and this one by Shu Uemura has been my obsession as of late. Once or twice a week when showering, I'll apply this hair mask for 10 minutes--while I pamper myself with my Clarisonic Pedi (see above)--and then rinse out. What's left behind? Velvety locks of love sans tangles, frizz, or brittle-ness.
FOR THOSE:
Who think of Adam Sandler in
Billy Madison
when he's taking a bath: "Shampoo is better!…No, Conditioner is better!"