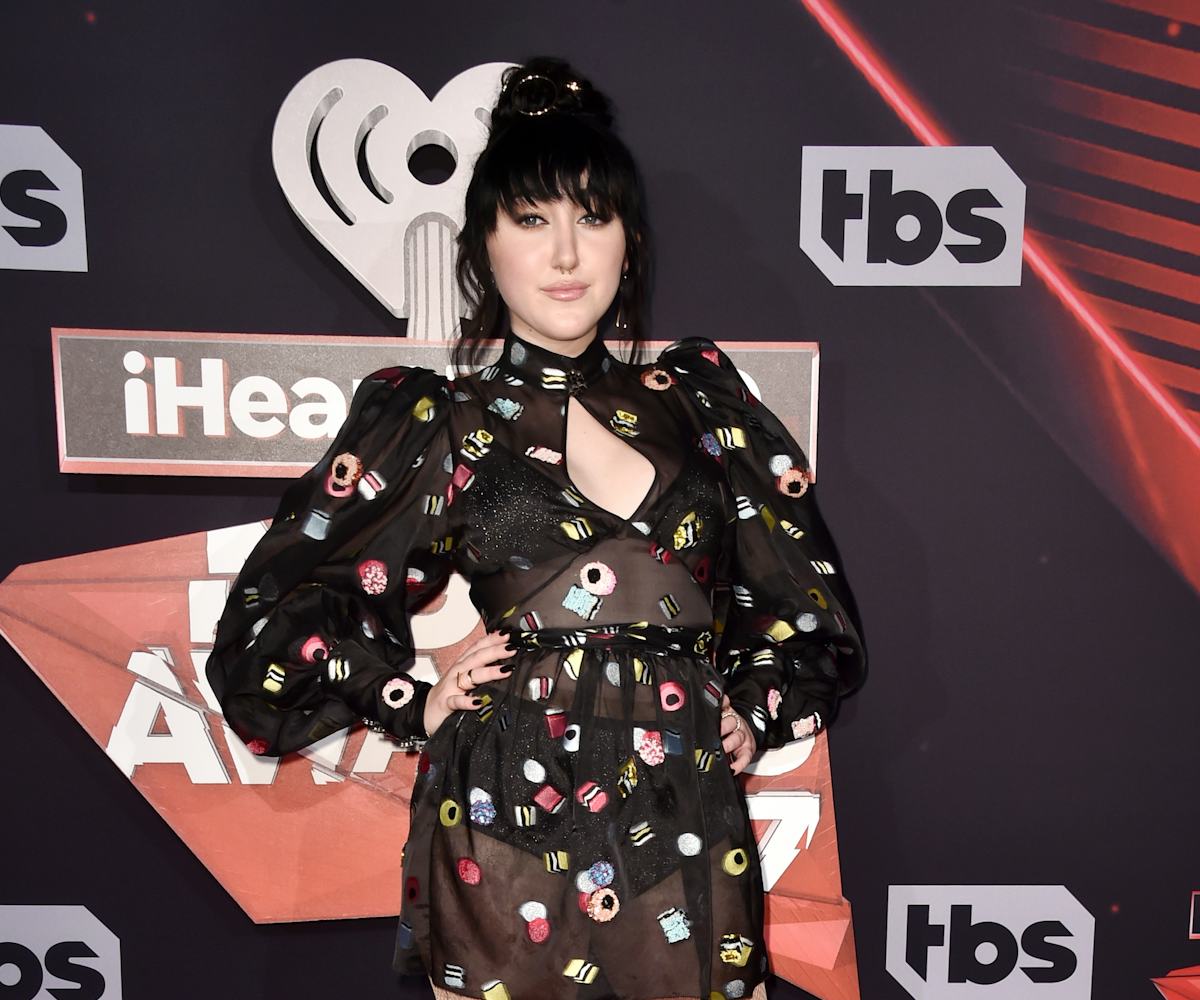 Photo courtesy by Alberto E. Rodriguez/Getty Images
Noah Cyrus Just Took The Topknot To The Next Level
We're totally obsessed with this bobby pin look
Last night at the 2017 iHeartRadio Awards, Noah Cyrus proved that she's destined to be as big of a style icon as her older sister. However, while you may have been distracted by Cyrus' incredible sheer Marc Jacobs romper and sky-high platforms, it was actually her hair that stole the show in our books.
From afar, it may look like Cyrus rocked a simple topknot—however, hairstylist Michael Dueñas totally took this look to the next level. Let's have a closer look.
Photo by Frazer Harrison
The front of her braided knot was adorned with a number of circular pins woven throughout. Even cooler than the front, though, was the back.
Photo by Michael Dueñas
Dueñas arranged a number of Scunci rose gold bobby pins to create a chevron-like pattern up the back of Cyrus' head. "The idea came from conversing with Noah's stylist, Sydney Lopez," he says. "Jewelry shouldn't only be left for the ears or fingers—hair needs love too! We wanted to add a pop to her hair, so I created a design, and we went for it. We wanted something subtle that, at the same time, could stand out without being too overpowering."
Obviously, we're now feeling inspired to get super crafty with bobby pins ourselves. To do so, Dueñas suggests first opting for a pin color that will pop. "Rose gold and black look great on blonde hair, while gold and silver look fantastic against darker hair," he says. He also advises avoiding going overboard with the number of pins you use, as you don't want it to end up looking chaotic. 
To recreate Cyrus' full look, first prep damp hair with Garnier Fructis Smooth Blow Dry for humidity resistant look with a bit of sheen and a natural hold. Once hair is dry, apply R+Co Aircraft Pomade Mousse from scalp to ends to create a textured look. Next, using a vent brush, pull all of the hair to the top of the head, securing with an elastic band and pulling a few pieces in the front to create a softer effect. Using a ponytail or single weft extension, wrap around the elastic and pin to add more length and fullness. Then, split into three sections.
Once your hair is in three sections, tie a knot into each, sliding in your gold hair rings and clipping at the base of the hair. Continue to tie knots into each section until halfway down the hair shaft and then braid all three sections together, securing the ends with an elastic. Dueñas then used Garnier Fructis Sheer Set Hairspray for a strong hold.
Next, wrap the hair around the base of your elastic and secure with long, three-inch hairpins. If you don't have bangs of your own, you can add on clip-in bangs, securing them underneath the front of the topknot. Dueñas then sprayed the hair one more time. Now you're ready to add in the bobby pins.
Apply your pins to the back of the head, smooth side facing out, locking each pin together so that it doesn't move and making sure to keep the pattern symmetrical on each side. Finally, add any waves to the front pieces with a flat iron and voila!—you have your very own Cyrus-inspired, bobby pin-adorned topknot.