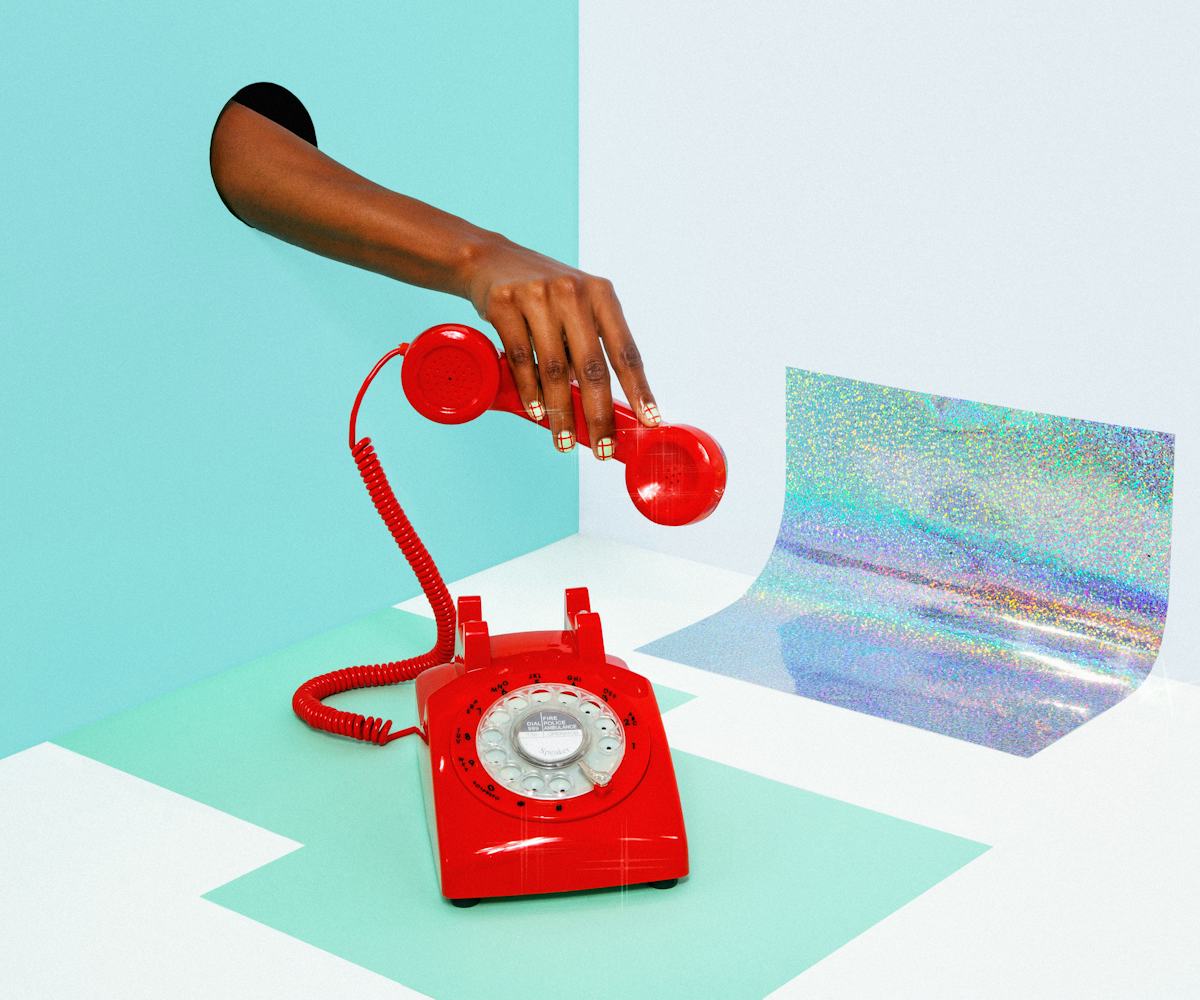 Photo by Savanna Ruedy
6 Cute Non-Holiday Holiday Manicures To Try This Season
Skip the candy cane decals, please
Thanksgiving is now just days away, which means that before we know it, we'll be hearing Mariah Carey's "All I Want For Christmas Is You" blasting everywhere from the grocery store to the club and all the shop windows will be covered in glittering holiday lights.
That also means that those holiday parties we said "yes" to are too just around the corner. On top of making sure our outfits and makeup are on point, we should also be showing our nails some love. What could be more fun than a festive holiday nail to coincide with our sparkling party frocks?
However, we must keep in mind that holiday manicures have a reputation for being pretty cheesy at times—it's not very hard to go from "cute" to "ugly Christmas sweater status." With this in mind, we turned to expert nail artist Miss Pop to help us come up with six non-holiday holiday manicures—you know, the ones that are festive without trying too hard. You won't be seeing any menorahs or reindeer decals on these styles, that's for sure.
All six of these trends are appropriate enough for all of the soirees you're cramming into your schedule next month, but also versatile enough to give a go year-round. Bonus? These are all relatively easy enough to try at home. Even the most novice of DIY nail artists can pull these off (though some will require a bit of a steady hand).
Click through to the gallery below to learn how to incorporate some holiday cheer into your nail look, without getting too carried away.    
Photographer: Savanna Ruedy
Nail Artist: Miss Pop
Prop Stylist: Cecilia Elguero
Models: Anastasia at One Management, Anna Riccardi
Candy ribbon nails
This simple style is inspired by what Miss Pop did for Jeremy Scott's fall 2016 runway show. It's appropriate for even the tamest of office holiday parties.
How to achieve? Start by painting two coats of a bright, intense color on each nail, followed with one coat of a pearly white, to give the nails a candy ribbon-like look. "Stay away from iridescent shades," she says. "Stick to the plain pearly shades your grandma used to wear instead." 
While you can use any bright shade underneath the pearl, a bright baby blue will make for a pretty "icy" look.
CND, Creative Play in 'Drop Anchor,' $3.75, available atThe Industry Source; Revlon, Nail Enamel in 'Pure Pearl,' $5.66, available at Amazon.
Iridescent accents
An iridescent foil accent look is not only festive but adds a certain texture and reflection that you can't get from regular polish.
Miss Pop uses an iridescent cellophane wrap cut into tiny shapes to achieve this design. To try this yourself, first, apply two coats of the desired color, followed by a layer of topcoat. Then, one nail at a time, place the cellophane piece onto the nail and follow with another layer of topcoat. "Opt for a thick, gooey topcoat to make sure the cellophane is sealed in," she recommends.
Revlon, Nail Enamel in 'Enchanting,' $3.97, available at Walmart.
All-over glitter
What could be more cheerful and fun than an all-over glitter? This look is easy enough for nail artists of all levels—and is great for hiding chips and smudges for lazier types like myself.
"The key to glitter is that you don't want to stroke like you would with a regular shade, you want to dab," says Miss Pop. "Tap the glitter onto the nail, then slide it across."
Deborah Lippmann, Glitter Nail Polish in 'Glitter And Be Gay,' $20, available at Bloomingdale's.
Plaid
Plaid and tartan prints are almost as "holiday" as velvet and sequin—so why not try these prints out on your nails? A simple crisscross pattern with two contrasting shades is all you'll need to mimic the print, using a striping brush to paint the thin lines. Not too steady with a brush? Miss Pop suggests purchasing metallic striping tape and cutting into pieces instead.
Zoya, Nail Polish in 'Tiana,' $10, available at Zoya; Dior, Couture Color in 'Riviera,' $27, available at Dior.
Blizzard nails
While we all may not be dreaming of a white Christmas, referencing winter weather on our nails makes for a fun and festive look that's abstract enough to not be so in-your-face holiday.
To try this look at home, Miss Pop suggests using a French tip guide placed at the bottom of the nail to help achieve a neat negative space half-moon. For the ombre tip, she uses a makeup sponge to apply layers of sky blue over the bright blue base, followed by a subtle coat of glitter at the very ends.
Want to try this look in the springtime? Swap out your bright blue base for a different shade and voila—it becomes just another glittery ombre.
CND, Creative Play in 'Royalista,' $3.75, available at The Industry Source; Deborah Lippmann, Nail Polish in 'My Boy Lollipop,' $18, available at Deborah Lippmann; Orly, Nail Polish in 'Holy Holo, $10, available at Orly.
Color blocked
Color blocking is another technique to try for some really artsy holiday nails. This half-negative space, half-circle look is not only a modern take on a holiday look, but will look great with almost any color combination. While we opted for a sparkling silver and white to celebrate the winter, solid brights and matte shades can make this look really pop.
If you're not blessed with a steady hand or much artistic skill, never fear. Miss Pop recommends using blue painter's tape as a guide to help you paint straight across the top half of the nail. Another cheat? Instead of trying to paint in a half-circle, she suggests cutting a sequin in half and attaching it to the nail with nail glue.
CND, Vinylux in 'Cream Puff,' $5.25, available at Beyond Polish; Orly, Instant Artist Polish in 'Platinum Glitter,' $6.50, available at Orly.