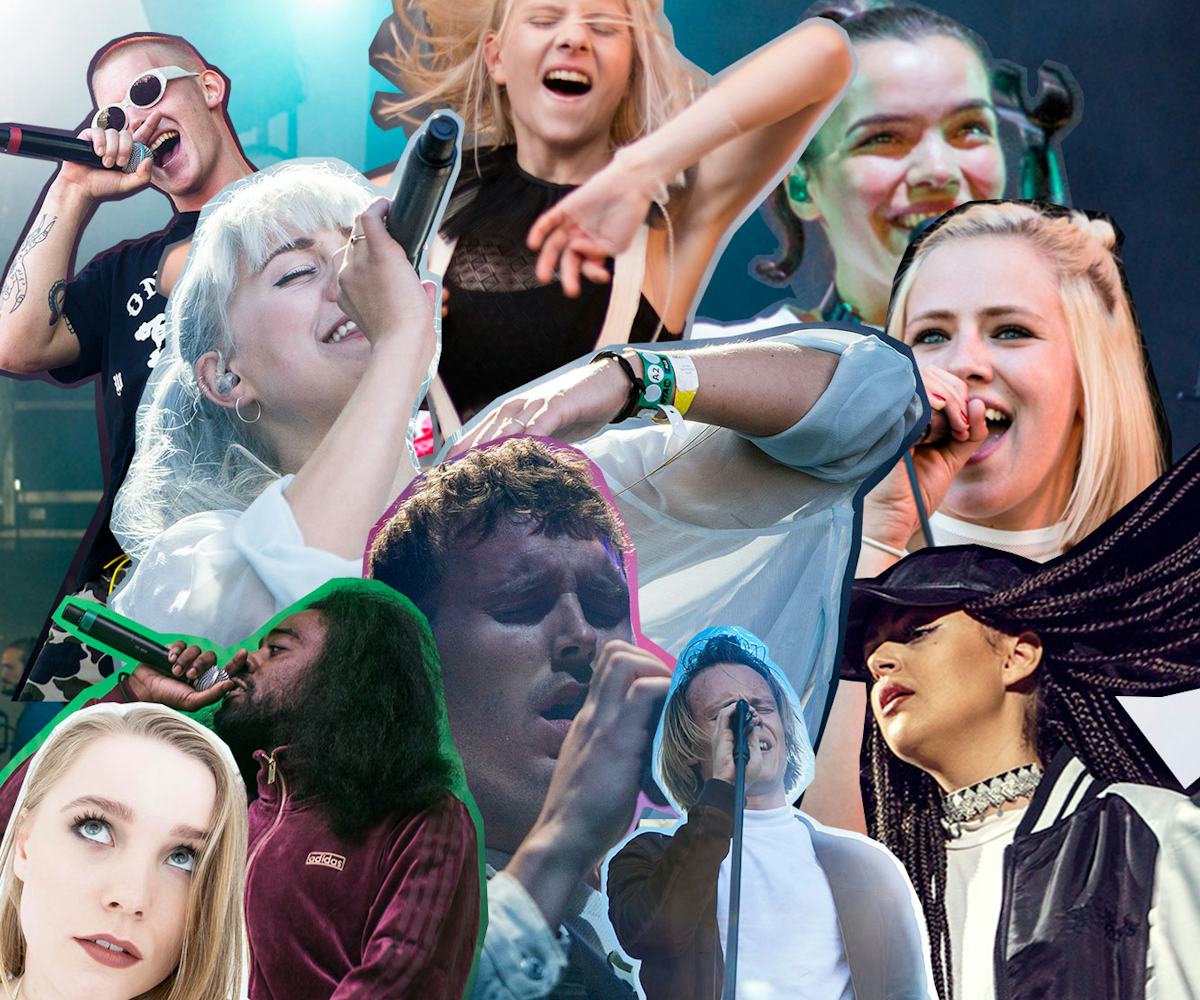 Photographed by Johannes Granseth and Øystein Grutle Haara
Move Over Sweden, It's Norway's Turn To Dominate The Pop Music Scene
Get ready for the Nordic invasion
In Scandinavia, Sweden has been known to rule the pop scene, starting with chart-topping artists like ABBA, Roxette, and Ace of Base to more recent hits from Robyn, Lykke Li, Icona Pop, Avicii, and Tove Lo. Meanwhile, neighboring Norway has showcased a more modest number of transatlantic crossovers, ranging from A-ha, whose presence is relevant in karaoke bars across the globe, to the cooler electronic music leaders Röyksopp; and then there's the comedy duo Ylvis, whose "anti-hit" song "The Fox (What Does The Fox Say?)" proved its success in YouTube numbers—616,802,034 views to be precise (at the time of this article). But that's about to change in a big way: Enter Nico & Vinz and Kygo, who have garnered tons of attention overseas and have collaborated with people like David Guetta, Diplo, and John Legend. In fact, last weekend, Kygo launched his own one-day Cloud Nine Festival in his hometown of Bergen, featuring his favorite artists including Labrinth and Matt Corby. 
While the Swedes have enjoyed their place as Scandinavia's premiere songsters, this year's Øya Festival in Oslo proved that Norway's music scene is a real force to be reckoned with too. For some context, Øya can be likened to Norway's version of Coachella or Glastonbury, bringing together some of the biggest international acts from New Order and Grace Jones to Beck, PJ Harvey, and Florence and the Machine. 
To prepare yourself for the impending Norse invasion, here is a list of 11 Norwegian names to keep on your mind, and to bring up when enjoying some aquavit…
ARY
If you Google "Ary" you'll probably be lead to a Pakistani news channel. If you try "Ary Music," then you'll end up with the Urdu-English extension of the same network. All of which is to say that Ary the musician may be a little hard to discover through keyword searches right now, but this Trondheim-raised artist will definitely be clearing her own way soon enough. At 21, the singer and multi-instrumentalist hit gold with her single cool electro-pop tune,"Higher," that was produced by another Norwegian name to know—Carl Louis—who then featured her in his track "Telescope."
SONDRE JUSTAD
If you're looking for that next big anthemic song to prepare for a big race, that important moment, the thing you fear the most, then you may need to listen to some Sondre Justad. Specifically, his song "Riv i hjertet"... although you may need to learn some Norwegian to understand the lyrics. With catchy tunes and riffs that warrant your attention, though, you can still grasp the essence of the tunes. NB: Justad is not to be confused with Sondre Lerche, one of Norway's more prolific singer-songwriters from Bergen who's made Brooklyn, New York, his stateside base.
ARIF
One of the few rappers in the Norwegian scene, 30-year-old Arif captivates with his humorous and expressive stage antics. Even though rain littered the sky and ground during his performance at Øya, it didn't stop his loyal fans from starting a massive dance party with new admirers joining in. A winner of Spelleman Awards (known as the Norwegian Grammy's) in the urban category and two albums in, this emcee is destined to find a place in the global rap game. Enjoy his "Sulten" music video in the interim.
HIGHASAKITE
Norway's newer megaband with a Universal Music/Propeller Records deal, it seems obvious that Highasakite would go on tour with their neighbors, Of Monsters and Men, who share a similar sound. But the five-piece indie pop band started as a duo, with Ingrid Håvik and drummer Trond Bersu connecting while Bersu studied jazz in Trondheim, which adds to the band's unique instrumentation, separating them from their Icelandic counterparts. Numerous awards and three albums in, their recent being Camp Echo which came out in May, Highasakite prepares for a US tour that started at Rough Trade in Brooklyn, New York, on September 6. They also will be playing the Nobel Peace Prize Concert on December 11. NBD. 
FARIDA
A name like Farida Bolseth Benounis does hint to some Algerian roots (from her father), and if anything it adds a global sound to the neo-soul tunes this Norwegian songstress has to offer. Earlier this year, Farida put out an acclaimed mixtape, and in case you missed it, NYLON premiered her single "Solo Ride." Now with her debut LP on the horizon, we look forward to hearing more from Norway's answer to R&B, and with her recent live performance at Øya, we can say for sure that Farida has grown from a singer to a performer.
AURORA
At just 20 years old, Aurora is already one of the biggest headliners from Norway. She released her debut album All My Demons Greeting Me As A Friend this past March, which is a glorious chorus of electro-pop instruments and ethereal vocals, similar to what you'd dream you'd find in a forgotten forest. The album features songs like "Conquerer," "Half the World Away," and "I Went Too Far," which she performed on The Late Show With Stephen Colbert this July. While Aurora can command the mic with a Galadriel-like quality, she comes back down to earth in the banter in-between songs. Aurora's older sister Viktoria, a fashion designer, can be held responsible for some of the most inspired outfits that she wears on stage.
Dagny
Dagny Nordvoll Sandvik is no stranger to the music world. Her parents are vocalist Marit Sandvik and jazz musician Øystein Norvoll. As her single "Backbeat" shows, Dagny crafts fun, folk-pop songs that warrant some type of carefree moves; full disclosure, this writer may have danced uncontrollably during a Dagny show. Raised in Tromsø, a city considered the cultural hub above the Arctic Circle and known for its views of the Northern Lights, Dagny now considers London her home base, like another Norwegian singer of note, Susanne Sundfør. Dagny released her debut LP Ultraviolet on September 2, and it was what we'd most anticipated all summer. 
STRANGE HELLOS
With a debut concert on Øya's Club Night, where music venues around Oslo are filled with the latest underground bands the night before the festival grounds open, the Strange Hellos played to a packed room filled with excitement and anticipation. Comprised of members from AURORA, The Megaphonic Thrift, and Casiokids, Strange Hellos celebrate the best of power pop in a mythical, dreamy way. Their single "Broken Teenage Heart" came out on Diamond Club at the start of the summer, lucky us!
GUNDELACH
Prepare to lose yourself in Gundelach's catchy house tempo tunes. It's like Empire of the Sun but a little more downtown; it could be likened to Kygo sans the tropicalness. But it's also distinctly his own. A former DJ, Kai Gundelach has a live show that gets you dancing thanks to a digital backdrop armed with the right type of beat-ridden interactivity. Gundelach himself can be seen shredding his electric guitar up front, while the talents of the keyboard players and a drummer are on display in the silhouetted background. This is only the beginning for Gundelach as a solo artist, and we are excited to see what's next.
FRØDER
From the Bergen music scene comes Frøder, who combines witty lyricism with a rich indie pop sensibility. She started her career writing songs that would become platinum hits for the CLMD collaboration "The Stockholm Syndrome," and she's now considered one of the most promising Norwegian breakouts. Whether she's on a large festival stage or in a very small living room (which is where this writer witnessed her performance), Frøder is extremely engaging.
$USHI x KOBE
With their genre being rap and trap, with a Bergen dialect, $ushi x Kobe, is definitely one of the more distinctive artists from Scandinavia. The duo, made up of Onge $ushimane and Kobe-Wan Kenobi, connected in 2013 after making music individually for several years. They craft songs that are perfect for a party—high-octane and fun. Check out tunes like "Wadadadadeng" and "Yakuza" for a taste. And remember, they are just getting started.