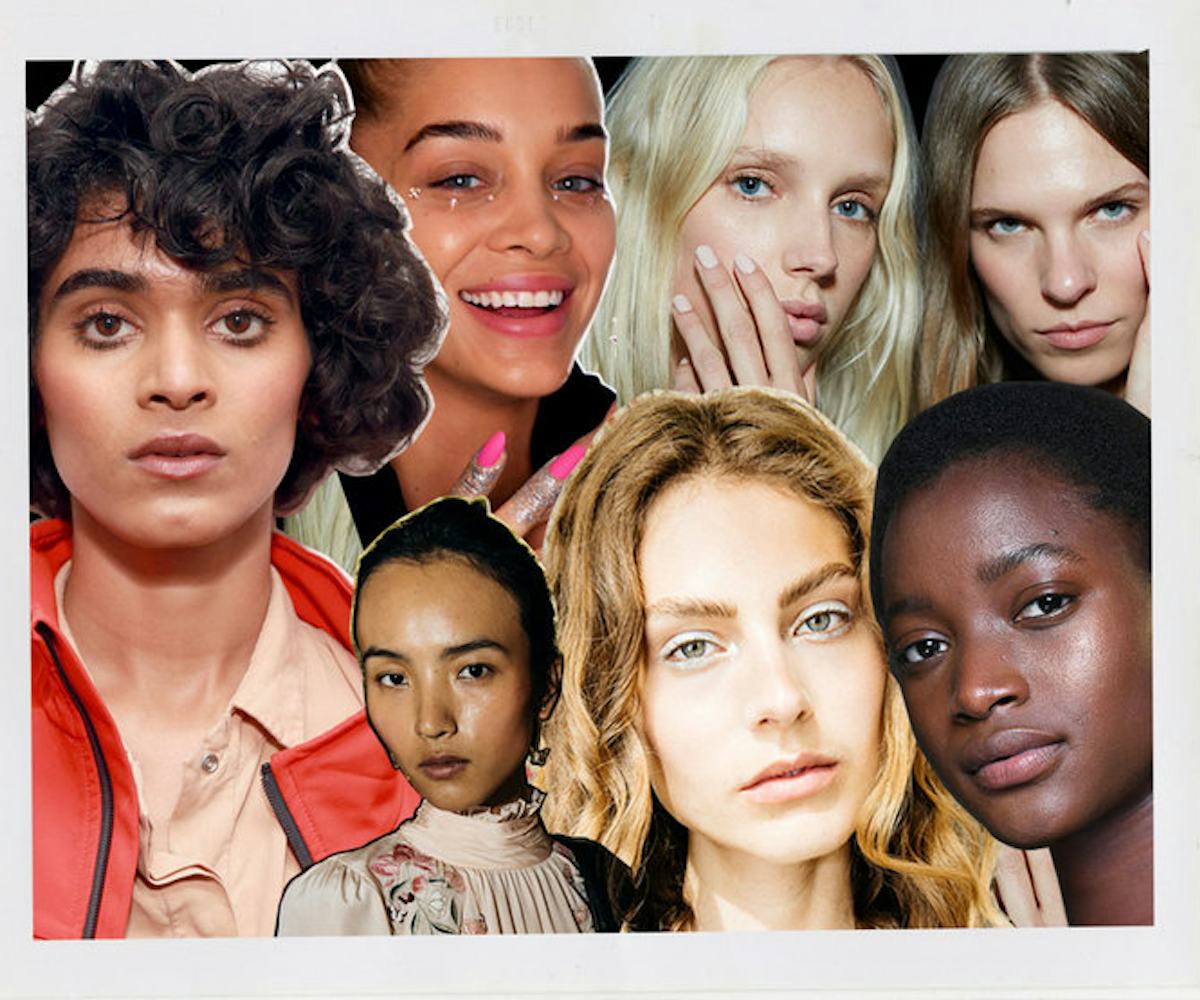 Collage photos by Andrew Blumenthal, Getty Images, Essie, NARS, CND and Instagram.
8 NYFW Tips And Hacks To Help Your Beauty Game
The beauty experts behind the scenes spill their secrets
New York Fashion Week is winding down, and on top of some insight on what trends we'll be shopping for come spring, the week-long event leaves us with tons of beauty inspiration for months to come.
However, when it comes to recreating a runway beauty look at home, a lot of us find it a bit intimidating, as what we see on the catwalk can often seem impossible to pull off IRL. Good news for us? We've definitely seen a shift toward more natural looks, save some glitter and a pop of color here and there.
All week long, we went backstage and chatted with the best in hair, makeup, and nails and got them to spill the beans on all of their expert tips and hacks, from how to create a flawless, dewy glow to how to actually rock glittery fingers (we swear, they're not even messy!). The best part? None of them require an expert-level set of skills (or a contour palette). Beauty novices, rejoice!
So, whether your go-to look is clean and low-key or you're more of a wild card, read on to learn how to up your beauty routine with minimal effort required.
Use two different shades of brow pencil to create the perfect bushy (but natural) shapeBackstage at Cinq A Sept, Stila Cosmetics' executive director of creative artistry Sarah Lucero created the most ethereal, whimsical eye look with the use of shimmering pastels and silver glitter. While the rest of the look was pretty simple—a barely there flush to the cheeks and lips and slightly filled-in brows—she did share a tip on how to achieve the perfect bushy brow while still keeping it natural. The trick? Use two shades of brow pencil. "Fill in ends of the brows with a darker shade, but use a lighter shade to fill in the more bare spots toward the beginning of the brow," she says. "If it's all one color, it will look too heavy." Duly noted.
How to achieve the reverse glitter nailSick and tired of your average sparkly nail polish? Why not go for the reverse glitter nail, applying the glitter to your digits instead of the nail itself? We know, we know—can this be easily replicated at home? According to Miss Pop of CND, who created the look backstage at Jeremy Scott, it totally can be.
Models donned hot pink and electric orange nails with silver glitter applied around the nail beds and fingertips, dripping down the fingers. Miss Pop first applied Spirit Gum to the fingers and then cosmetic glitter with a paint brush, letting it naturally fall into place with each stroke and streak. She recommends using eyelash glue for an easier-to-remove approach.
Prepare to see all of us donning sparkling fingertips—the ultimate jazz hands.
How to nail the no-mascara mascara lookBackstage at 3.1 Phillip Lim, makeup artist Francelle Daly for NARS created what she called the "done undone," which mimics an au naturel look, even though, well, the model is wearing a bit of makeup. As Daly took us through creating the effect, she shared her expertise on making the eye appear more awake, without looking overdone: For the Lim girls, she applied just a bit of mascara to the center lashes and on the ends only. "Just put it in the center of the top lash line, and you'll get the effect of no mascara but the eyes will look healthy and more awake," she says. "Just lightly define certain angles of the eye and don't extend it all the way to the root."
How to create an effortless (yet unexpected) hairstyleWhen it comes to our hair, most of us don't have the time (or the energy) to create a full-on look each morning. With that being said, once we caught a glimpse of the seemingly effortless hair at Adam Selman, we were intrigued.
Hairstylist James Pecis for Amika created this soft and fluffy yet tough look using "granny combs"—aka drugstore hair accessories you've likely never considered using. He explained to me that using the unexpected accessory is an easy way to create something really unique that won't put a damper on your 10-minute morning routine. "I love hair accessories," he says. "I think you can find things and use them in an unconventional way." Excuse us while we raid the nearest Duane Reade.
Learn how to create the full look, here.
How to find the perfect pale polishFinding a flattering pale polish can prove to be challenging, especially if you aren't able to test it out on your own nails before you leave the store. However, Rita Remark, a lead nail artist for Essie, shared her trick of the trade backstage at Alexander Wang: Look for shades that are slightly pinkish. "Not wildly pink, but a slightly pink undertone flatters all skin tones, so when you see a shade with just a hint of pink in it, that's how you'll know it'll work for you."
That said, she knew that Essie's Topless and Barefoot would be the perfect match for Wang's diverse range of models.
How to create dewy skin (that actually looks good and not like you're just sweaty)When it's hot and humid outside, one of two things will happen to our complexion: We're either left with a gorgeous, almost shimmering dew, or we turn into sweaty swamp monsters. While, unfortunately, we usually suffer the latter fate, backstage at Kate Spade New York, we learned how to create that ideal summery glow, sans summer heat (winter is coming, after all).
M.A.C makeup artist Romy Soleimani brushed facial oil onto the models' faces, buffing it into the skin. The result? "A dewy, slightly sweaty, humid New Orleans vibe." We'll take that over swamp monster, any day.
Make thick, black mascara appear more natural with a coat of clear mascaraAs this season's New York Fashion Week production for Opening Ceremony was actually a play, the beauty looks for the actors and dancers were kept minimal. While actress Mia Wasikowska's look was especially simple, Lee applied mascara and shared her expert tip on how to make a thicker, darker mascara appear more natural: "The trick is to put a coat of clear mascara over it because it actually sheers it out," she says. "This trick is better than opting for a brown mascara because you'll still get the tint of black."
This tip comes in handy, especially if you've already applied mascara that you feel looks too thick but you don't have the time to remove it and start over (because who has time for that?).
How to create a naturally flushed lookIf the whole contouring thing isn't for you, makeup artist Dick Page shared his hack for the perfect alternative (a natural-looking flushed cheek) backstage at Adam Selman. Using M.A.C cosmetics, he blended a combination of three different shades of cream blush—red, pink, and brown—to mimic a naturally rosy and healthy glow.
First, he mixed the cream blush sticks on the back of his hand, and then applied to the face with a powder brush. While he admits you're not supposed to use a powder brush with cream formula ("I ruin brushes all the time!" he admits), he's then able to have more control of the pigment and diffuse it accordingly, creating an overall natural look—the perfect touch for those who embrace the no-makeup makeup look.