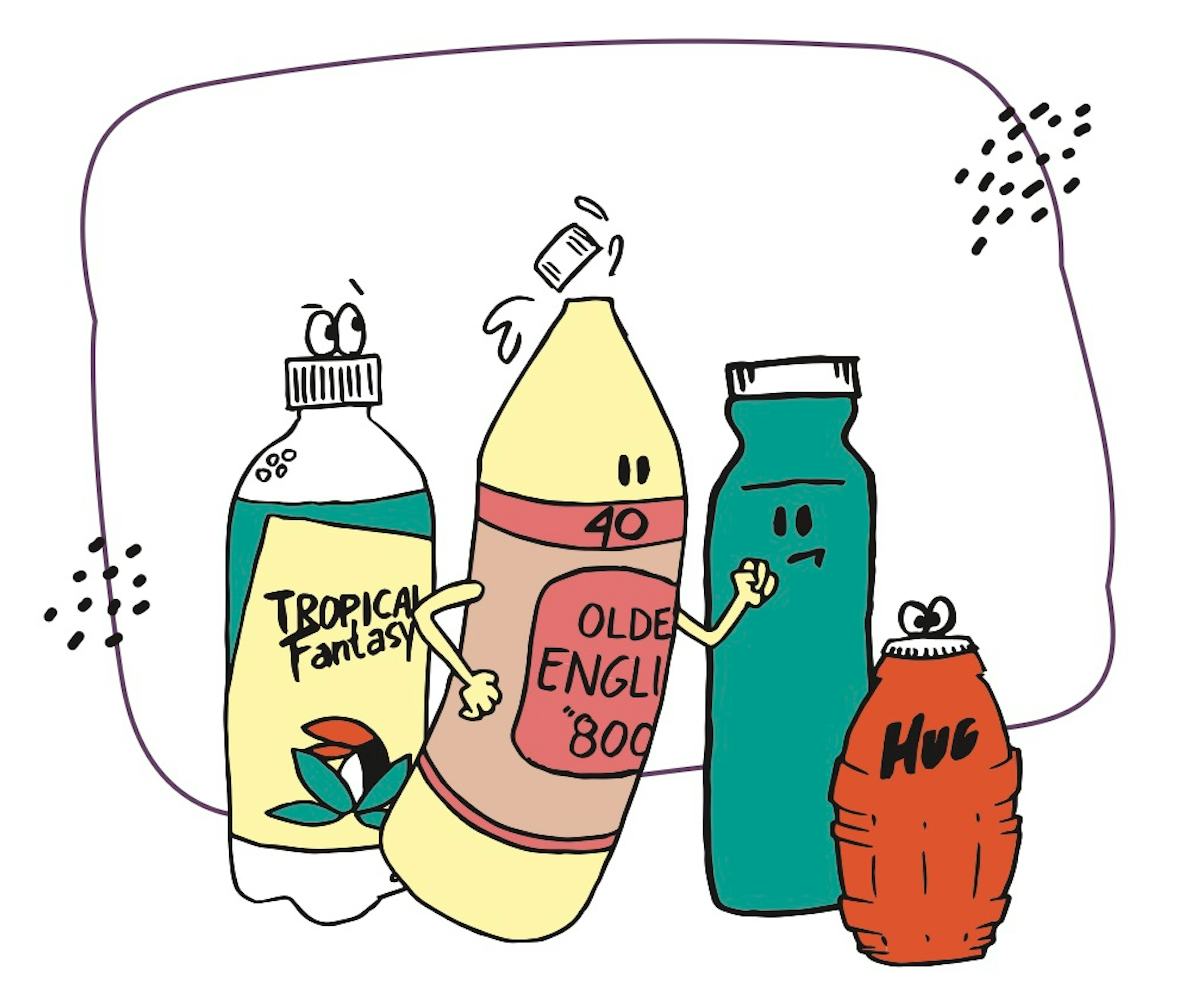 Illustrated by Sarah Julson
The NYLON Field Guide To NYC Bodega Eats
"Can I get a baconeggandcheese?"
The following feature appears in the February 2017 issue of NYLON.
When you grow up in New York City, copping food and drink at the local bodega is a defining part of your childhood (right next to mastering the subway before hitting puberty). And for New York transplants, becoming literate in the most iconic bodega offerings is a rite of passage that comes only with time. So here, we present a quick reference guide to the quintessential items at the city's signature corner stores.
Bacon, Egg & Cheese
It's the holy grail of bodega sandwiches: hearty breakfast, hangover healer, source of eternal life. The combo is simple—a roll with bacon nestled atop American cheese that's melted on scrambled eggs—and such a staple in the native New Yorker's diet that we order it with one breathless word: "Baconeggandcheese."
Chopped Cheese
Haters will say it's a knockoff of the Philly cheesesteak, but they're just jealous. The two sandwiches do contain similar ingredients, however the chopped cheese is made with the more democratic chopped-up hamburger meat instead of steak, and is topped with lettuce and tomato. The most authentic versions of the hero are exclusive to parts of the Bronx, Spanish Harlem, and Queens, so you may have to go on a hunt for the real thing.
Buttered Roll
It's pretty self-explanatory—a roll with butter on it. It typically goes for a dollar. Hey, times are tough.
David Sunflower Seeds
If you can get past how inconvenient it is to eat sunflower seeds (so much spitting), David brand is made for you—even its smallest package has, like, 700 seeds. Get the ranch flavor for extra street cred and a casual boost to your blood pressure.
Plantain Chips
Bodega offerings are a major indicator of New York City's demographic makeup. Plantain chips, for example, are a clear example of the city's large Caribbean population—and the fact that frying anything to a near-crisp makes for a damn good snack.
Linden's Cookies
This cookie brand comes in packs of three, and in two core flavors: chocolate chip and butter crunch (name a better duo—we'll wait). While they're typically given out in New York City public schools, you can find them in most bodegas to satisfy your nostalgia craving.
Iced Honey Bun
What's better than a honey bun? A honey bun with a weird, wet frosting, of course! (But really: when it comes to bodegas, we don't want none unless you've got buns, hon.)
Mr. Freeze Jumbo Popsicles
If you're a true New Yorker, one of your fondest childhood memories is sitting on your stoop in the summer, biting into a Mr. Freeze pop, and having the sides of your mouth sliced by the plastic with paper-cut-like incisions. Nothing adds to a popsicle experience quite like the taste of your own blood.
Gourmet Pound Cake
Don't be fooled by the plastic wrap and seemingly generous use of the word "gourmet": These pound cakes are everything. The marble flavor, with its magical ratio of yellow and chocolate cake, is especially a treat. Pro tip: Cakes with creepy condensation in the packaging are usually delicious.
Arizona Iced Tea
Things come and go, but the price of Arizona Iced Tea is forever. You can keep it classic with the lemon iced tea or pretend to be healthy with the ginseng-and-honey-flavored green tea, but if it costs you more than the 99 cents advertised on the can, you're getting scammed.
Tropical Fantasy
Urban legend has it that these carbonated drinks were laced with a chemical that would sterilize African-American men (really, Wikipedia it), but that never seems to stop anyone from treating themselves to a good ol' 50-cent Island Punch Finisher or Champagne Kola.
Olde English
This malt liquor is the beverage of choice for people who imbibe from paper bags in the street to avoid public drinking charges.
Nutcracker
On days when you want to evoke the adrenaline rush of drinking illegally distributed liquor, à la Prohibition, dive into the freezer of your nearest bodega and grab one of the nondescript clear plastic bottles filled with brightly colored liquid. Drink a couple of these fruity, boozy, under-the-table beverages to pregame a summer barbecue and it'll be the best party you'll never remember.
Little Hug
Say you crave the anti-capitalist feel of a drink that's practically devoid of branding, but don't want to sacrifice your liver. Drop that Nutcracker and get yourself a Little Hug instead. It's the small, clear plastic jug that's shaped like a barrel and contains a neon-fluorescent liquid (offered in a range of fruit flavors) that we're pretty sure isn't toxic.