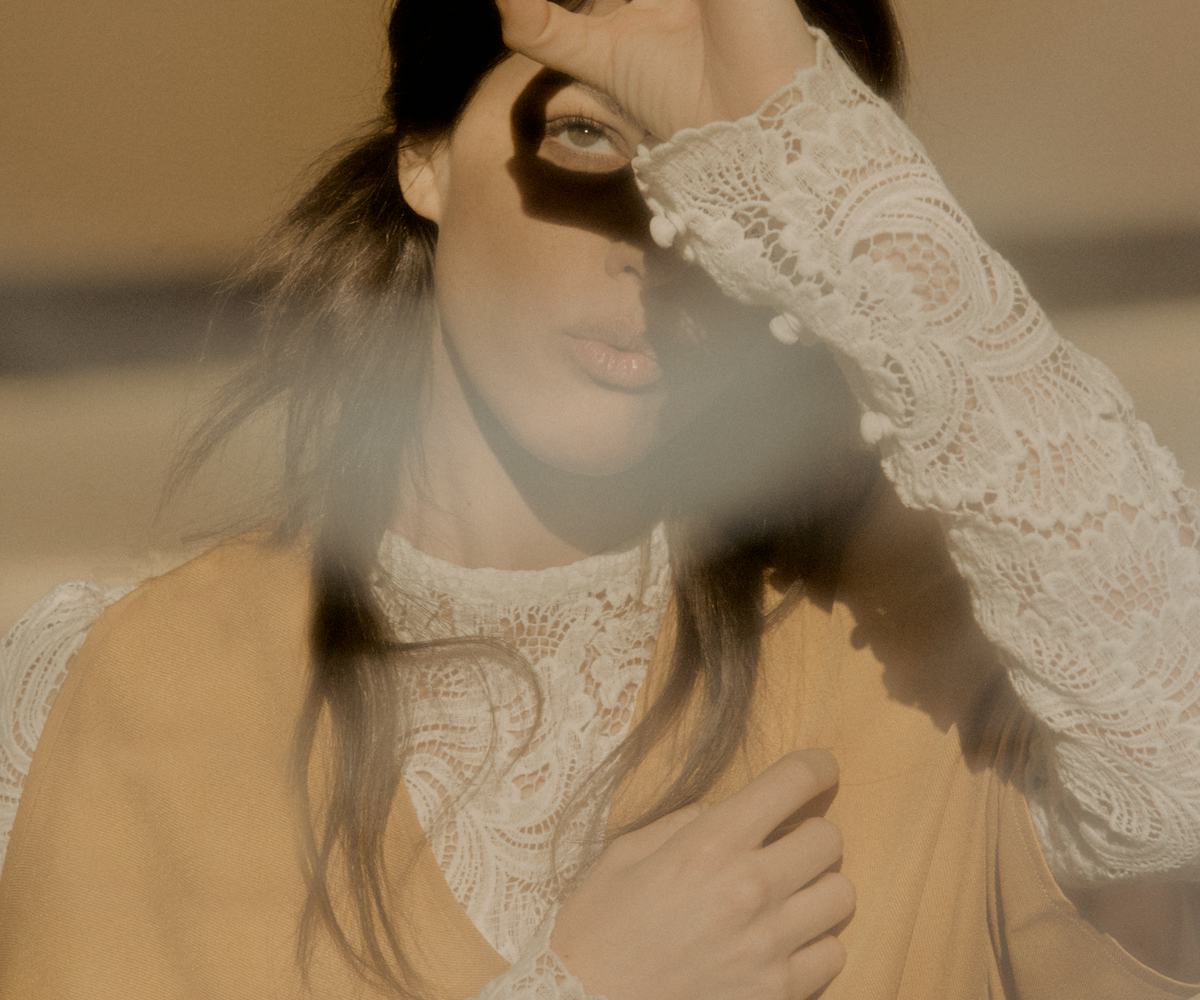 Photographed by Amy Harrity. Dress by Zero + Maria Cornejo, top by A.L.C.
Callie Hernandez On 'La La Land' And How She Found Her Footing In Hollywood
We caught up with the actress to talk about her latest projects
The following feature appears in the February 2017 issue of NYLON.
Callie Hernandez spent the better part of two years sleeping on other people's couches. From 2014 until recently, the Texas-raised actress relied on the kindness of friends, who welcomed her into their New York City apartments. She also relied on coconut oil. "When you're crashing with friends, you start to notice what you can utilize without feeling like a total leech, like coconut oil," she says. "You can use it for pretty much anything."
Hernandez's laugh, which punctuates her endorsement, is as generous as her frame is slight, and helps explain why she was invited to stay in people's homes for so long, even if she felt guilty about it. "You start to feel like you're just infringing on people," she says. At the time she was an acting student, then an acting-school dropout after not being able to afford tuition at the William Esper Studio in Manhattan. But a lot can change in two years. "It was pretty raw," she recalls of that period while seated in a cabana chair in the garden of the Hollywood Roosevelt hotel. She lives nearby now, in the hillside neighborhood of Los Feliz. "I mailed whoever let me live with them a key," she says, "and was like, anytime, please."
Today there are billboards for her latest feature, La La Land, all over Los Angeles. The movie, a Hollywood Golden Age-style musical from writer-director Damien Chazelle, stars Emma Stone and Ryan Gosling as two aspirational creatives who fall in love against a technicolor L.A. backdrop. Hernandez plays friend and roommate to Stone's character, and shares an intricate musical number with her famous co-star. "I was definitely the worst dancer," she says self-deprecatingly. She is currently filming another L.A. story, Under the Silver Lake, a psychotropic California noir written and directed by David Robert Mitchell, who is following up his 2014 horror hit It Follows. To prepare for the role, which Hernandez is keeping under wraps, she was advised by Mitchell to watch David Lynch's Mulholland Drive. "It was the only Lynch movie I hadn't seen," she says. "Watching it, I was like, this is the best Lynch, so no wonder!"
Before joining the cast of Under the Silver Lake and after shooting Ridley Scott's top-secret sci-fi sequel Alien: Covenant, Hernandez spent several months wandering around Los Angeles, wondering how she'd gotten here so quickly after her meager New York existence. "I worked for a year and a half straight," Hernandez explains. "I was going off of curiosity and intuition." After Alien: Covenant wrapped, a project whose details Hernandez is sworn to protect, "that was the first time I got to step back, and I realized I was in a different place. It was kind of sudden."
Hair: Kylee Heath at Starworks Artists using R + Co. Makeup: Fiona Stiles at Starworks Artists using Fiona Stiles Beauty.