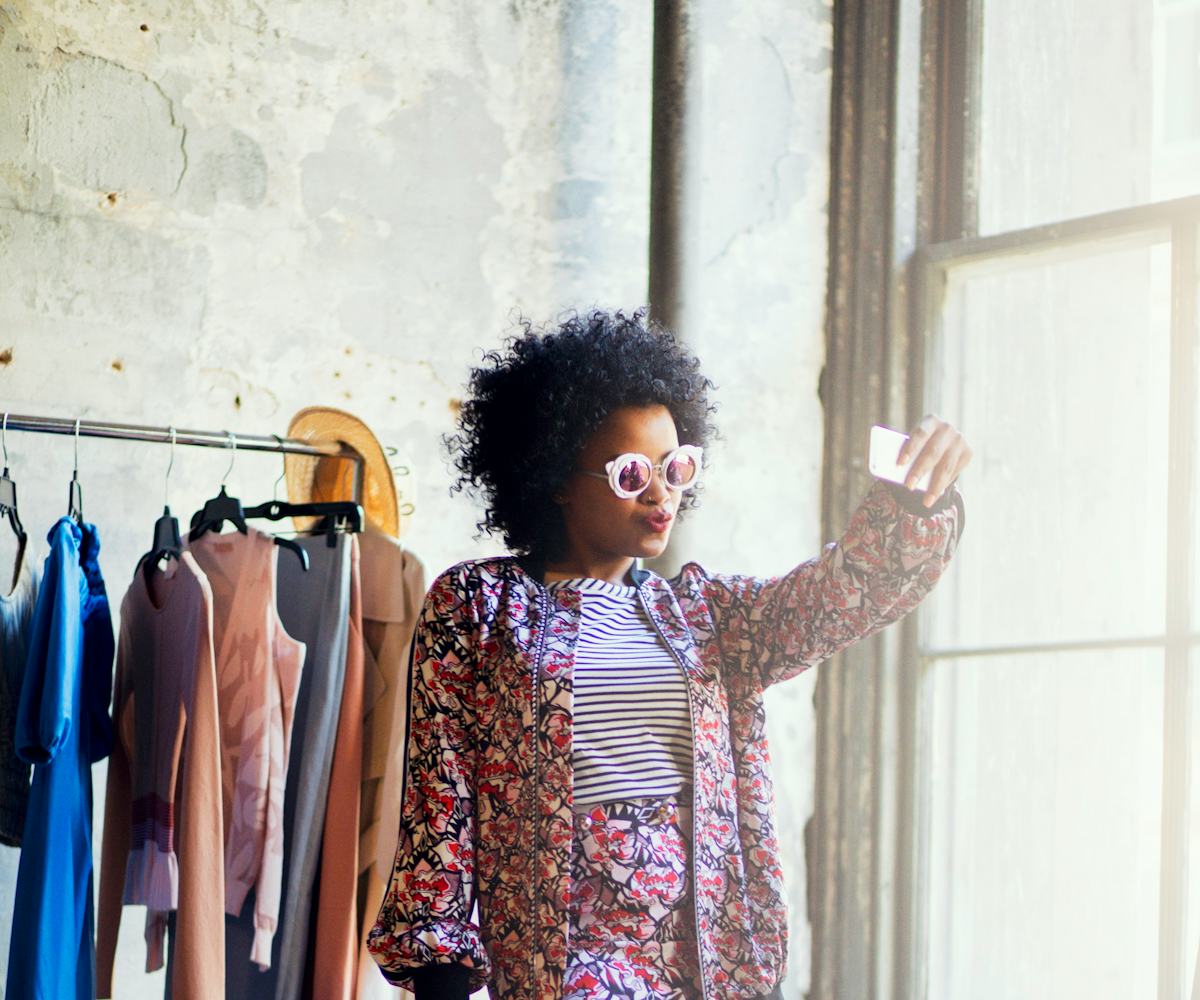 Photographed by Jonathan Grossi. Styled by Wendy McNett. Jacket and skirt by Victoria Hayes, shirt by Grey State, shoes by Paule Ka, sunglasses by Chanel, bag by Betsey Johnson.
Chanté Adams' Breakout Role In 'Roxanne Roxanne' Caught The Attention Of Sundance
"I want to be able to give a voice to the voiceless"
The following feature appears in the May 2017 issue of NYLON. Every year, we round up the brightest rising stars in film for our Young Hollywood Issue. Get to know the actors and actresses who are set to take over the industry. To read more, click here.
Every actor wants to make it look effortless, but 22-year-old Chanté Adams is the real deal. First, she landed the lead role in Roxanne Roxanne, the biopic of Queens rapper Roxanne Shanté, six weeks after graduating from Carnegie Mellon. Then, in a display of unquestionable realness, Adams left the Sundance Film Festival a day before awards were announced. She learned she had won the Special Jury Award for Breakthrough Performance while draped across her friend's couch, eating pizza and watching Bad Girls Club. "My phone started blowing up with people saying congratulations," she says. "I was just like, 'What?'" And the shell-shocked deadpan of humility she brings to the word "what" is too perfect to be acting.
Humble Beginnings: Acting was never Adams's childhood dream, but when she first caught the drama bug, it stuck. "It was my first day of high school. I had one friend, and she said she was going to audition for the play. I went with her and said I'd wait outside, but they said I couldn't wait if I didn't audition. I had plans to be a professional cheerleader, so I was like, 'Please.' But I did it anyway, got the part, and I fell for it fast."
From Classically Schooled...: "Our teachers could always tell when we hadn't put the work in, because that shows in a performance. It's about the preparation, taking a script and pulling it apart and piecing it back together in your own way. My teacher in high school, Marilyn McCormick, was the light of all her students' lives. She was the shepherd, we were the flock. Growing up in Detroit's not the easiest thing, and she pulled some people out of really tough situations and turned them into stars or gave them something to look forward to."
...To Old School: Preparing to play a hip-hop legend required Adams to split the difference between faithfully representing the woman and creating something original. "The way I looked at it, I had to take Shanté and Chanté and put them together to make a third person that you see in the movie. I spent hours watching her interviews, her videos, performances she had, reading articles, anything that'd bring me closer to her."
Young Mogul: Adams has a surprising amount of perspective for a performer so early into her career. "Success to me means always changing. I've been introduced to a whole new world of possibilities. When I finished [Roxanne Roxanne], I decided I wanted to produce movies like this one day. They wanted to cast someone unknown specifically for this role, and a lot of people wouldn't do that. I want to be able to give a voice to the voiceless."