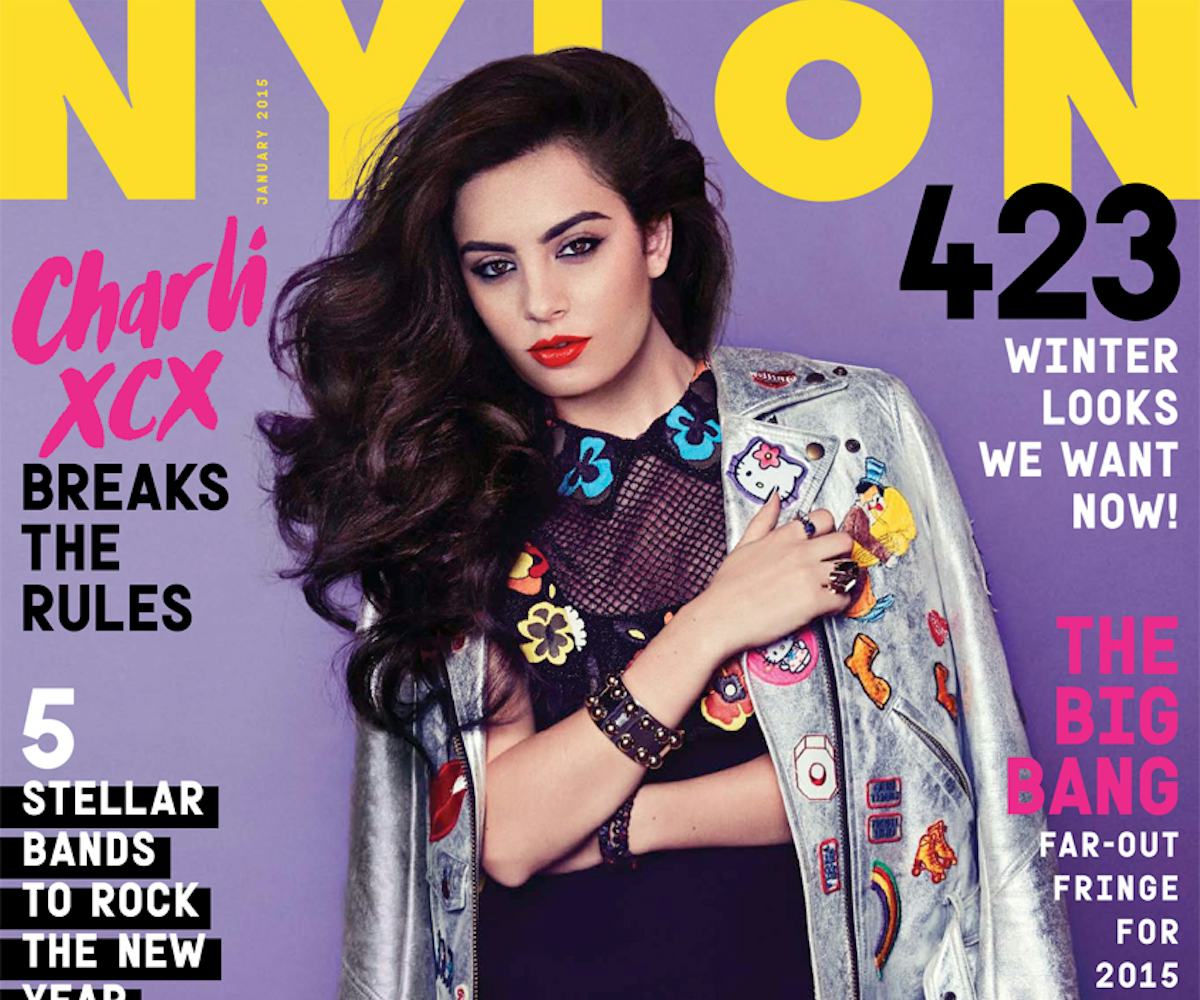 photographed by zoey grossman
charli xcx is our december/january cover star
and she wants to empower you to go wild.
Talk about the rise of feminism in the music industry: Our newest cover star Charli XCX is poised to disrupt everything the world thinks a pop icon should be. Sure, her music has the catchy, anthemic thing on lock — but what other singer-songwriter in the spotlight encourages her fans to go wild to the point of throwing tampons on stage at shows? "I want them to feel like they are empowering themselves by doing whatever the f-- they want," Charli tells NYLON in our cover story. 
This rule-breaking anti-diva's highly anticipated new album, Sucker, is coming out in mid-December. Until then, allow us to tide you over with some gems from her profile in the upcoming issue of NYLON.
On feminism: 
"I admire women like Beyoncé for putting themselves on the line and having visuals that say 'feminism.'"
On confidence:
"I feel very comfortable in my own skin. I've never stripped as a stripper, but when I was younger and playing at raves, I would take off some of my clothes — which was kind of weird because sometimes my parents would be there."
On her fans:
"I get tampons thrown on stage as well [as bras and panties]. Not used. They're clean, but there's gonna be a used one at one point, and I'm ready for it."
On the times we live in:
"Everyone is encouraged to seize their own opportunities and express themselves — it's such a time of freedom, but no one is really free. That definitely sounds like I've smoked a lot of weed on tour. And I have." 
Stay tuned as we reveal more from our interview and shoot with Charli. The full scoop will be in the issue, which hits newsstands December 2. 
Photo Credits
Photographer: Zoey Grossman
Stylist: Daniela Jung
Stylist Assistant: Michael Kozak
Hair: Luke Chamberlain at The Magnet Agency
Makeup: Colby Smith at Exclusive Artists using Chanel Quadra Eyeshadow
Manicurist: Stephanie Stone
Retouching: Michaela Dalzell