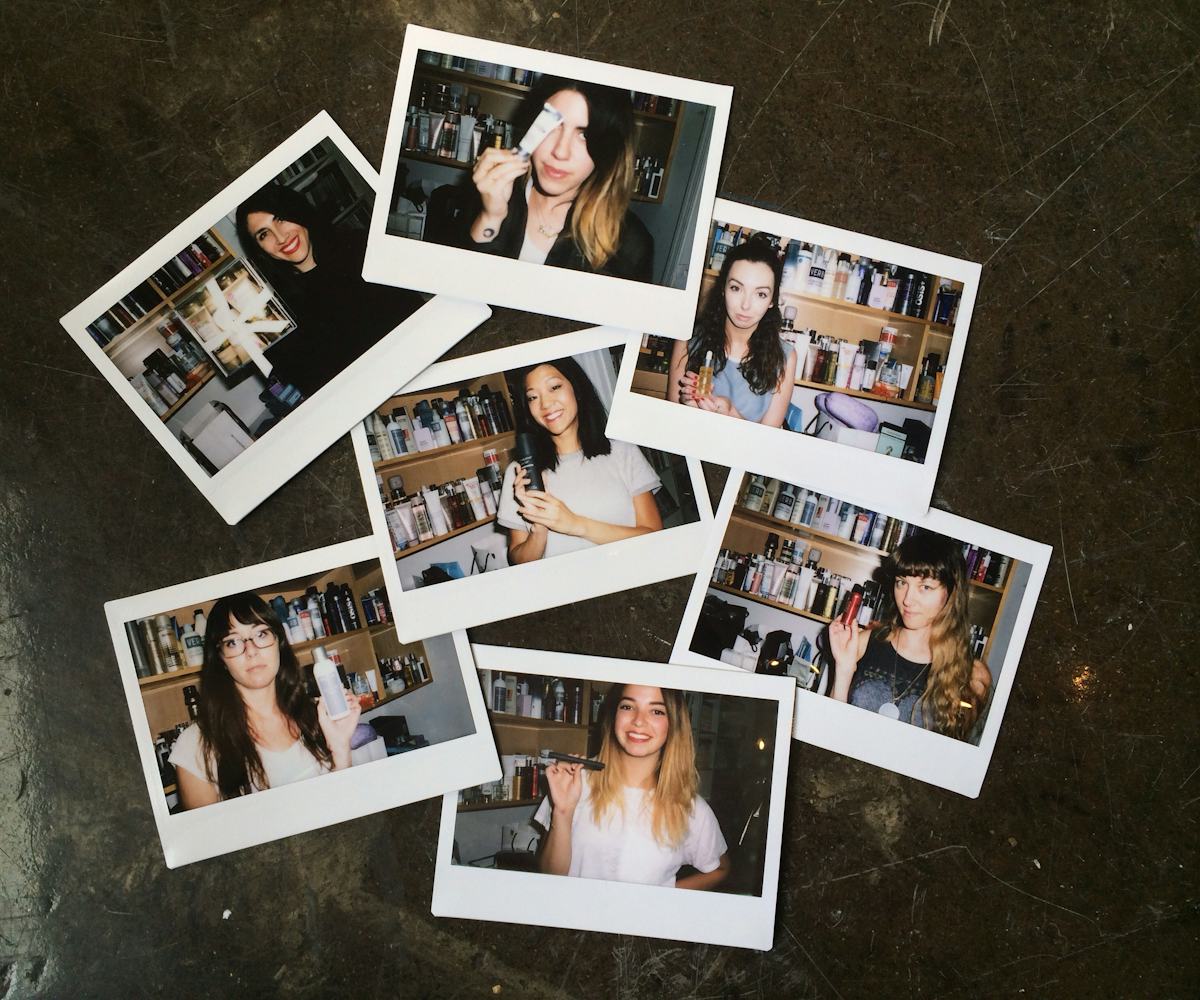 our editors raid the beauty closet
+ share their fave finds with you.
What happens when you unleash seven editors into the beauty closet with unrestricted access? Pandemonium and absolute madness, of course! Among all the mayhem, though, we found order, or at least some semblance of it, with some seriously awesome beauty products. Here, our editors share their favorite finds with you because it's the next-best thing to inviting you over to stock your makeup bag.
Editor in Chief Michelle Lee's Pick: Living Proof Instant Texture Mist
"I love the look of beachy, wind-blown hair, but my hair is naturally stick-straight. So this stuff adds a nice amount of texture without feeling crunchy. And it has a lightly sweet scent without entering into nauseatingly sugary territory."
Digital Editorial Director Liza Darwin's Pick: Estelle & Thild Super Bio Active Magic Duo
"This Swedish skincare brand is my new nighttime go-to. I put a couple of drops of this lightweight serum all over my face just before bed, and then wake up looking refreshed and awake, even pre-coffee. It works no matter how late I go to bed or how many times I press snooze, which means it's a miracle product in my book." 
Fashion Assistant Marissa Smith's Pick: Eau Des Minimes Moisturizing Hand Cream in Blood Orange & Rosemary
"I'm not a huge makeup fan, so when I raid the beauty closet I go for the lotions and face creams. This hand cream is amazing not only because it keeps my skin soft, but it's also the perfect travel size so I can take it everywhere with me."
Digital Design Director Liz Riccardi's Pick: SACHAJUAN Dark Volume Powder
"I'm super excited to give this a try! Dry shampoo is pretty much a must with bangs. The spray formula makes it super convenient and as a brunette I could really do without the usual white powdery residue. Also, I love any product that can add a little volume."
Market & Accessories Editor Tamar Levine's Pick: Jergens Natural Glow Daily Moisturizer
"Jergens Natural Glow Moisturizer is my ultimate summertime staple. Since I'm basically a vampire, it gives me a nice little streakless glow on my legs and wear shorts without blinding everyone around me."
Special Projects Manager and Writer Jackie Yaeger's Pick: Big Sexy Hair Weather Proof Humidity Resistant Spray
With hair like mine (frizzy, big, full--with bangs) it's hard to find a hairspray that a weatherman would approve of every day. But, Sexy Hair's Big Sexy Hair Weather Proof Humidity Resistant Spray keeps my hair looking the way it did when I left the house, even when it's windy.
Digital Editorial Assistant Yasmeen Gharnit's Pick: BITE Beauty Matte Creme Lip Crayon in Brandy
"I have a comically cartoonish lip shape, so I like to break out a good lipstick every now and then. When I came across BITE's products, I was hooked. Seriously, hooked. This lip crayon is super easy to apply and has orange peel wax and resveratrol antioxidants that keep my lips nice and silky smooth."