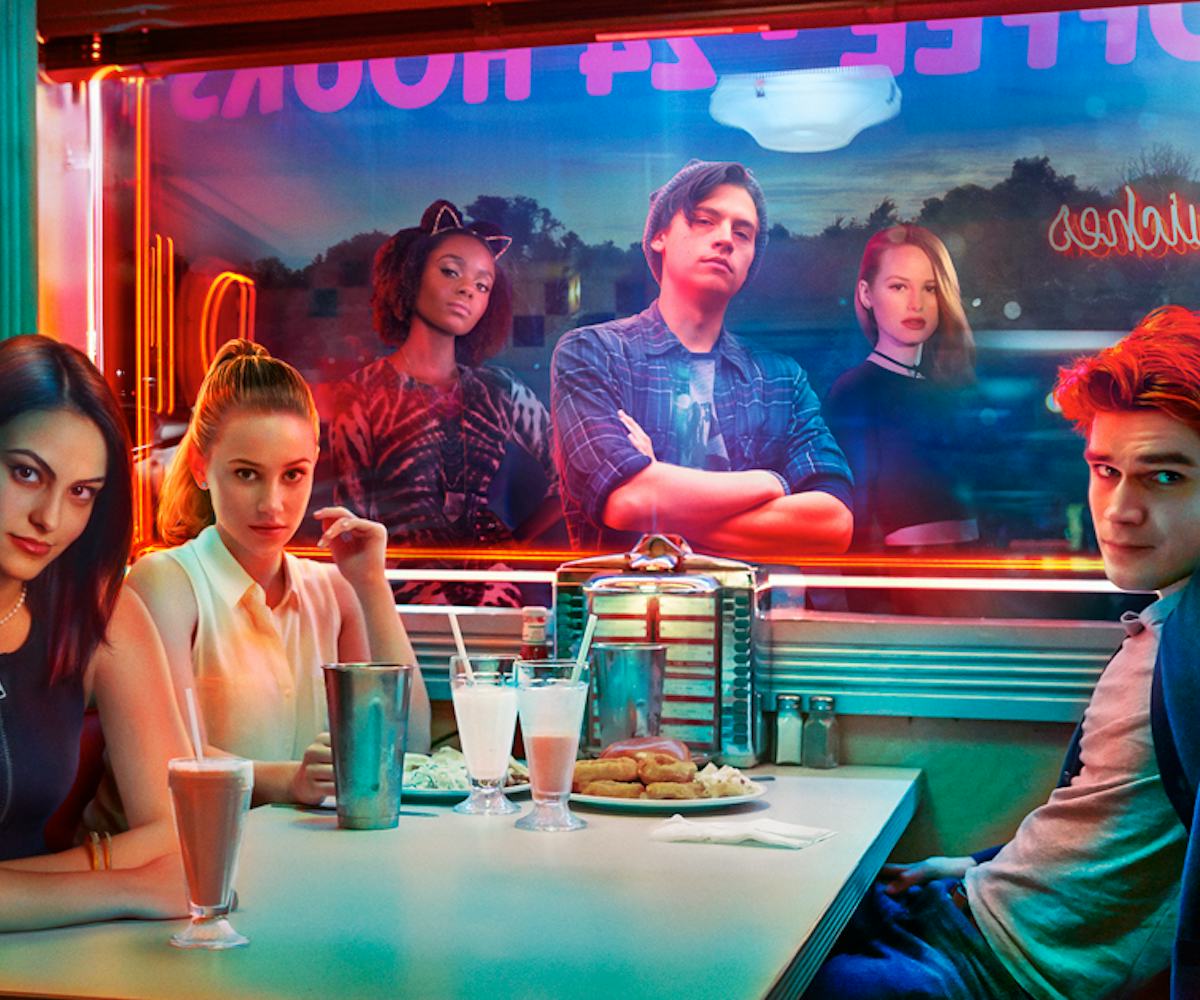 The 13 Best Teen TV Shows To Watch Right Now
From 'Riverdale' to 'Atypical,' here is our guide to teen TV
Once upon a time, there were countless teen-focused television shows on cable TV. Channels like ABC Family (now Freeform) and The WB (now The CW) were devoted to shows surrounding teenage characters. Those channels aren't necessarily focused on teen shows anymore—but that doesn't mean there aren't any teen TV shows out there.
Behold, NYLON's guide to current teen TV (in the U.S.). A few things to note: I define "teen TV" as shows in which the main characters and concerns are teenaged (sorry, comedies that are more family-centric, like black-ish, Haters Back Off, and One Day at a Time) and furthermore, focused on teens in high school (because shows about college teenagers—shout-out Famous in Love, Dear White People, and more—are their own thing). Also, the many Disney channel shows aren't included here, either, since they skew much younger than teenage, even if they technically feature teenaged characters. With all that said, get reading (and watching)! Just for fun, I've included a "retro" teen TV pairing for each show, to further your descent into television madness. ("Retro" doesn't necessarily mean really old... just older.)
Riverdale (The CW)
The CW's latest (and… only? My, how things have changed!) teen drama is part Archie Comics, part Twin Peaks, and part Gossip Girl. Which is to say that it's all twisty, dramatic, and full of attractive young people (and old[er] people playing the just-as-dramatic-as-the-teens Riverdale parents). It's one of 2017's breakout shows, and whether you're familiar with the comic book source material or not, there's plenty to enjoy here (murder mysteries, relationship drama, long-lost family members, music performances by Josie and the Pussycats…). The second season starts in October, so get that DVR ready.
If you like Riverdale, you'll probably like: Pretty Little Liars.
The Fosters (Freeform)
Again, things have changed: The Fosters is now Freeform's only teen-centric show. But it's okay, because the teenagers on The Fosters get into enough plotlines to power like 10 teen TV shows. Despite the fact that they're sometimes getting into not-a-small amount of trouble (lookin' at you, Callie Adams-Foster), I love them and all their plots (well, most of them). Trouble aside, the teen characters on The Fosters are often funny, smart, and 100 percent lovable. (And don't even get me started on how lucky they are to have Stef and Lena as moms.) The show is wholesome and progressive, and makes me cry at least once per episode. Consider yourself warned. 
If you like The Fosters, you'll probably like: Party of Five.
Teen Wolf (MTV)
Okay, Teen Wolf JUST ended, but you can still watch it! It's a show about a teenage boy who gets bitten by a werewolf, becomes one, and then has to balance his everyday teenage life with the life of, you know, a werewolf. NBD. Along the way, he encounters other supernatural creatures, too, and what could be more fun than that? Nothing, if you like your teen content with a little bit of supernatural goings-on thrown in. Plus, it's based on a Michael J. Fox movie of the same name from 1985. So it has that retro-cool factor, too. 
If you like Teen Wolf, you'll probably like: Smallville.
13 Reasons Why (Netflix)
If you haven't heard of 13 Reasons Why by now… have you been living under a rock? This show, based on a bestselling young adult novel by Jay Asher, is about a girl named Hannah, who takes her own life, and the 13 classmates who receive cassette tapes from Hannah after her death. Each tape tells the story of how or why Hannah considers that person one of the reasons for ending her life. The show has been hotly debated since its debut, with many schools even sending letters home with students to warn parents about the show's popularity and potential to glamorize suicide for young viewers. Please watch (or don't watch) responsibly, NYLON readers. (And if you're having suicidal thoughts or feelings, please ask for help: 1-800-273-8255.)
If you like 13 Reasons Why, you'll probably like: Higher Ground.
East Los High (Hulu)
Sadly, East Los High isn't getting a full fifth season, and will instead be ending with a one-hour series finale sometime this fall… but that doesn't mean we can't still celebrate this five-time Emmy-nominated Hulu show. Set at a high school in East Los Angeles, East Los High focuses on a rotating circle of teens dealing with everything from sex to drugs to dance team competitions. It features a Latino cast (and has a Latino crew, too) and is mainly filmed where it's set—in East L.A. This show brings the teen drama, hard-core, and it's a shame it's almost finished. Guess that means we'll just have to binge it over and over again on Hulu! 
If you like East Los High, you'll probably like: Skins.
Atypical (Netflix)
Atypical, which debuted in 2017 on Netflix, tells the story of Sam, a teenage boy on the autism spectrum. The series follows Sam as he decides he wants to try dating and leans on his friends, family, and therapist to help him navigate many social scenarios. The show was both praised and criticized for its portrayal of autism, and it was just renewed for a second season in September. Some viewers liked that it was increasing autism awareness, while others (including many in the autistic community) found the autism portrayal stereotypical and did not appreciate that there were not people with autism involved in making the show. If you want to check it out and make up your own mind about it, you can find its first season on Netflix.
If you like Atypical, you'll probably like: Glee.
Scream (MTV)
Another day, another teen TV show based on a teen movie. This one? Scream. Much like the 1996 movie and the film franchise it birthed, the TV show features a cast of teen characters who are plagued by a series of murders in their small town. And then, you know, once they figure out who's responsible for the first murder spree… another killer pops up. Classic! The show is darkly comedic and genuinely scary, and if you're into horror films, you'll certainly like Scream. It's already renewed for a third season (and casting news is popping up every day), so buckle your seatbelts, kids…
If you like Scream, you'll probably like: Buffy the Vampire Slayer.
Degrassi: Next Class (Netflix)
Do I even need to explain Degrassi to you, dear readers? It's only THE classic teen drama franchise of the century! Well, maybe that's taking it a little far. But Degrassi: Next Class is the most recent entrée into the Degrassi Universe, and it follows the same model as all Degrassis that came before it: an ensemble cast of teens dealing with everything under the sun. Seriously, everything: drug abuse, suicide, self-harm, sex, love, teen pregnancy…You name it, a Degrassi series has covered it. And Degrassi: Next Class is a worthy entry into Degrassi canon. If you love inclusive issue-driven teen shows with heart, this one is for you. 
If you like Degrassi: Next Class, you'll probably like: Degrassi: The Next Generation.
Between (Netflix)
This one is a sci-fi drama, so if realistic high school stories aren't your cup of tea, you might want to check out Between. In a small town of Pretty Lake, a mysterious disease has killed everyone over the age of 21. And then the government quarantines the town to prevent the disease from spreading. Which means the kids are in charge, and no one can come or go. Will life in Pretty Lake turn into a nonstop party? Or a modern-day Lord of the Flies? You'll have to tune in to find out.
If you like Between, you'll probably like: The 100 (okay, this show is still on TV, but it's characters have aged out of teenage-dom)
Free Rein (Netflix)
In Free Rein, an American girl named Zoe spends her summer on an island off the coast of England with her family, and after a chance encounter with a horse (yes, a horse), ends up hanging out at a nearby stable with some of the local teenagers (and local horses). Or, as Zoe puts it in the show's trailer, "riding horses, solving mysteries, making friends… and a few frenemies." Mysteries, frenemies, and a show about an outsider coming to a small community for a pre-determined amount of time? Sounds like a perfectly fun teen show to me.
If you like Free Rein, you'll probably like: The Mystery Files of Shelby Woo and/or Dawson's Creek.
American Vandal (Netflix) 
Netflix's American Vandal takes us on a dramatic—but funny—journey to a high school that's been rocked by a prank: Someone has spray-painted penises on multiple cars in the school parking lot. When a senior who maintains his innocence is expelled for the crime, a fellow student decides to make a true crime documentary to try and figure out what really happened. American Vandal is a full-blown satire of popular true crime shows, and like any good satire, it manages to feel overly serious and also absurdly funny. If you've gotten swept up in the true crime wave with just about everyone in the American viewing public, then this one might just be for you (and it might be a nice break from all the murder-y true crime series out there). 
If you like American Vandal, you'll probably like: Clone High.
Freakish (Hulu)
Imagine you're just sitting in weekend detention one day, and then a nearby chemical plant explodes, trapping you and your classmates in your high school while most of the people in the town (and some students) turn into mutants. Well, that's the premise of Freakish. Things get real freaky as the non-mutant students try to survive, and who doesn't love a "teens are suddenly on their own and have to survive against extraordinary odds" premise? (See also: Between) If you like sci-fi, thrillers, and teen drama, then this show should check off all boxes for you.
If you like Freakish, you'll probably like: Roswell.
Greenhouse Academy (Netflix)
Greenhouse Academy, which is based on an Israeli series, features two siblings, Alex and Hayley, whose astronaut mother recently died in a spaceship explosion. When the brother and sister start at an elite school for future leaders, they're placed in rival houses (think: Hogwarts) and have to cope with their mother's legacy in different ways. There's also a nefarious plot at play, involving some scheming adults who may not want Alex and Hayley at the school. And, of course, there are prank wars, tense basketball practices, and fights between siblings. Drama!
If you like Greenhouse Academy, you'll probably like: The OC.