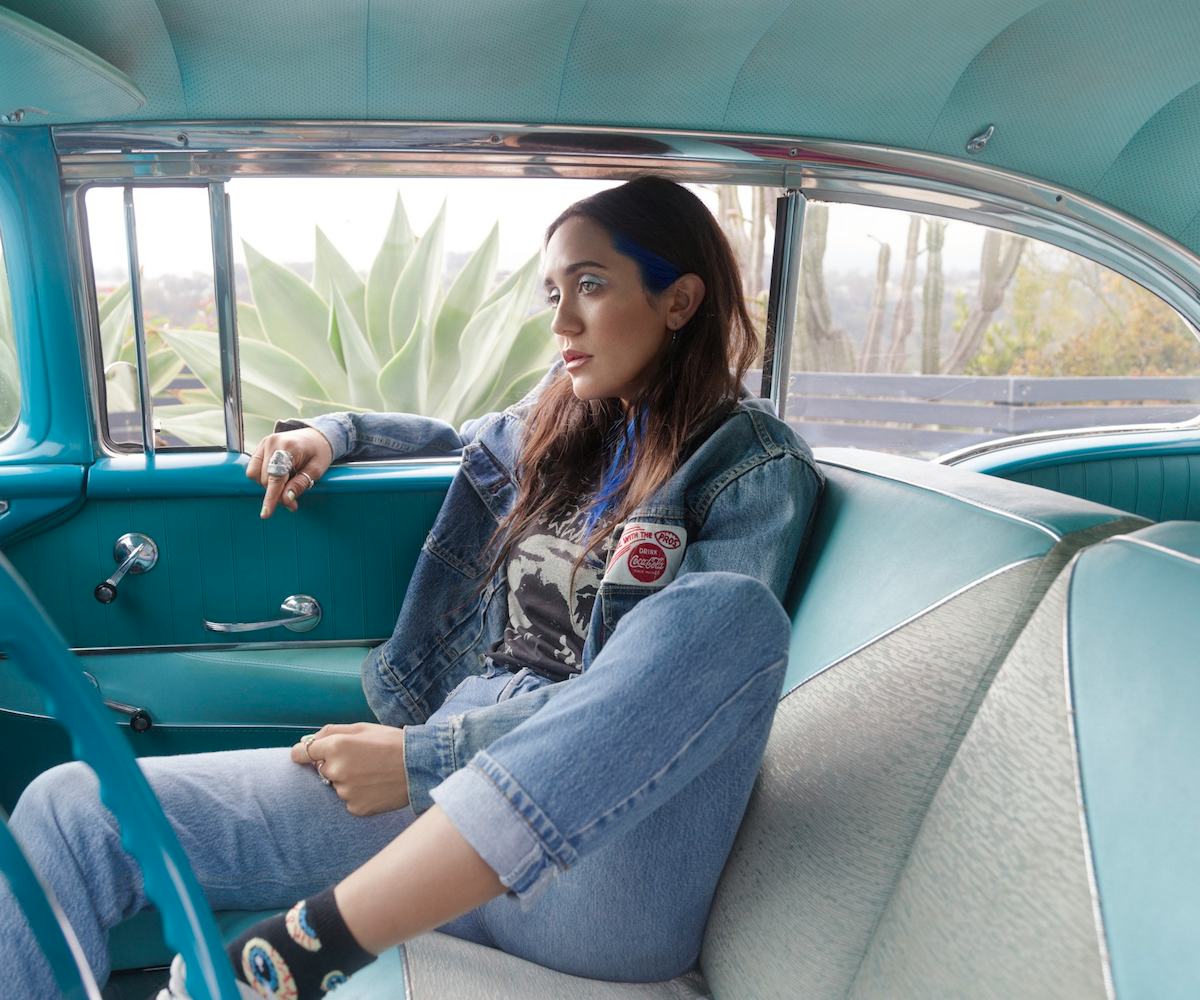 Photograph by Daria Kobayashi Ritch.
Jesse Jo Stark Takes Us On A Drive Along The West Coast
In her 1956 Chevrolet Bel Air
The following feature appears in the August 2016 issue of NYLON.
"You're gonna love where we put the gas in here, it's so sick. I'm gonna actually make you guess," says Jesse Jo Stark with a laugh as she pulls her '56 Chevy Bel Air into a service station near her Santa Monica, California, home. After my fruitless search for a fuel door cover, the 25-year-old musician, who also works as everything from designer to creative director at her parents' luxury brand Chrome Hearts, pops up the left brake light panel to reveal a hidden tank. A mesmerized gas station attendant starts snapping pics.
Stark's only had this gleaming turquoise-and-white beauty for a couple of months, but she's no stranger to vintage cars. Stark sold her '76 Cadillac convertible to buy her dream Bel Air, which she found by scouring Craigslist. A tiny plastic bat hanging from the rearview mirror and a Frankenstein sticker she'll put on the back are some of the only aesthetic adjustments she plans on making. (They're fitting decorative touches for the sultry singer whose upcoming EP, produced by Jason Lytle of Grandaddy, will have a "more dreary and spooky" sound than her first.) "It's just such a [special] feeling, to have an old car," she explains, slipping on her cat eye sunglasses as we hop back in. "I'm in a different world when I drive it." 
Click through the gallery to read the rest of this feature. 
How did you get into vintage cars?My godmother [Cher] had this old truck, I think it was also a Chevy. It was all black and my dad did the interior—Chrome Hearts black leather seating with silver buttons all over the place. We used to ride in that a lot. And my mom had a red one. I kinda was around old cars all the time.
What made you want the Bel Air?I couldn't be more obsessed with it. I love the colors and it's just so '50s-looking. I feel like, if I were a car, this would be me.
The engine rumbles as we cruise through the well-manicured streets of the Pacific Palisades. 
Do you ever let anyone else drive your car?No, no one's driven it. It's like my baby. I don't want anyone touching it.
What's your favorite driving music?I always put the Cramps on, first thing.
Are you going to make any changes to the car?I'm getting power steering put in. You should see me if I'm trying to back out, I swear to god I've pulled [a muscle] before. I gotta put seat belts in, too. My mom's trippin' on that.
We head west on Channel Road and make a right onto the Pacific Coast Highway. The ocean looms, a glittering shade of blue that perfectly complements our ride.
Do you like to take leisure drives?Yeah, I've driven my Bel Air every day since I've had it. I never drove my Cadillac, it was so hard to park and it stalled out all the time. But it was beautiful—white with a red interior. I called it Cruella because I felt like I was in that [101 Dalmatians] scene when she's driving off the cliff. [Laughs]
How do you feel in this car?In my Cadillac, I felt gangster and in this one, I feel more like a cool cat. [Laughs] I just feel calm. Like, the other day someone came into my car and was kind of giving me shit and I just looked at him like, "This is not that environment, this is my chill zone."
From Temescal Canyon Road we take a right onto tree-lined Sunset Boulevard. Stark sings along with the Rolling Stones' "Dead Flowers" as the smell of eucalyptus wafts through the wide-open windows. 
Have you taken any memorable drives in your car?I took my brother and sister, who are 13, down to Malibu Yogurt & Ice Cream with their friends. I put on some old hits for them. They got in the car and all had ice cream cones and it felt really cool and old-school.
What are the quirkiest characteristics of your Bel Air?The windshield wipers are so cute and tiny. Oh my god, and the speedometer is so wrong. It's like, if [it says] you're going 50, you're really going 20. So I'm confused all the time and just hoping I don't get pulled over. I also love that it bounces. I go slow over bumps, but sometimes if I don't see one, it's like I'm on a roller coaster.
Hair and makeup: Amy Strozzi at tmg-la.com using Diorskin Star.