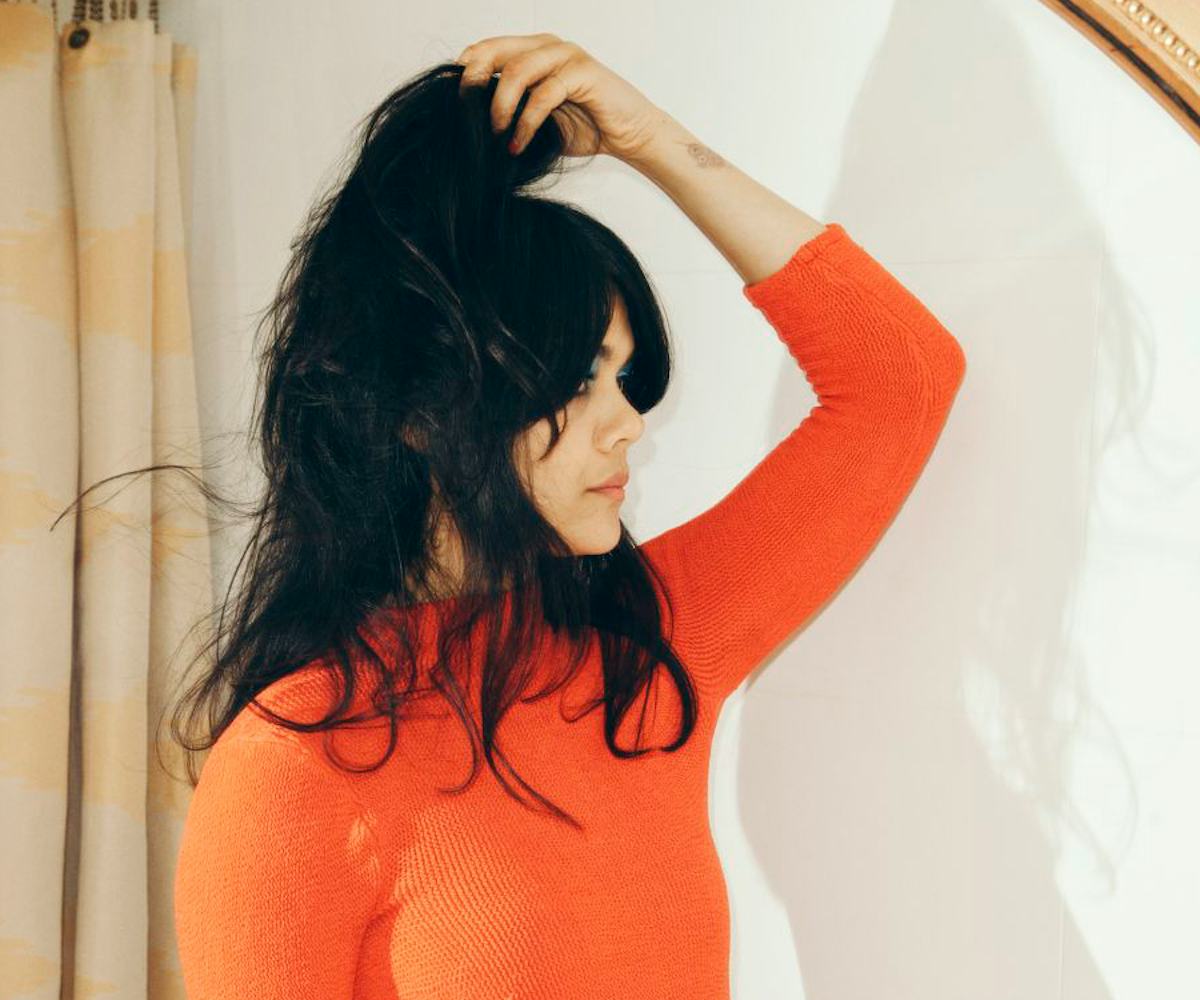 Bat For Lashes' Fourth Album Will Get You In The Mood For Love
The following feature appears in the June/July 2016 issue of NYLON.
Instead of a wedding band, Natasha Khan wears a bridal locket. It's a gold, heart-shaped showpiece inscribed with "The Bride" that she had "very badly made in Los Angeles' Mexican jewelry district downtown," she says. We're a short drive from there, holed up in a tiny hotel room in Koreatown. Khan is curled comfortably on a queen-size bed, facing away from a stupendous view. The Hollywood sign looks like it resides on her right shoulder, Griffith Observatory is near her left ear. She's wearing the locket and her new signature blue eye shadow, both of which also appear on the cover of her new album, The Bride. It's Khan's fourth release as Bat for Lashes, a moniker she's been recording under since 2006, but not since 2012's The Haunted Man. In the interim four years, Khan made an album of six psychedelic covers with the band Toy (they called the project Sexwitch), developed a Transcendental Meditation practice, and traveled between her "classic trilogy" of cities: New York, L.A., and London.
The show Khan played just a few days ago, at Coachella, was her first public performance in three years. "It was nerve-racking," she confesses. Tomorrow she'll play again, in a church this time, at Immanuel Presbyterian on Wilshire Boulevard, a few blocks from our present perch. Bat for Lashes has six more shows scheduled in churches across America and the U.K., all of which will raise funds for the David Lynch Foundation, which aims to bring Transcendental Meditation to people in need, "like soldiers with PTSD," she says.
"The reason I chose churches is because the buildings innately give this sense of sacredness, the quiet," she says of the unconventional venues selected for her tour in support of The Bride. "The Bride wanted people to feel a bit like that." Khan refers to the title character of her new album in the third person, as if she's apart from her, or, a part of her. "She's the muse for this album. If a muse is like a lover, then I think about them while drawing or writing. The muse comes through, telling me how she's feeling, what she's fearing, what she wants to wear." Khan merely "translates—in my heart, out through me."
Khan, 36, has never been married. She's neither single nor coupled, and is trying to figure out "what love is," as she puts it. The Bride is an inquiry into that question. The album's narrative follows a young woman abandoned at the altar, but it wasn't cold feet that left her alone—her fiancé died on the way to the ceremony. She takes their honeymoon alone following a map he made. Khan imagined the album as the soundtrack to a feature film she hopes to one day direct. Recently, she's been dabbling in that art form, conceiving the music video for The Bride's first single, "In God's House," and directing a 15-minute short for MTV, which premiered at the Tribeca Film Festival alongside five other shorts—each one exploring modern love—under the title Madly. Khan's short is called I Do, like the first song on her new album. The film is set near where Khan grew up, in Hertfordshire, England, a town of "old country lanes, pine tree forests, big fields, and foggy roads," she says. There, a bride, wearing the same blue eye shadow as Khan is now, witnesses violence on her way to her wedding, which triggers remembrance and, maybe, premonition. The film is bloody and saturnine, unlike the song, where Khan sings, over plucked harp strings, "super-naive, ultra-romantic, and totally open-hearted declarations that everything is going to be perfect now that I've found this man," she says.
"I wanted to sing from that perspective," says Khan, "because that's what so many people feel you should feel like, or that's what's fed to us in the entertainment industry—this fairy-tale princess ideal, the tragic projections and the expectations we put on relationships." Khan considers this kind of romance "a drug," one she didn't recognize as destructive until now: "I'm in my thirties and feeling this panic about not having achieved this elusive thing." The Bride explores the death of this ideal, literalized in the death of the fiancé character, whom Khan named Joe.
She lays on meaning like this in detail. The powder above her lashes is both borrowed and blue for good luck, as per the old English wedding rhyme. It's a look snagged from Buffalo '66, the 1998 film starring Vincent Gallo and Christina Ricci, whose lids are lacquered like so. Khan loves that film. She also loves Diane Arbus, Cindy Sherman, Steven Spielberg, and David Lynch, her cinematic inspirations. She loves Los Angeles, her locket, and her fans. She loves watching her audience from onstage and looking into their eyes (she says she often sees tears). Nature, yoga, and meditation are more loves. Though she may not know what love is, Khan comes across as full of it. She is grateful, hopeful, and aspirationally open to "true love," and defines it as "someone who can help you be yourself and love you for who you are." And who you are is never any one thing, according to her. "We're multidimensional shape-shifters," she insists. She is Bat for Lashes, The Bride, "just Natasha," and more. "I think the answer to everything is integration," she says, one hand on the gold heart on her collar, two eyes on mine.