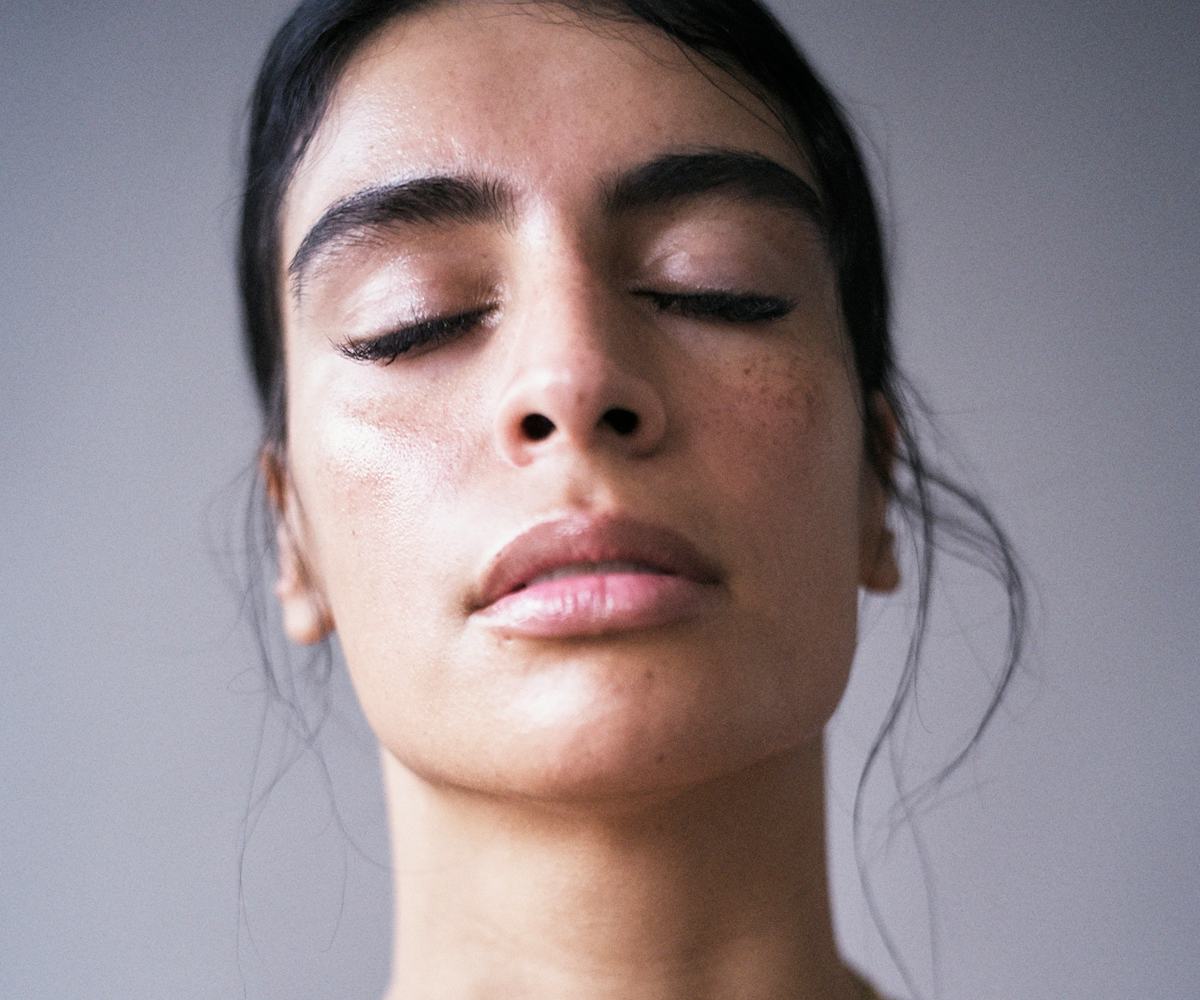 Photographed by Simon Emmett. Hair: Kerri Ewart. Makeup: Natalie Piacun at Untitled Artists LDN using M.A.C Cosmetics. Photo assistant: Sam Ford.
Sevdaliza Lets Her Songs And Videos Speak For Themselves
Deciphering the elusive musician
The following feature appears in the April 2017 issue of NYLON.
Sevdaliza is a shape-shifter. Before you can get a grasp of who the singer-songwriter is, she's morphed into another character. In her song "Marilyn Monroe," off her upcoming debut album, ISON, she's a fractured, fragile woman trying to put herself before others; in the visuals for "Human," she's a two-legged centaur dancing for a group of sweating men, insisting that she is flesh, bones, skin, and soul; in "Amandine Insensible," she's portrayed as a blank-faced model, available to purchase on Shutterstock, "performing your preferred daily routine." Her posts on social media are unfailingly cryptic, and her biography on Facebook simply reads, "I'm everything you want me to be." And yet, when I suggest that she deliberately cultivates an air of mystery, the look on her face is one of mild horror.
We're in a French café in North London. Before the Iran-born, Netherlands-raised singer swept in, wearing an oversize green fur coat and with jet black hair down to her waist, it was completely empty—so there's no thrum of chatter to hide the few seconds of confounded silence. Have I got it wrong? "Yeah!" she finally responds. "Because I honestly think that I'm just…not one thing. I think you take away from the experience if you tell people what to think. It's not that I want to have mystery, it's just that I'm very interested in how you perceive what I do."
How, then, to perceive what Sevdaliza does? Her music could be filed somewhere between Portishead and FKA twigs—illusive melodies that writhe atop sparse, minimalist beats—but its textures are entirely unique. It's sensual and elegant, but crunchy and uncomfortable, too, like on "That Other Girl," in which her vocals begin to glitch two-thirds of the way through, and are overwhelmed by an aggressive, pulsing beat. But for an artist like Sevdaliza, the music is but one dimension in a myriad of different, interwoven mediums. Her songs are no more important than their accompanying videos, which are cinematic, futuristic, and beguiling.
"The thing you might see as mystery," she eventually concedes, "is that I'm actually very introverted, so that might create some mystery. I don't [talk] about my family or personal life." Not much at least. "I don't really see the point," she says. "Where I am in my life, I've experienced so much more than my backstory." Besides, she says, she'd rather not take part in a "victimized concept." "I really don't see myself as a victim," she explains plainly. "I'm very strong, very willing, and able to do whatever I want. And I've been privileged. Even if I don't come from a privileged background, I've worked myself, my parents have worked us, into a privileged situation."
That may be so, but Sevdaliza's privileged situation didn't stop her from feeling compelled to respond to Donald Trump's recent travel ban, which targeted seven predominantly Muslim countries, including Iran. She wrote, recorded, and released a protest song of sorts, "Bebin," over the course of just a few days. With a melody that evokes an eerie reimagining of Jefferson Airplane's "White Rabbit," "Bebin" is sung entirely in Farsi, and all of its proceeds went toward "victims of racial exclusion."
"I've never done something so instant," she says of the song's swift creation. "That was putting everything to the test, because when I create I'm very protective, and I sit with stuff for years and years." There aren't many artists who'd be afforded the space to ruminate on their work for so long—most are tied to a cycle of deadlines and demands from their label. But Sevdaliza isn't with a label, nor does she plan on signing with one anytime soon. "Maybe in the future, if I really get sick of doing all this work, I might consider it," she says, "but I like this path. It's very interesting, it's organic. Most of [my projects] take a long time, because it's not a label saying to make them, it's just me going around finding other creatives, and making it."
Her ideas can crop up at a moment's notice—on the way to a meeting, crossing the road, or on a plane leaning against the window. "Sometimes it's very annoying, because when I have an idea, I have to think it out until the end," she remarks. "Sometimes when I'm on the train I'll get an idea, and if I have an appointment, I'll have to delay it and just go and sit in a coffee shop and think, think, think." (It's lucky for me then, that inspiration didn't hit as she made her way to meet up this morning.) And once those thoughts materialize into a song or video, she lingers in the shadows of the narratives she creates. That way, people can take from them what they need. "Everyone has a different angle, a different perspective, a different experience, a different way of thinking," she explains. "So they will all look at my art differently, or at me differently—if they look at me."
They're looking, all right. In fact, whether she's woman or centaur, human or android, it's hard to look away.