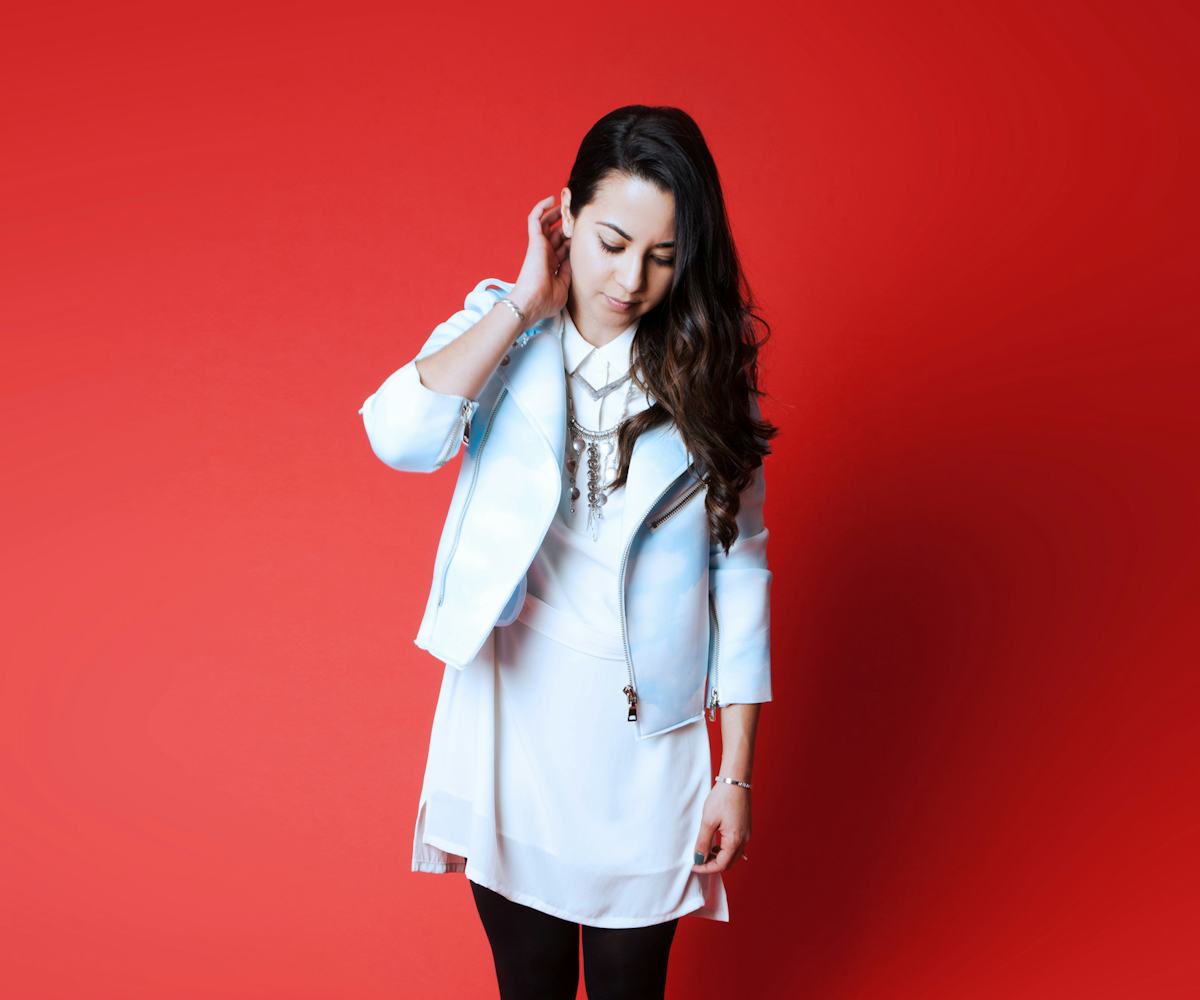 photo via suzanne darcy
how to shop like a nylon girl
get in, we're going shopping.
For everyday style inspiration, we need look no further than the NYLON office. This week, we interviewed Katherine Martinez, our Director of E-commerce. A former fashion blogger who lives by the motto "Wear all the things," we chatted up her personal style, the return of the ugly sandal, and the real struggle to get dressed every morning.
What is something that's always in your closet?
Some type of crazy beaded or sequined statement jacket—the kind of jacket that says "I just ran away from the circus."
What fashion looks are you excited about for spring?
Super excited about the continuation of the "
"—no heels please!
Who is your style inspiration? 
and all her bright baubles—she was an accessories queen! 
What are some of your favorite pieces on the NYLON shop right now?
Samii Ryan's
. Also, all of Poppy Lissman's 
. 
Major
eye candy.
What colors are always present in your wardrobe?  
Black, white, burnt orange, and cerulean blue. The last two complement my summer skin tone (although right now I'm kind of a ghost).
Do you have a specific routine for getting dressed in the morning?
Step 1: Mentally plan perfect outfit.
Step 2: Look in laundry basket and realize 2/3 of said outfit is currently unwearable.
Step 3: Pull one of a myriad of offensive graphic tees from my shelf and layer under a chunky necklace.
Step 4: Beanie, oversized coat, repeat.
What is your favorite thing about working for the NYLON shop?
All the incredible brands we get to work with! It's like we have 300 friends we get talk to on a daily basis. Friends that make really cool s**t.
Shop her edit 
1. Petals and Peacocks, tacos sweatshirt, $58
2. Union Jane, neoprene skirt, $32.99
3. Suzywan Deluxe, goodness hoop earring, $25
shop the edit here 
photo via suzanne darcy 
1. Never Fully Dressed, organza back tunic, $70
2. Love + Leather, silver palace necklace, $100
3. Stella & Bow, janis cuff $110
shop the edit here
photo via suzanne darcy 
1. Local Heroes, neoprene jacket, $199
2. Love + Leather, silver palace jacket, $100
3. Never Fully Dressed, organza back tunic, $70
shop the edit here
photo via suzanne darcy 
1. Local Heroes, neoprene jacket, $199
2. Never Fully Dressed, organza back tunic, $70
3. T.u.k, black leather creeper, $95
4. Love + Leather, silver palace necklace, $100
5. Stella & Bow, janis cuff, $110
shop the edit here
photo via suzanne darcy