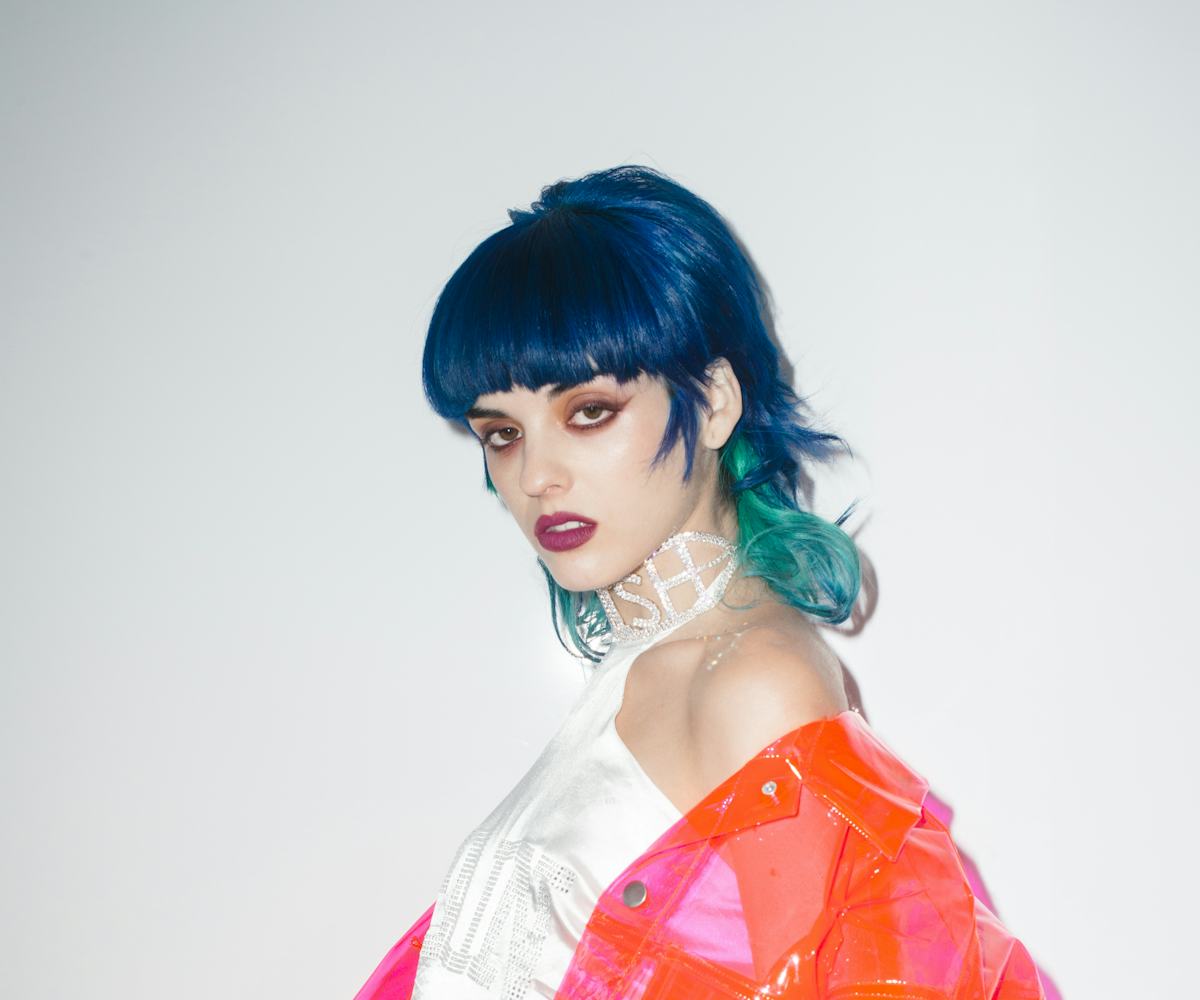 Photographed by Emanuele Ferrari. Jacket and pants by Brashy Studios, top by Pain Sita Abellan x MISBHV, choker by Diminish.
From Music Video Appearances To Owning The Runway, Sita Abellan Is Always On The Move
Get to know the 23-year-old model, DJ, and designer
The following feature appears in the June/July 2017 issue of NYLON.
Sita Abellan is Skyping me from an elevator. She's on her way to get her nails done, but they look freshly manicured to me—long, silvery, shiny, and pointed, tipped with a fine glitter that gives them a mirror-like sparkle. When I point this out, she laughs. "My toenails," she clarifies.
The 23-year-old DJ-model-designer grew up in Murcia, a small town in the south of Spain. She describes being a teenager there as "a little bit tough." "I always liked to dress up—people looked at me as if I was crazy," she says. Borrowing her mother's vintage pieces and "wearing, all the time, black clothes," she characterizes her younger self as "a bit of a goth." Judging from the rainbow of sportswear on her Instagram, her wardrobe is less moody these days—but with her signature blue hair, diamanté S&M chokers, and fetish for patent leather, there's still a trace of the cyberpunk teen she once was. Also, when our connection cuts out for a second, I notice she's wearing a Slayer T-shirt in her profile picture.
Fashion and design have always been important to Abellan (she has collaborated with buzzy streetwear brand MISBHV and even styled her own looks for this very shoot), though she's never been interested in pretty for pretty's sake. "When I was, like, three years old, I went with my babysitter to the store where my mom used to buy my shoes," she recalls. Ever confident, she asked the shop assistant to put aside a pair for her—boots with drawings of tiny bears on them. "The assistant went, 'Oh my god, what horrible shoes,' but I was so in love with them. I was happy wearing them. I was wearing those same shoes for, like, five years," she says. Shoes, she tells me, are still "the most important part of an outfit."
"I thought that the only way to get inside the fashion industry was modeling," Abellan explains. It was also a way for her to escape her hometown. "I wanted to travel," she adds. Today, she is Skyping me from Milan, a city she first visited three and a half years ago, on student exchange. Her work as a runway model means she splits her time between the Italian fashion capital, Los Angeles, and New York. "It's hard to be young and to travel alone, and to be away from your family, [without] anyone to take care of you," she says of her jet-setting lifestyle. "But that makes you stronger."
Despite being courted by the likes of Jeremy Scott, booking modeling gigs hasn't been without its challenges. "It wasn't actually super easy to get work as a model, because I'm 172 centimeters [about 5'6"]," she acknowledges. "Going to [regular] castings as a normal model, I didn't get many jobs. But when I met the designers, they wanted me because they liked my look." Abellan was discovered through her Tumblr, where she would upload photos of her outfits. Then she joined Instagram.
It was through this medium that Rihanna recruited Abellan, casting her as one of three henchwomen in the music video for 2015's "Bitch Better Have My Money." "I had never listened to Rihanna's music before," she admits. "I never listen to pop music. I didn't know how a pop artist was gonna be. [But Rihanna] worked [closely] with the directors, she was really taking care of it. I thought, this is a really strong woman who has a lot to give, you know?"
Abellan describes her own music as "a little bit dark," somewhere "between electro and techno," citing French electroclash outfit Miss Kittin and The Hacker as reference points. Other inspirations include techno DJs DarkHawk and Nicole Moudaber. It's a sound that has earned Abellan a spot on the lineups of events like this August's Hard Summer Music Festival. When it comes to making music, the impulse often strikes her when she's alone: "When I'm in my bed after getting off a plane, or coming home after being out listening to techno, I get melodies. My phone is full of all these recordings," she says.
With her playful, bombastic style, Abellan certainly attracts attention. But she's not really trying to be the object of everyone's collective gaze. "I don't like people to stare at me, but I like looking at people—how they talk, how they move. I'm inspired by watching people and finding details," she muses. What her onlookers don't realize is that she's looking right back at them.