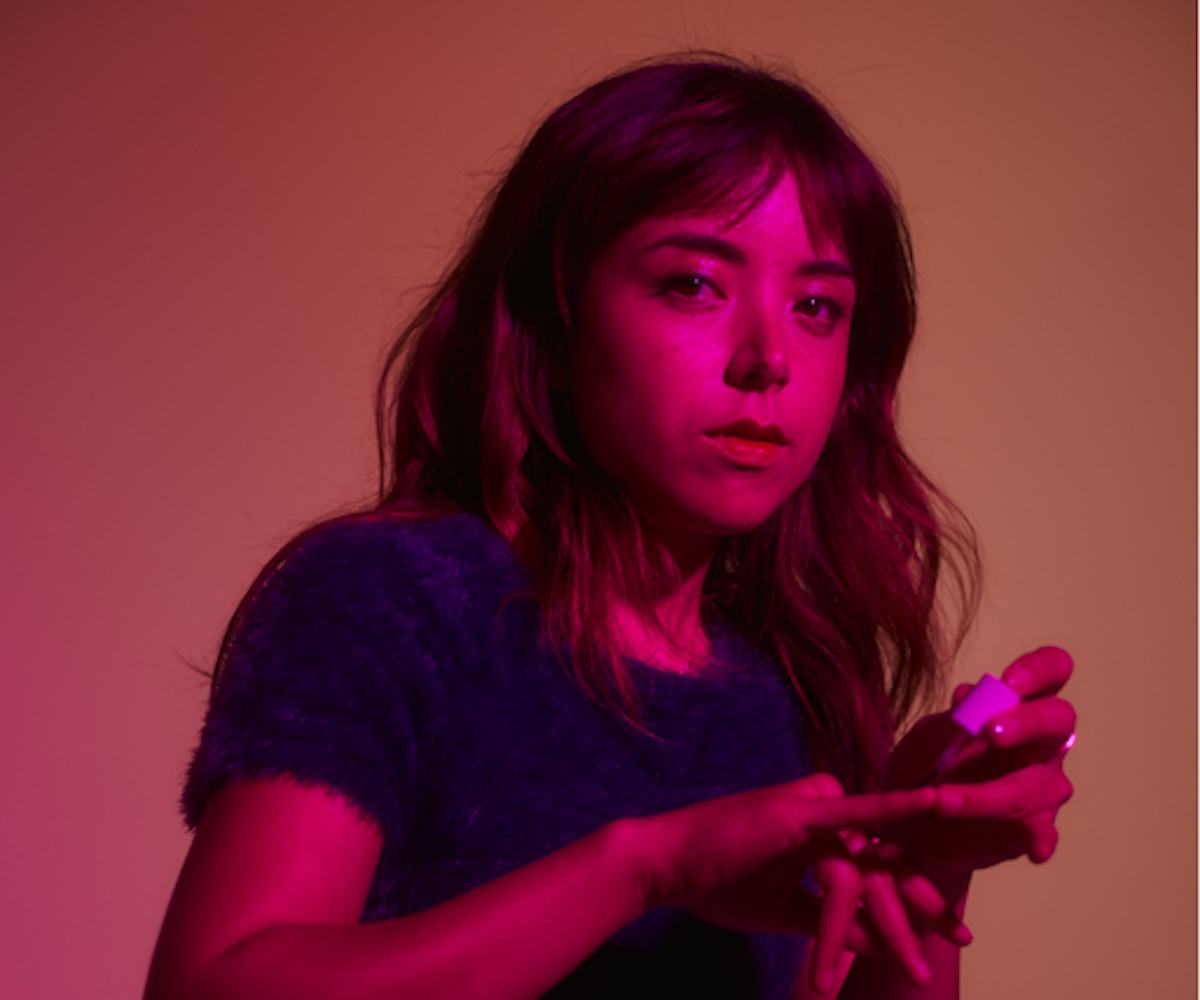 Photographed by David Joesph Perez
L.A.'s Favorite Artist Tells Us How She "Nailed" Down Her True Talent
Steph Stone tells us how she overcame the odds
The following feature appears in the October 2017 issue of NYLON.
In the corner of a humming Hollywood eatery, Steph Stone sips a vegan milkshake, her golden nameplate necklace peeking from behind a cropped orange sweatshirt—GIVE JUICY A CHANCE inscribed in old English font across the front. "Even before I was in the industry, I knew Los Angeles was where I wanted to be," Stone explains of the city she calls home. Such lucidity is what you might expect from someone who landed in L.A. at 17 years old and rose to become among the most sought-after nail artists in the game. If her 250,000 Instagram followers aren't enough evidence, her jaw-dropping list of clients speaks for itself—from Saint Laurent to Miley Cyrus, Louis Vuitton to Demi Lovato, and of course Chanel. Stone's work ranges from pristine editorial manicures to playful designs inspired by cultural phenomena like Beavis and Butt-head or In-N-Out, but all executed with the same sky-high precision and attention to detail. Still, for someone who has made a killing by polishing all the edges (literally), when she's off set, the 28-year-old Stone isn't about shiny veneers. Her path to career domination has been lined with struggle, heartbreak, and loss, which, to this self-made woman, has only meant plenty of opportunities to learn exactly who she is and what is actually worth a damn.
A daughter of Christian missionaries, Stone grew accustomed to moving around at a young age. Her parents finally settled the family in Oahu, Hawaii, but it wasn't all tanning oil and beach bonfires. "I had a hard time adjusting and was extremely depressed," she recalls. "There's something about these paradise towns that's really isolating; people can't understand why you'd be sad there, so you carry this shame about not being happy."
The void she felt in Hawaii seemed all but filled the second she relocated to the mainland after graduating high school: "As soon as I moved to California, I felt it. I knew I was supposed to be here," she says. Destiny aside, thinking she could outrun that sense of desolation was the first misstep. "I spiraled pretty quickly," she admits. "I had an eating disorder, a drug problem related to the eating disorder, and I stopped going to work and totally depleted my bank account." It got worse before it got better. Stone returned to her family on the island, only to be met with the same issues she'd battled through just months before. Within two days, she'd overdosed as a cry for help, and her family presented her with an ultimatum: Stay in Hawaii under their supervision, or go to rehab in Arizona.
"I did 45 days as an inpatient and 60 in a 'step down' facility where the rules are a lot more lax," says Stone. It was good medicine, but a bitter pill to swallow. Stone was convinced she wouldn't recover, and found herself continuing to battle depression. To ease her through, an old friend whose parents had also been involved in Hawaii's missionary community reached out. "I used to mail her things I'd painted or crafted. She'd call to make sure I was OK and send cartons of cigarettes," says Stone. It was kismet. That friend happened to be working as a nail artist in L.A., and convinced Stone to stay with her at the end of her residency and assist her on set.
"But that's still not where my process began," Stone continues, "because within months of moving back to L.A., I got pregnant." The weight of such an enormous responsibility piled on top of the previous months of trauma might easily have caused Stone to buckle; instead, its sobering effect pushed her to course-correct. "I knew I had to get my life together because it wasn't about me anymore," she says. It was the turning point she needed, and there was no looking back. "I didn't have anything else. I decided, 'I'm going to make this my thing, and I'm going to be really good at it.'" Stone enrolled in nail school, got licensed, and began laying the foundation of a career that would eventually surpass even her own expectations.
Building that foundation was grueling and exhausting. Much of her time was spent working on shoots for free in order to build a portfolio, and the paying gigs were few and far between. To supplement her income, she'd clean a photo studio at night after the creative team had gone home. Still, nurturing a newfound faith in her talent became the guiding force. "You know when you're growing up and your parents tell you that you're good at something you know you're not really that good at?" she says. "Working with nails was the first time I felt like I was actually good at something."
Getting comfortable in the industry was also a process. "When I first started, I felt like I had to be 'on.' I had to make people like me and be accommodating," says Stone. That all changed a couple years ago when she lost a loved one suddenly. "I looked around and thought, 'None of this matters, none of this can impress me, no one is better than anyone else.'" It was another pivotal moment in her personal life that would create a massive ripple effect in her career. "I stopped thinking of myself as the help and started being honest," she says. To her surprise, people responded positively to the candor, and it created a gateway to forming genuine relationships through her work. "It's really when I came into my own. I started making actual human connections with people after that."
Those relationships—and the series of heartbreaks that led her to them—may ultimately prove to be the greatest gifts to her career. "I love nails, but what I really want to do is host a podcast or web series interviewing people—other girls I work with or young Hollywood girls—about their lowest lows [and] how they got to the other side," she says. Not in a bummer, Intervention way, she insists, but as a resource to help others find their way out of the darkness. It's all part of her new lease on life. "You can either dwell on the negativity and decide that that's just how life is," she says. "Or you can create positivity and keep moving."
Stone's Musts:
Eating: Making cute food at home is weirdly therapeutic for me: colorful pancakes, baked goods, and bento boxes.
Drinking: A basic latte from Alfred's. It's actually a very expensive habit.
Beautifying: Renée Rouleau sunscreen, M.A.C's Brushstroke Liner (it's bristled but fine like a felt tip and really easy to apply), and Too Faced highlighter because the packaging looks like Polly Pocket.
Listening: Arcade Fire's Everything Now. They've been my favorite since I was 14.
Browsing: Twitter. It's the honest form of social media, but nobody thinks it's that cool because you have to verbalize relatable thoughts, and most people can't be bothered.
Reading: My friend Sam Lansky's book about addiction, The Gilded Razor. I'm also reading In the Days of Rain: A Daughter, a Father, a Cult. I love cult stuff.
Visiting: My long-term goal is to write for television, so I want to go to Big Sur and just write for a week.
Coveting: Chanel's short boots in crumpled suede calfskin with pearls around the laces.
Rejuvenating: At Shape House—it's an infrared sweat lodge. It almost feels like cheating—like, how is it so good for you when all you do is lie there?
Believing: That the more I stay positive, the more positivity comes back to me.
Hair: Eddie Cook. Makeup: Samuel Paul at Forward Artists using Glossier.