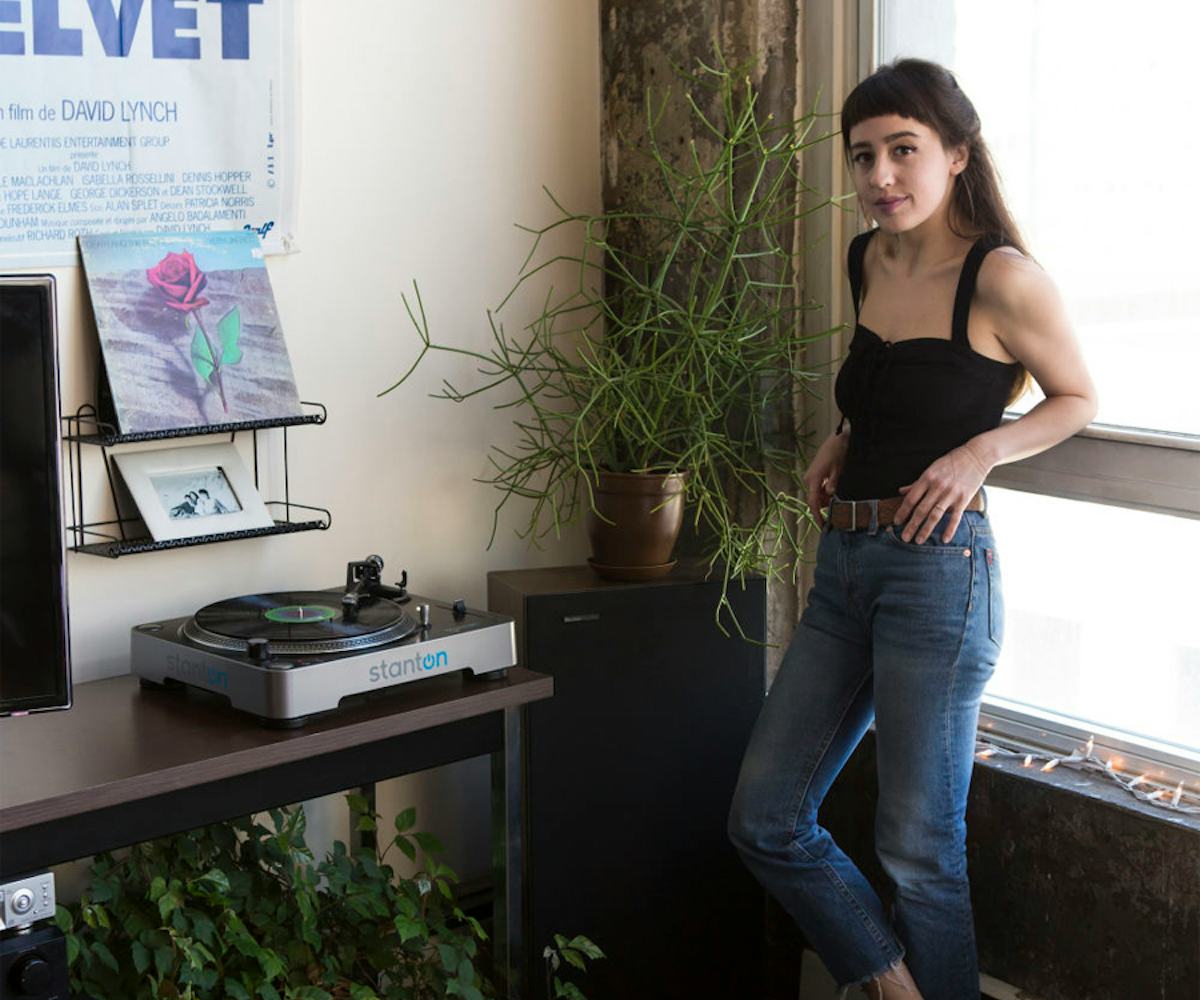 Photographed by Lauren Siberman.
Take A Peek Inside The Dreamy New York Abode Of Singer-Songwriter Victoria Reed
The apartment envy is real
The following feature appears in the June/July 2016 issue of NYLON.
"This is where I sit and write all my songs," says Victoria Reed, perched on the back of a cozy beige couch in the loft she shares with her fiancé, jazz pianist Erik Deutsch, in Williamsburg, Brooklyn. The singer-songwriter gets a faraway look in her eyes as she gazes out the giant casement window across the room, which offers views of the Williamsburg Bridge and the Manhattan skyline. Above her, a sprawling potted pothos vine with vibrant green heart-shaped leaves climbs along the exposed pipes, and a few tendrils trail from the 13-foot ceiling, framing her as if in a daydream. Chariot, her debut album from earlier this year, is so mesmerizing that when she grabs a nearby guitar, it's tempting to leave her alone with it for a while so that she can craft fistfuls of lyrics and melodies like the ones that landed her prominently on the music map, opening for Citizen Cope and playing shows on her own.
For the 26-year-old Detroit-area native, success has been as much about seizing the moment as it's been about synchronicity—a concept to which this former philosophy major and tarot enthusiast is no stranger. It was Carl Jung, after all, who defined synchronicity as "meaningful coincidences," and Reed has a lot of them, which she shares only after prefacing with, "I know it sounds crazy, but…." For example, one semester short of finishing her degree at DePaul University, she announced to her parents that she was dropping out to focus on music. That same day, her friend and now-manager Gary Waldman—she'd originally met him backstage at a Citizen Cope concert—emailed her after hearing her demos on Facebook and invited her to New York to make a record, where she'd meet her future husband, who was hired to play keys.
Her parents weren't entirely shocked. Reed has been writing songs since age six, and her dad is the sax player in Bob Seger's Silver Bullet Band. But it wasn't until she taught herself guitar in college that the idea of music as a career started to stick. "I think I needed independence in order to be able to fully find my voice," she says. While studying Eastern and Western philosophies, she recalls, "I got to such an abstract place in my mind that absolutely nothing felt like it had any sense of direction to it." That all changed when she started singing about it. "With music, it was a very strong feeling for me, like, this is worth it."
A vintage guitar hanging above a bookcase also has what she calls a "magical little story" from when she first moved to New York. Reed, who sits daily in her mid-century "meditation chair," was practicing a Buddhist meditation in which she envisions pure white light with every inhalation. For weeks, she saw pink and gold instead. "I stuck with that because it felt good," she says. "[But one day] I thought, 'I wonder what it means?' And I decided it meant angelic energy." A few hours later, her manager presented her with a 1940s May Bell guitar from the Sears catalog. "You can see it has pink detailing and gold with angels," she says. "It's one of my most prized possessions."
There's a sense of creative magic in Reed and Deutsch's home, not only because of the six guitars, a bass, and the Steinway grand piano, or because they're at the center of a bohemian enclave in this converted old pasta factory long squatted by artists. The couple often work into the night after a late dinner, while string lights twinkle along shelves, and oracle cards are laid out next to incense and bundles of sage. But it doesn't seem to matter much what the cards say anymore. It's quite obvious the stars have already aligned.
Click through the gallery to read the rest of the feature.
Reed's first album, Chariot, is named for the tarot card she pulled for her future when she was a philosophy student stuck in the depths of existential confusion. "It's a really favorable card to have. It's like taking a lot of really wild and overwhelming energies and turning them into victories," she says. "So I held on to that. That was really a big symbol for me."
Reed practices mediation daily in her "meditation chair," a reproduction of Eames and Saarinen's 1940 Organic Chair that she got at Sit Down New York. The vintage boots were a gift from her mom.
Reed fell so in love with this vintage birdcage lamp at her first sublet in New York that the owner gave it to her when she moved out. A fuzzy stuffed birdie lives inside. Relocating to the city, "Everyone was like, 'Watch out!' But it welcomed me with open arms," she says. "Everything fell into place."
A bookcase overflows with Reed and Deutsch's records—alphabetically organized into three categories: jazz, rock/pop/country/R&B/folk, and classical/soundtracks. To the left is Reed's main performance guitar, a 1960 Premier Bantam Special. "Certain guitars have mojo. You write differently with them," she explains.
"My mom is a really good cook," says Reed, who loves to prepare family recipes: linguine with clam sauce, chicken piccata, risotto (her mom is Italian), and beef stifado (her dad is Greek). Deutsch might make a meal of dirty rice, sausages, and greens. "He's way more efficient," she says. "When I cook, it's done at midnight."