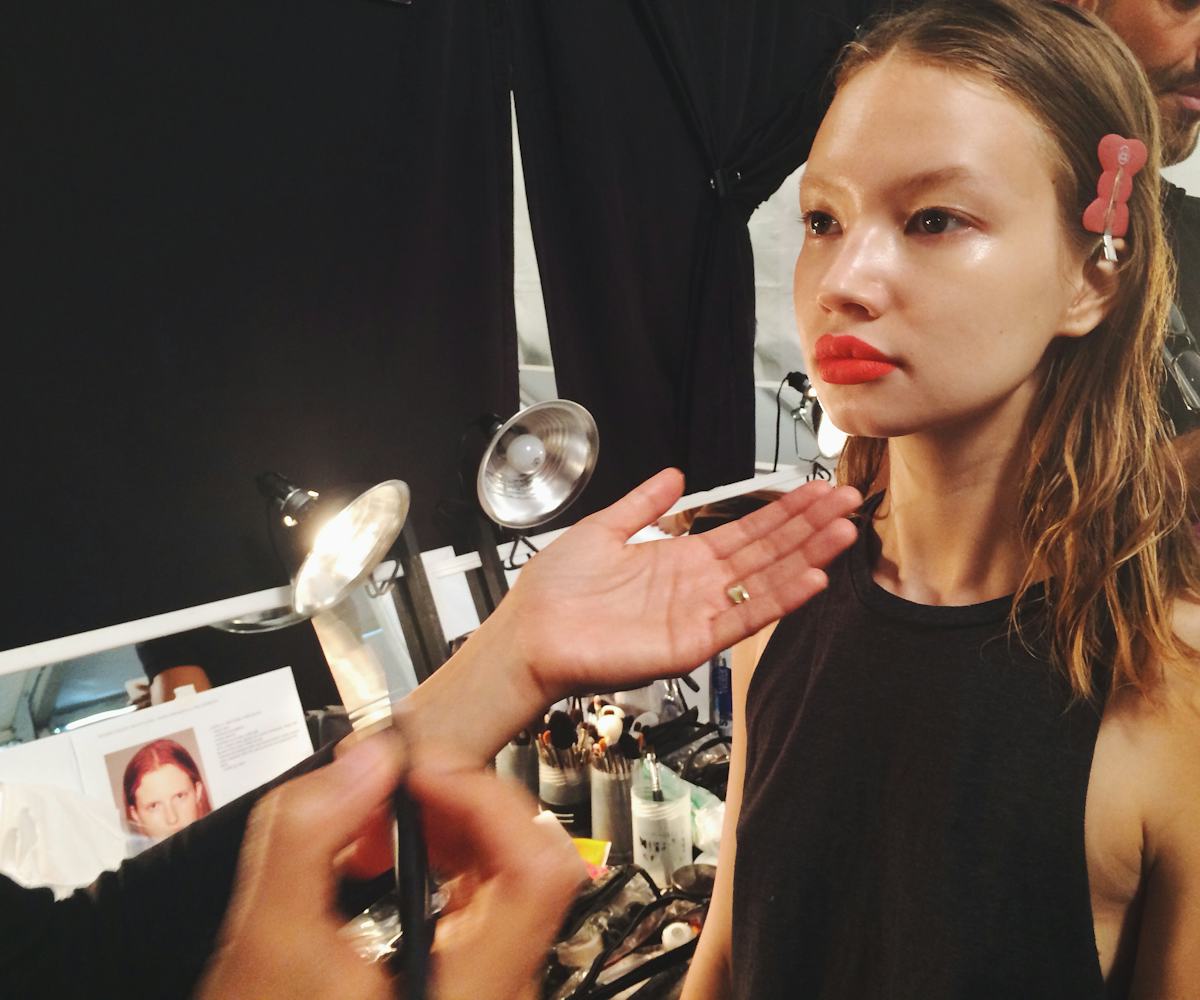 photo taken backstage at richard chai
#nylonfw: beauty masks backstage
As any model or makeup artist will tell you, the secret to a killer beauty look lies under the layers of foundation, concealer, bronzer, blush, mascara, and whathaveyous: It lies in the skin itself. So how exactly does one create a flawless look during the madness of Fashion Week—a time when models are so run-down, removing layers of suffocating while simultaneously scampering from castings to shows to parties on less than 3 hours of sleep? Well, master makeup artists have picked up a bevy of tips and tricks along the way, but there seems to be one clear go-to this season: face masks.
Inside Lincoln Center, SK-II provided editors and show go-ers with their amazing Facial Treatment Masks. But backstage, Dr. Jart+ prepped models for the Rag & Bone, Opening Ceremony, and Richard Chai runways in three easy steps. Here's how:
Dr. Jart+ Water Replenishment Mask (available in stores): This light cotton eco-friendly mask is soaked in an ultra hydrating, soothing serum of chamomile flower water, hyaluronic acid (a natural lubricant found in the body and skin), and witch hazel extract. "It's really good for those with rosacea and other redness issues," says Joy Fennell, lead makeup artist at Dr. Jart+. While those at home would use the mask for 15 to 20 minutes, the models backstage only used it for one to two minutes. "And even in that little bit of time you see a big difference in the models' skin because it helps calm down, it helps soothe, it helps to prep the skin for makeup, which is what you want to do anyways, because you don't want to just put makeup on dry skin. You want to prepare your canvas as much as possible before you put paint on it." After removing the mask, massage the excess serum into the skin, bringing it down into the neck area. Do not wipe off any remaining serum.
Ceramidin Liquid + Ceramidin Cream: This two-step process is filled with micro-encapsulated ceramides, powerful moisturizers that simultaneously soothe, smoothe, and soften skin. First, apply the Ceramidin Liquid, then follow with the Ceramidin Cream. Don't worry about reapplying any creams or moisturizers—this power duo has 20-hour moisture retention.