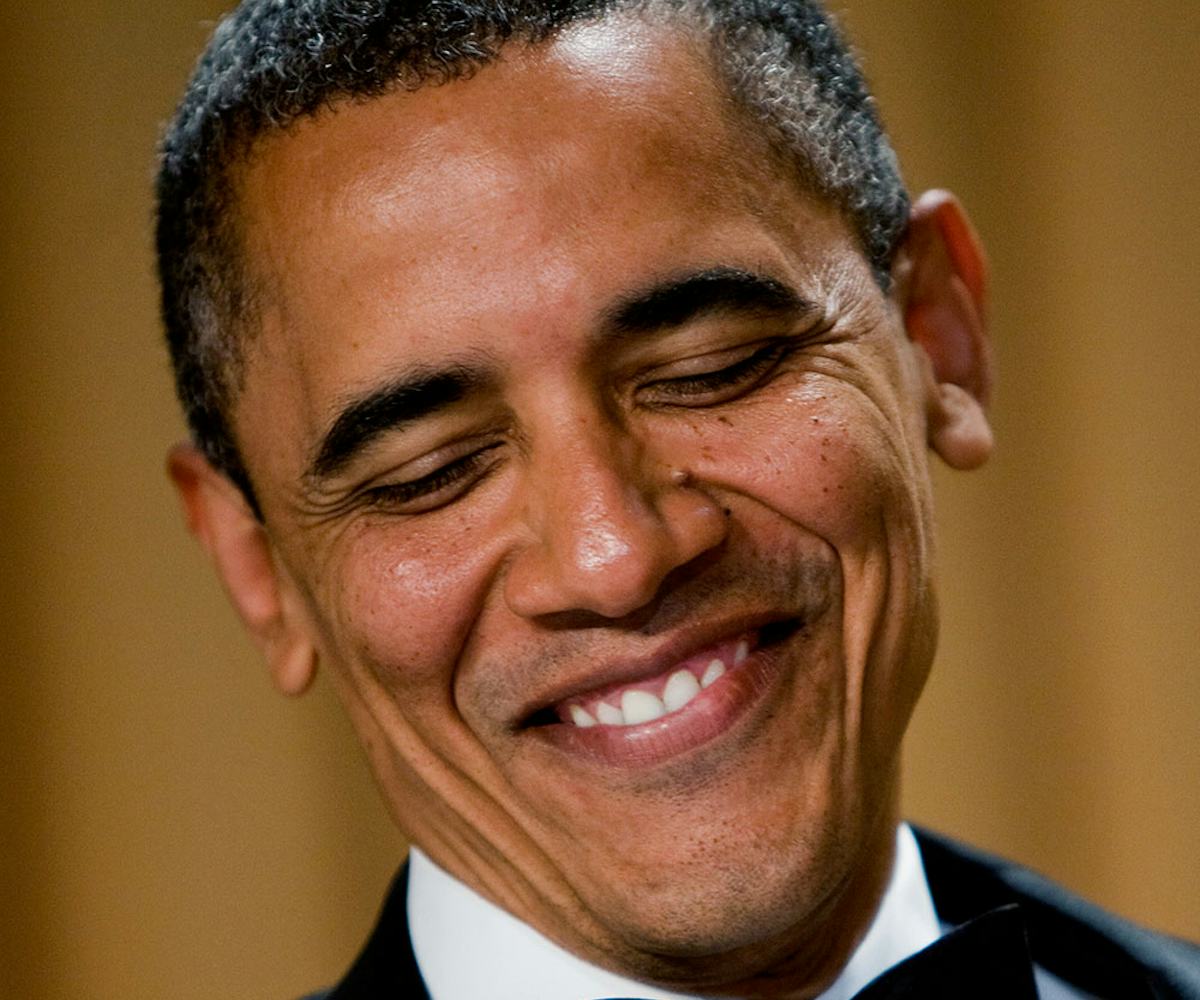 Photo via Pool / Getty Images
Happy Birthday Mr. President: A Look At The 10 Times Obama Was Peak Dad
It is no coincidence that the rise in internet popularity of the word "dad" has corresponded exactly with Barack Obama's presidency. And this despite the fact that Obama in no way is in possession of a dad bod. But so, when we use the word "dad" on the internet toward our friends, it's a term of endearment, one that's usually coupled with a slight exasperation; "dad" is recognition of someone who is not cool, but is still awesome; "dad" is someone who would maybe embarrass you in front of your friends by busting out into one of his patented "dad" dance moves, but is also the guy who you call for advice when everything in your life feels upside-down; "dad" is not Jimmy Cooper, "dad" is Sandy Cohen. But most of all: Dad is Barack Obama.
Here then, in honor of the President's birthday, are the best moments when Obama was dad.
When Obama Wore Mom Jeans:
There's no bigger "dad" move than wearing mom jeans.
When Obama high-fived Santa:
Nobody loves Santa the way "dad" loves Santa. And Obama, like, really, really loved this Santa.
"Don't boo; vote!":
Telling people to vote is a very "dad" thing to do. So is telling people to quiet down with their negativity. Dad! I mean, even just attending the Democratic National Convention is peak "dad." (As is having a daughter who would rather be partying that weekend at a music festival.)
Snacking on Seven Salted Almonds:
What's more "dad" than staying up late to take care of business after your whole family is asleep? Nothing, except, of course, when you're also using that time to snack on a spartan snack like precisely seven freaking salted almonds. Dad!
Joking about Only Eating Seven Salted Almonds:
The only thing more "dad" than eating only seven almonds a night is joking about eating only seven almonds a night. Dads love to mess with your heads because they know how uncool you think they are. Truth is, nobody could be that uncool. Dads love to fuck with you just a little bit. But then, they always can't help but still be a little "dad," like when Obama—after admitting he was playing with us—lightly admonished America: "You know, almonds are a good snack; I strongly recommend them." Dad!
Hanging Out with Anthony Bourdain:
Fact: Dads love Anthony Bourdain. Fact: Obama loves Anthony Bourdain. Fact: Obama is dad.
Hanging Out with Bear Grylls:
Please see "Hanging Out with Anthony Bourdain." Substitute "Bear Grylls" for "Anthony Bourdain." Same applies.
Loving the Hell Out of Little Kids:
Nothing makes dads happier than cute kids. They love 'em!
Embarrassing His Own Kids:
Dads love all kids. And they really love their kids. But that doesn't stop them from embarrassing the hell out of them. The best way to do that, of course, is by singing to them in public. Barack Obama knows this. And he does it. Dad!
Loving a Strong, Smart, Powerful Woman aka Mom:
Barack Obama loves lots of things—Santa, almonds, telling us to vote, Anthony Bourdain, mom jeans, embarrassing his kids, babies dressed up as the Pope—but he loves nothing as much as he loves his wife, Michelle. And that's why the tweet he sent the night she gave her speech at the Democratic National Convention was the most "dad" thing he's ever done. Because every real "dad" knows that, great as they are, they're even greater with the strength and wisdom of "mom." So when Barack Obama tweeted: "Incredible speech by an incredible woman. Couldn't be more proud & our country has been blessed to have her as FLOTUS. I love you, Michelle" it was hard not to squeal with pure delight the single word that most defines Obama: "Dad!"