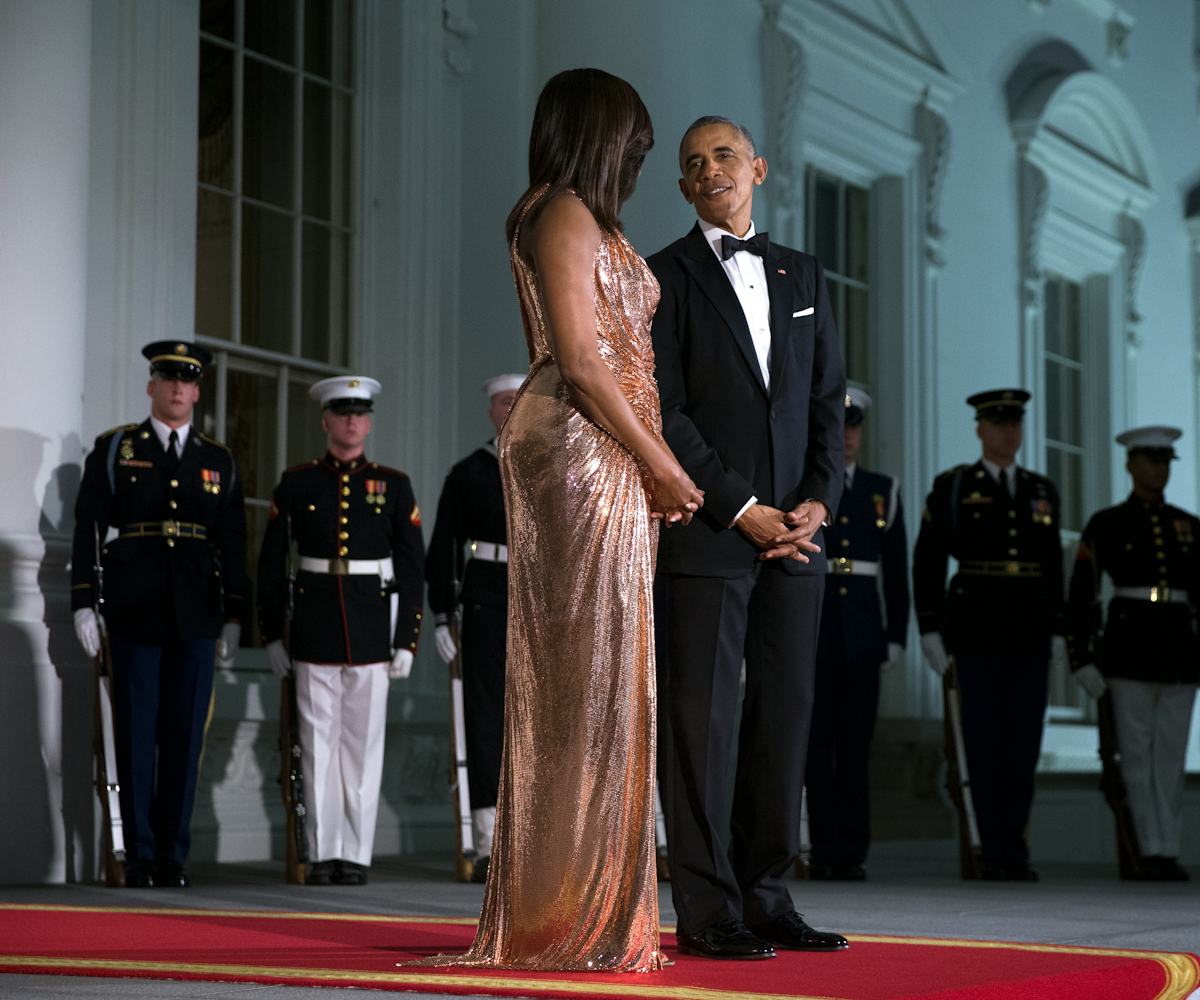 Photo by Pool / Getty Images
For Their Final State Dinner, The Obamas Went Out In Style
With some help from Frank Ocean and Chance the Rapper
Yesterday, for the last time ever, Barack and Michelle Obama hosted a state dinner, this one for Italian Prime Minister Matteo Renzi. These galas routinely represent the pinnacle of American glamour—particularly when the Obamas are involved—bringing together an eclectic mix of dignitaries and celebrities. In yet another sign that the Obama's are the coolest First Couple we've ever had, Frank Ocean made a rare appearance alongside his mother Katonya Breaux, who apparently didn't mind that her son wore checkered Vans to the event.
And because pics or it didn't happen, Breaux tweeted a photo of her place card and shouted out her son and the First Lady.
Chance the Rapper bolstered the Obamas' cool cred by showing up with his father Ken Williams-Bennett, who was Barack Obama's deputy assistant back in his Senate days. Chance tweeted about it, acknowledging the obvious: he wasn't wearing a hat.
The guest list also included Jerry Seinfeld, James Taylor, Roberto Benigni, and New York Governor Andrew Cuomo. Mario Batali, perhaps the country's most prominent Italian chef was on cooking duties, while Gwen Stefani and Blake Shelton provided the entertainment. But, as usual, the night belonged to Michelle Obama, who literally shone in an Atelier Versace gown that, as the New York Times points out, was made of rose gold chain mail. In what was her 14th and final state dinner after eight years, FLOTUS made one of her most potent fashion statements yet, (hopefully) leaving Bill Clinton with some pretty big shoes to fill.