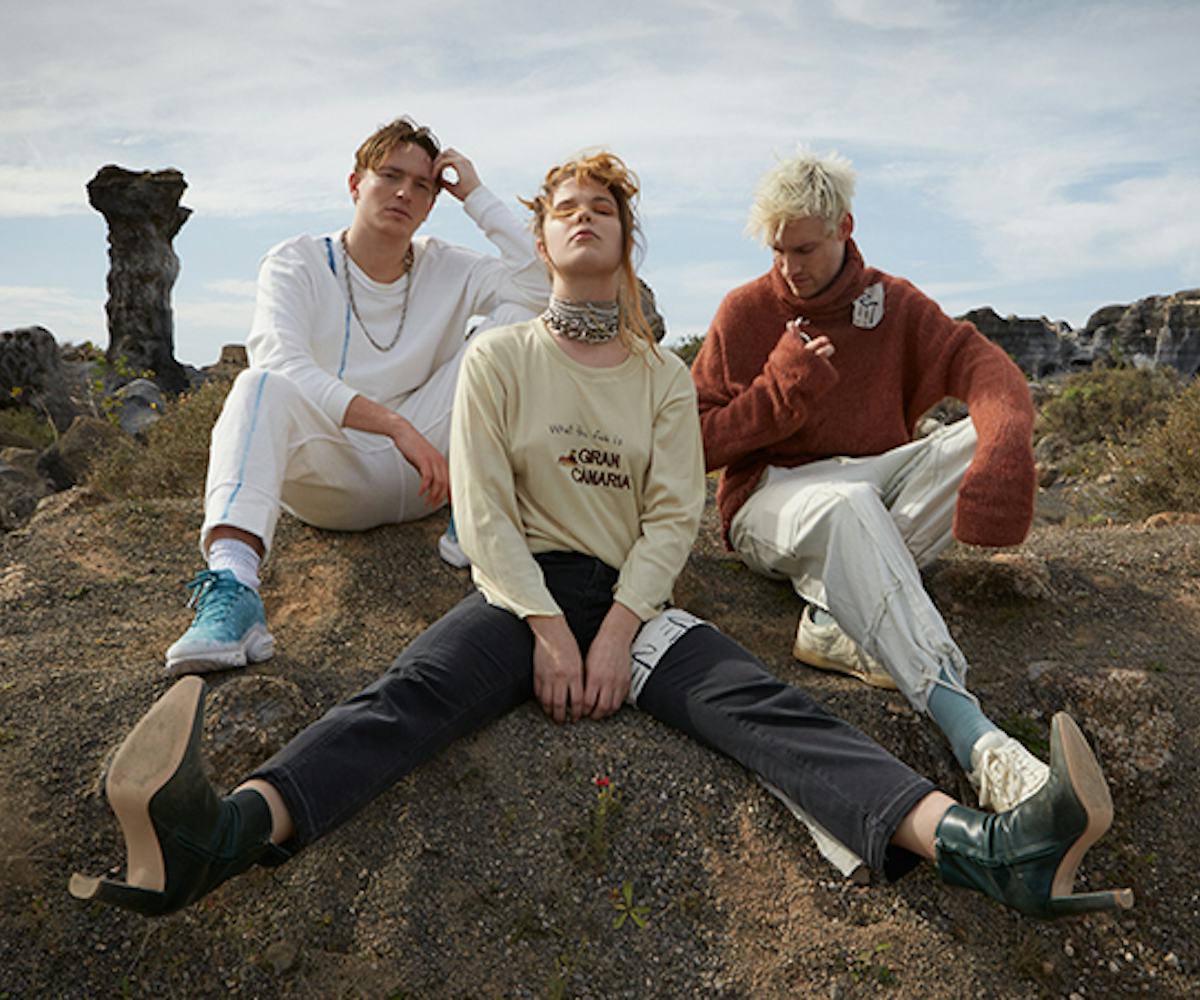 Courtesy
Get To Know Off Bloom, The Scandinavian Band Of The Future
Off Bloom wants to be the biggest band in the world. The Anglo-Danish trio—made up of Mette, Mads, and Alex—defy genre. They turn noise into melody, and melody into extraordinarily unexpected productions. From their 2016 Love To Hate It EP to a trio of singles released this year that lead up to their new EP, Lover Like Me (out October 20 via Capitol Records), these unfiltered, party hardy youths are the future. They've created something tremendously special and are running with it, stopping for no one but themselves along the way. But don't be intimidated by their outspokenness; they're just happy you're here for the ride. Ahead, get to know them.
What are you most proud of so far in terms of your career?
Right now it's the collab we did with Hudson Mohawke, our new sick tune "Rockefe11a (fuck that to be honest)."
What famous person dead or living do most wish you could have as a roommate?
Alex: David Guetta.  
Mette: Janis Joplin.
Mads: John Lennon.
What is your favorite driving music?
David Guetta.
Whose career would you most like to emulate?
The Beatles.
What's your favorite place to write music?
At home.
Describe your aesthetic in three words.
Energy, ugly, honest.
If you had to wear one thing for the rest of your life, what would it be, and why?
Mette just bought a new feather accessory-thing to wear on your head; we all love that.
Do you have any pre-show superstitions?
Yes. We have a lot of rituals: hugging, walking around in circles and yelling, and then, of course, just peeing constantly.
If you had to live in a past time, what do you think would be the most fun era?
The '60s and '70s.
What activities do most enjoy doing alone?
Masturbating.
When are you most relaxed?
When we are hanging out with our friends.
What was the last great thing you all read?
Haven't had much time to read lately, but [we are] reading a book about Danish astrologist Tycho Brahe at the moment.
What kind of person were you guys in high school?
Mette was the clever one. Mads was the naughty one. Alex was the pretty one.
Can you tell me a quality about yourself that you are genuinely proud of?Persistency.
Do you have any phobias?
Lots, but snakes on planes.
What's a side of you that people are unlikely to know about? 
We all agree that we are nothing without our friends. The people around us enable us to do what we do. We are surrounded by so many geniuses musically—fx Vera, Vasco, Goss, Liss, Soleima, School of X, Two Inch Punch, George Reid, What So Not, and many more—that we try to learn from and be as good as always. This goes for our friends we make music with, but also those who study philosophy, economics, acting, or all sorts of other stuff.
What are some new hobbies you would like to take on?
As we just moved to London, because we got an opportunity to share a studio with one of our friends in Damon Albarn's studio, we decided we want to start fresh and go swimming in the morning before we go to the studio. That is gonna be a sick way of starting the day!
What's your next project?
We are working all the time, so we have loads of new projects coming up, but finishing a lot of sick new music we will be releasing in the new year is the first thing.
Where do you hope to be professionally in five years?
The biggest band in the world.
If there was one phrase that best sums up your approach to life, what might it be?
Honesty and self-loathing.