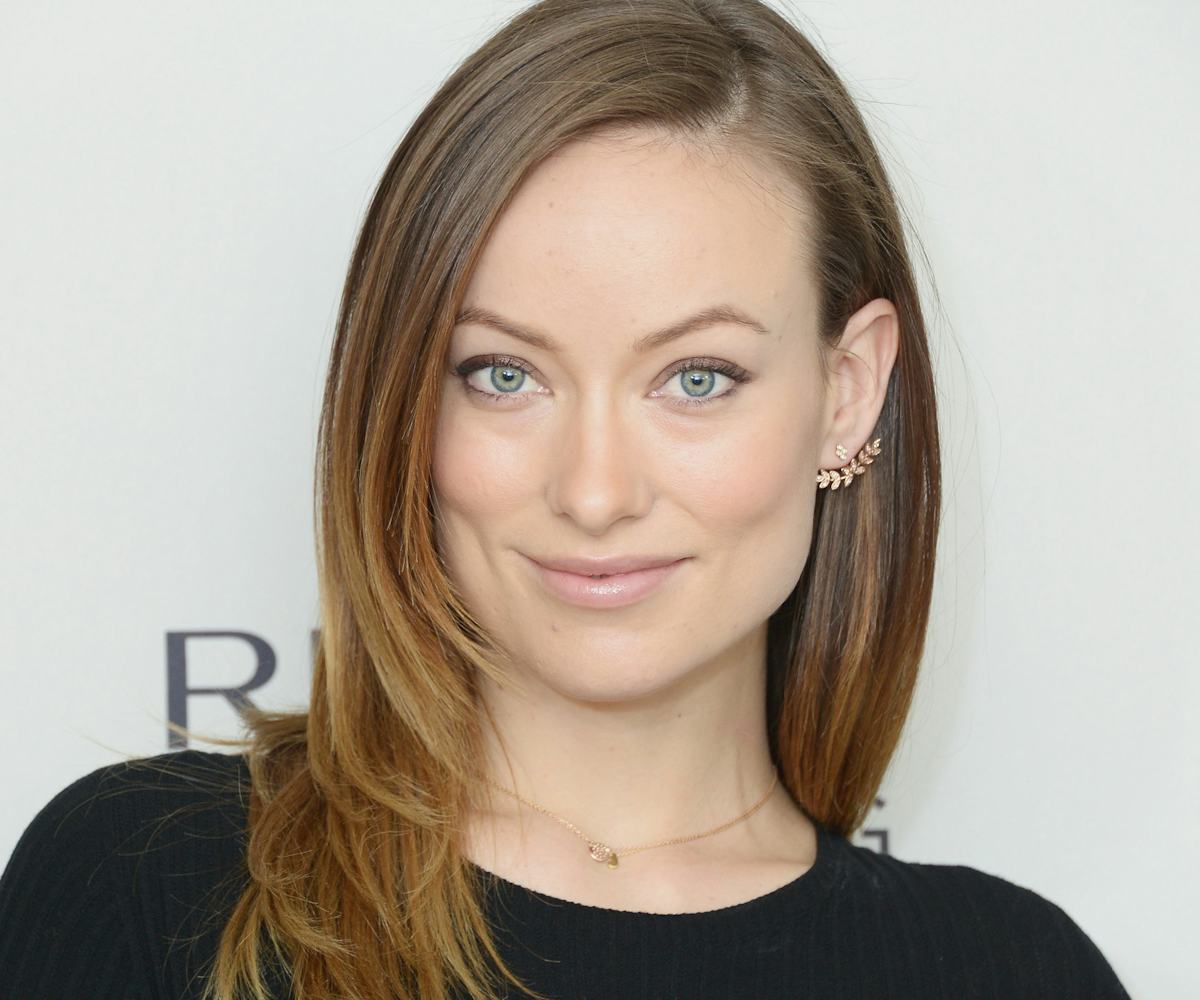 photo by getty images
get pretty with olivia wilde
we got the scoop on her beauty routine.
When I told my friends that I was going to an interview with Olivia WIlde, the general reaction was something like, "Ahhhhhhh!" That's because Wilde is not only pretty and a great actress, but also has the most down-to-earth vibe (which you can learn from her Twitter and Instagram feeds and this awesome Reddit AMA)--she's the kind of girl you want to be your best friend, immediately. And after meeting her and having her talk me through a new line of Revlon Age Defying products, I can say that she is 100-percent BFF material. 
With a group of beauty editors I got to grill Wilde on how she stays so pretty all the time, and try to squeeze in a couple questions about Her, Wilde's upcoming film directed by Spike Jonze. So read on to find out her beauty must-haves and why she couldn't resist a little screen time with Joaquin Phoenix. 
If you were running out the door and could only put on one beauty product, what would it be?
Probably mascara. I think if I was running out, and I needed one thing it would be mascara, or concealer. But sometimes you feel like, "I don't need concealer. I'm amazing!" [laughs] My boyfriend was watching me put on mascara, and he was like, "That's all it takes, huh?" I mean it's been a little while now, but I dyed my eyelashes and it's so nice because you wash your face and look up and you're like, 'It's like I already have mascara!' Then secondly an eyebrow pencil. I'm pretty into eyebrow pencil. Just because I have no eyebrows so I fill them in quite a lot. Then, I guess, a concealer. What's great about this product [Revlon's New CC Cream] is the SPF 30 that's in it, which is obviously double what most products have. It's great that you have something that's light, covers, moisturizes, and has the SPF. I like something that's one thing, good to go because I'm always waking up late, needing to run, and I like simplicity.
Which of the new Revlon products would you say is your favorite?
Probably this one [the CC Cream]. The concealer is great, too. I just think that if you had to pick one, [the CC Cream] is a good one to go with.
What are some tips or tricks you've learned on set from makeup artists?
To use the Beauty Blender Sponge for applying makeup and to dampen it first so that it doesn't soak up all of the makeup. It blends better and it gives you kind of a dewiness. That's a good one. Another one is tea bags for puffiness. I always get bags under my eyes and like a black tea bag. That was new to me and it was helpful. Something I was just talking about that I think is a cool trick I haven't seen many makeup artists do is--Gucci Westman does this--she adds freckles. Because when you put on foundation you lose some of that natural look so the freckles can make it look like you're not wearing anything which is nice. She uses the Revlon Colorstay Brow Pencil because you don't want your freckles to smudge. Not a good look. 
Do you have a beauty resolution for 2014?
Always, every year I'm like, "Just never leave the house without SPF." That's the one we're supposed to remember to put it on our hands too. None of us want old hands or old neck so that's one. And then another one: I feel like as I've gotten older, using less and less and less has been the pattern. I think part of maturing is you learn how you really look, and embrace that instead of always trying to adjust how you look. So [it's about using] less foundation, and just using what you need as opposed to slathering on makeup. When in doubt look to the French. They're so chic, they're so simple, and they use such minimal makeup. And obviously in fashion as well. I love how French girls always look completely effortless. They'll wear some awesome lipstick and that's it. I don't use a whole lot of makeup now, but just knowing what works for you and sticking to that.
What was it like to shoot Her and work with Spike Jonze and Joaquin Phoenix?
It is a love story told in the near future world. It's probably the most modern love story I've read. It's about loneliness and about our relationship to technology. Spike Jonze, who directed it, is one of the greatest visionaries out there, from when he was doing skate videos to music videos to commercials to this. I think, as an actor, you want to work with people who have a really interesting vision and have an interesting eye. Everybody on that film from the production designer, K.K. Barrett, Casey Storm who did the clothing... Hoyte Van Hoytema is the name of the director of photography who's a total genius. It was a group of people I really wanted to work with and a story I really wanted to help tell. I think an important story and a really beautiful love story. And we shot that in Shanghai, so it was really really fun.