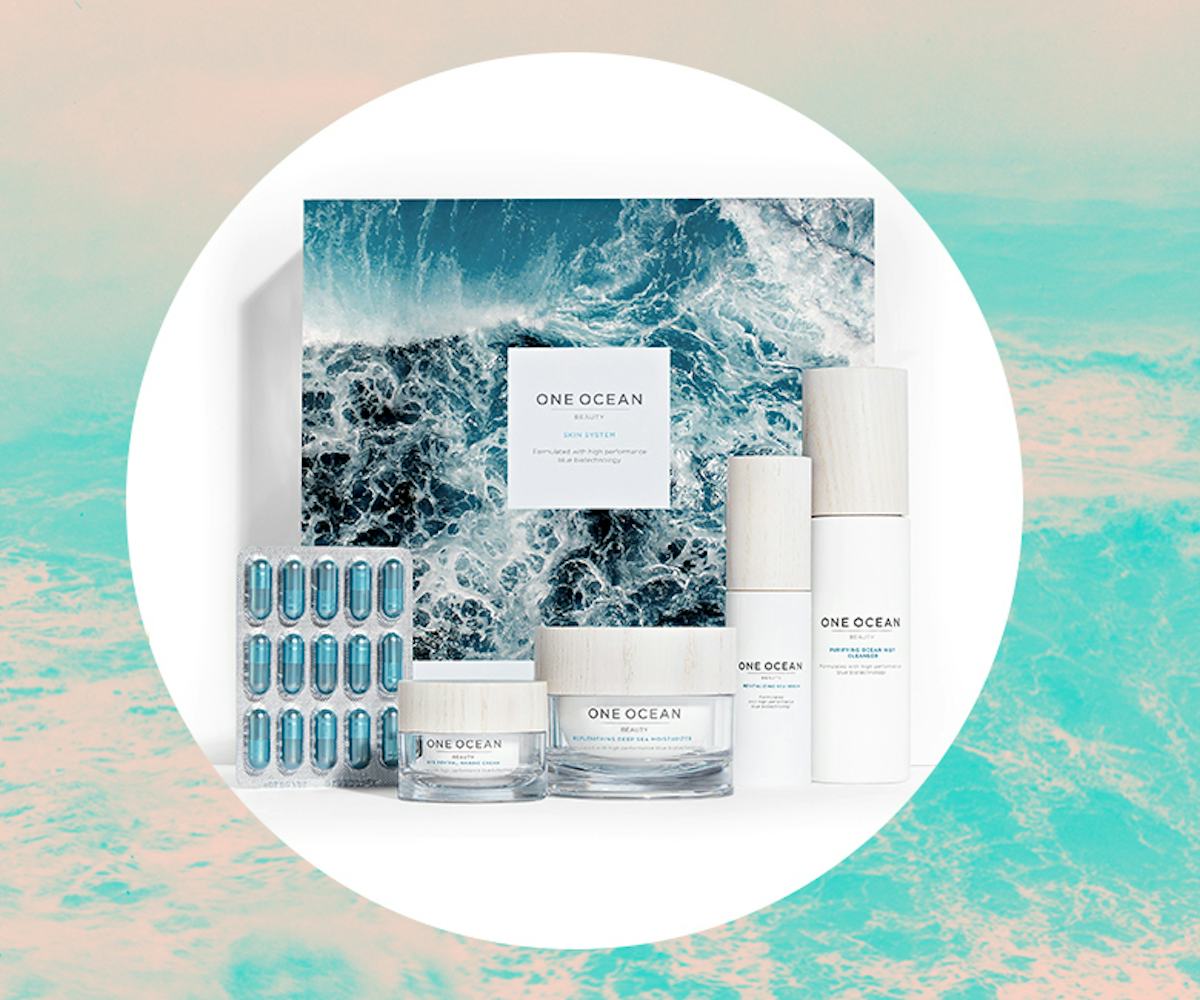 Photo courtesy of One Ocean Beauty
This Clean Skin-Care Brand Is On A Mission To Save The Ocean
One Ocean Beauty puts our planet's oceans—and clean ingredients—first
If there's one trend in the beauty industry that we can wholeheartedly get behind, it's beauty brands working toward a more clean and sustainable existence, creating as little as possible of an impact on the planet. But when a brand goes out of its way to have not just a neutral but a positive impact on the planet, that's when it's really worth taking note.
That's where One Ocean Beauty comes in. The new clean and sustainable beauty brand, that's on a mission to clean our oceans, works hand-in-hand with nonprofit Oceana, one of the world's largest ocean conservation groups, and has been supporting its projects before the first product was even formulated.
Founder Marcella Cacci created One Ocean Beauty around the idea of raising awareness. "We started speaking with Oceana before we even formed the company," she says. "Committing to creating awareness around the crisis of the oceans was one of the key inspirations for the company. We chose Oceana as they are not only the largest global organization protecting the oceans, but are science-led, cause-oriented, and effect real change."
Launching One Ocean Beauty as a start-up, Cacci knew that the percentage of sales/profit model wasn't going to amount to enough to be truly meaningful. "This led me to rethink corporate philanthropy model in general," she says. "We believe that donations should be looked at as long-term and be built into the company's operating structure." That's why Cacci and her brand signed an agreement with Oceana to donate $250,000 before it even officially launched.
Cacci hopes that her decision will encourage other brands—especially big corporations—to rethink the way they go about philanthropy and their contribution models. "We not only donate to Oceana, but we partner with them on many different levels, creating awareness around their campaigns through our website, social media, and events."
Of course, the products are jam-packed with good-for-you ingredients rooted in the ocean, too. Launching this past July, the line currently consists of five essential products: a cleanser, a serum, a moisturizer, an eye cream, and a marine collagen supplement. Each product is formulated with marine microorganisms and single cells that are sourced from the world's oceans but never extracted or harvested. Working with one of the top blue biotechnology labs in Europe, these ingredients are all produced sustainably in a lab.
Each product is formulated with clean ingredients, meaning they're all free of GMOs, parabens, sulfates, phthalates, PEGs, EDTAs, nanoparticles, mineral oil, and synthetic fragrance. Packaging is also 100 percent recyclable.
Creating these formulations was no easy feat. In the earlier stages of the development, Cacci actually found that it was hard to have a lab agree to creating a clean formulation—which is what makes finding a brand that's truly clean so hard to come across. "The 'dirty ingredients' are the ones that give formulations their consistency, color, fragrance, long shelf life, etc., so this request was taking away many of the components that are regularly used," she says. "It took us two years and a tedious trial-and-error process to substitute out those ingredients—it was very important to us that the formulations were truly clean."
Of course, "clean" in the beauty industry isn't the easiest concept to define. But Cacci has her brand follow Credo Beauty's dirty list, which follows very strict guidelines. "Clean beauty is more than a trend, it's a health issue," she says. "There are over 1,400 ingredients that are banned in the EU that are legal in the U.S. This, to me, is very problematic. I think many brands are not so transparent for these reasons, and others claim to be clean by removing select ingredients, but still contain many which are known to be harmful."
Cacci plans to expand her brand—not only by launching new products but also by continuously working to keep oceans clean. In the future, we can expect products in the body care and sun care categories, as well as new supplement launches. But, most importantly, we'll be seeing more work with Oceana to clean our oceans.
Check out the brand's current offerings and learn more about how to save the ocean at OneOceanBeauty.com.