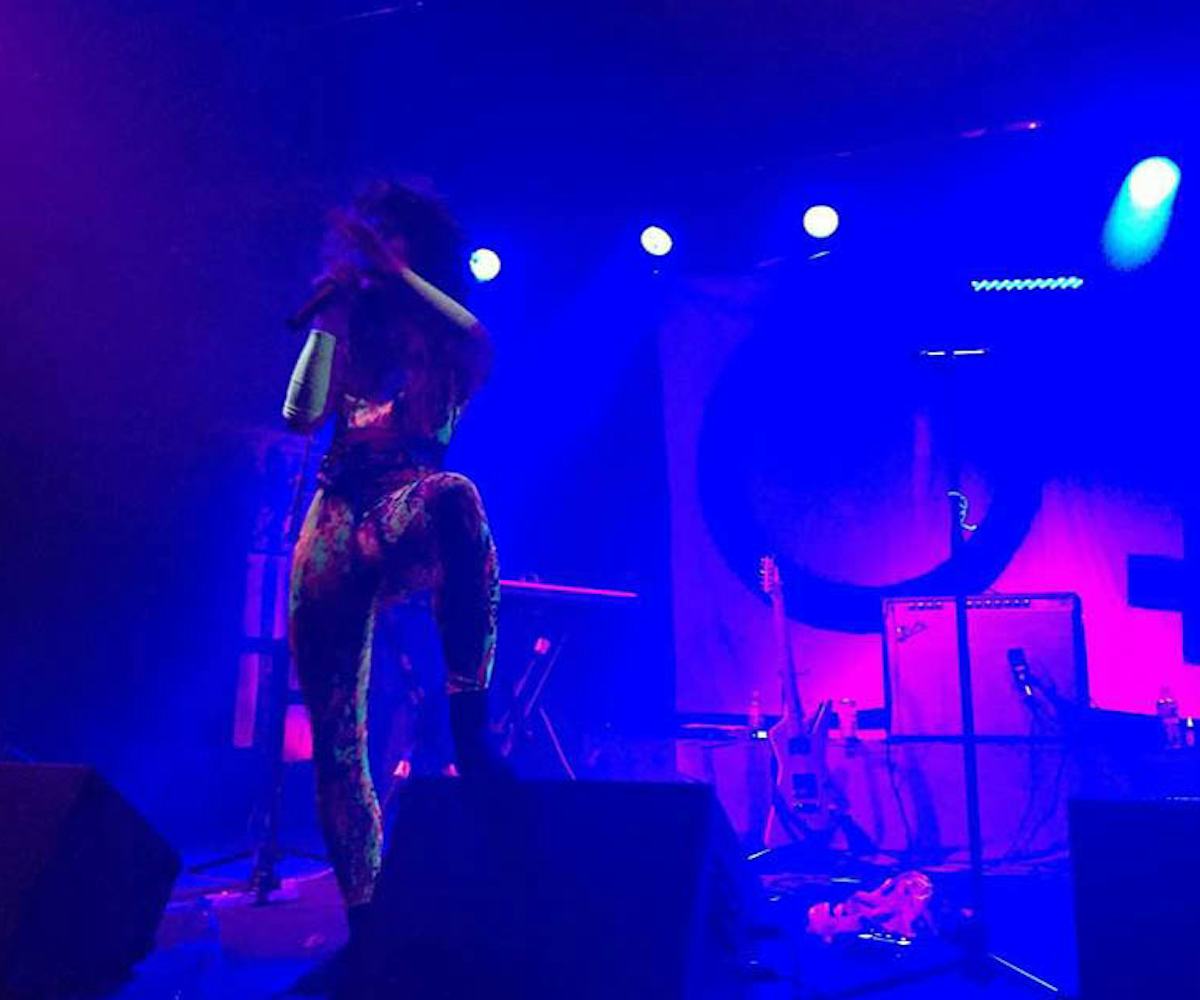 Image via @opositivefest / Facebook
Art And Medicine Come Together At O+ Festival
"Apply pressure and elevate"
A few months back, a friend of a friend commented on Instagram asking if I'd be in their art piece at a festival. Anna Laura Hafner and I had never met, but we'd been following each other online for a couple years. Anna's piece, titled The Divine Feminine, was a musical performance art piece doubling as a figure drawing experience. I checked the dates of the festival to make sure the performance aligned with my school schedule, and I signed on to perform.
My favorite aspect of the art world is the community it inspires. All walks of life are involved with art, from musicians to fashion designers, from painters to performance artists, and in the case of O+ Festival, held in Kingston, New York, even medical professionals. As if my interest in meeting an internet friend IRL wasn't enough, the festival's mission sealed the deal.
As they declare on their website: "By exchanging the art of medicine for the medicine of art, O+ empowers communities to take control of their collection well-being." The ticket price to attend the festival is pay what you can, making accessibility a key point. On top of receiving free wristbands in exchange for their work, participating artists also get to attend the health clinic, full of both food and medical providers.
I'm privileged to have health insurance through my school, but many artists aren't so fortunate. Every artist was able to attend the clinic, get a checkup from a nurse, and attend three other health practices at the festival. Options ranged from dentistry to podiatry to homeopathy to chiropractics. I decided to meet with providers that I knew my insurance wouldn't cover if I sought their expertise outside of the festival, and took advantage of everything from getting a massage to a reiki treatment and a consultation with an ayurvedic nutritionist. I also spoke with several nurses about recurring medical problems, and my concerns were met with validating responses rather than the typical brush off I've received at other practices. It was the least expensive art and medical experience I've attended, and the most rewarding.
Inspired by the festival and the participating artists, I interviewed Hafner on her work and involvement with O+. Click through the gallery below to read on.
What prompted you to get involved with O+?
I first got involved with O+ two years ago because it was a local festival, which sounded nice to me. It was still in its early stages, and I was like, 'Maybe I'll get into this. Maybe it'll work.' And it did! I presented a costumed performance piece, where I dressed up everyone as spirit animals or monsters. We all paraded around the street, randomly running into people. After that, I kept reapplying. It was really fun this time around, but definitely different.
Can you explain what your concept was this year?
For this year's festival, I wanted to do something that was shorter, and specifically wanted to have women, or people who identified as female, present. At the very least I wanted someone that desired to experience their own power and express themselves. I wanted to meet these people and costume them, and turn them into 'color power beings,' creating a healing color ritual with people and having a safe expression of the feminine creative power.
What about the music aspect?
I really wanted to add another layer of experience—another element—and I met some musicians in the community who I thought would be great to work with. Music is so powerful, and also really healing, and that's what I wanted this experience to be. So, overall, this was a healing performance, ritual of color, and a symbol of taking back power over the female form.
My friends Molly Riddle and MK Burnell both have really beautiful and powerful voices and I wanted to hear what they could do. We've been performing together now for a couple of years, and they've always been involved with my projects. I wanted to try a different take with them, so we had other musicians, Eli Winograd and Jeff Wrightson, to add more layers, and created this nice dynamic. It was totally an experiment.
We met on Instagram. How did you find your other participants?
I came across your Instagram and thought you seemed like a very interesting person who is very progressive with gender and just another presence who we could all learn from. I found others in the group that same way. I also just reached out to the local queer and punk scenes, and also into my own group of friends, and even into the theatre group I'm involved with. Right now, I'd like to try to reach other communities, and people that I really don't know at all, and have them engage and create a similar experience to find their own power to feel beautiful.
Do you typically collaborate with others on your work?
Not on the physical work—like the costumes or the backdrop—those I make all myself. However, for performances, yes I do, and now I want to add musicians to my repertoire. I think there's power in numbers. It's great to be on your own, but there's something to be said for the collective happening and people working together and the magic that it brings.
Are there any people you haven't collaborated with yet that you'd really want to work with?
Oh my god, of course! I'm sure I've never even met them! But I honestly follow so many strange, interesting, wonderful, creative, queer, feminist, and trans people on Instagram who are so inspiring. I love Mykki Blanco. I love Betty Grumble. There's a whole bunch of interesting people from Melbourne—all these interesting performance artists and kids and queer models who just have a beautiful aesthetic.