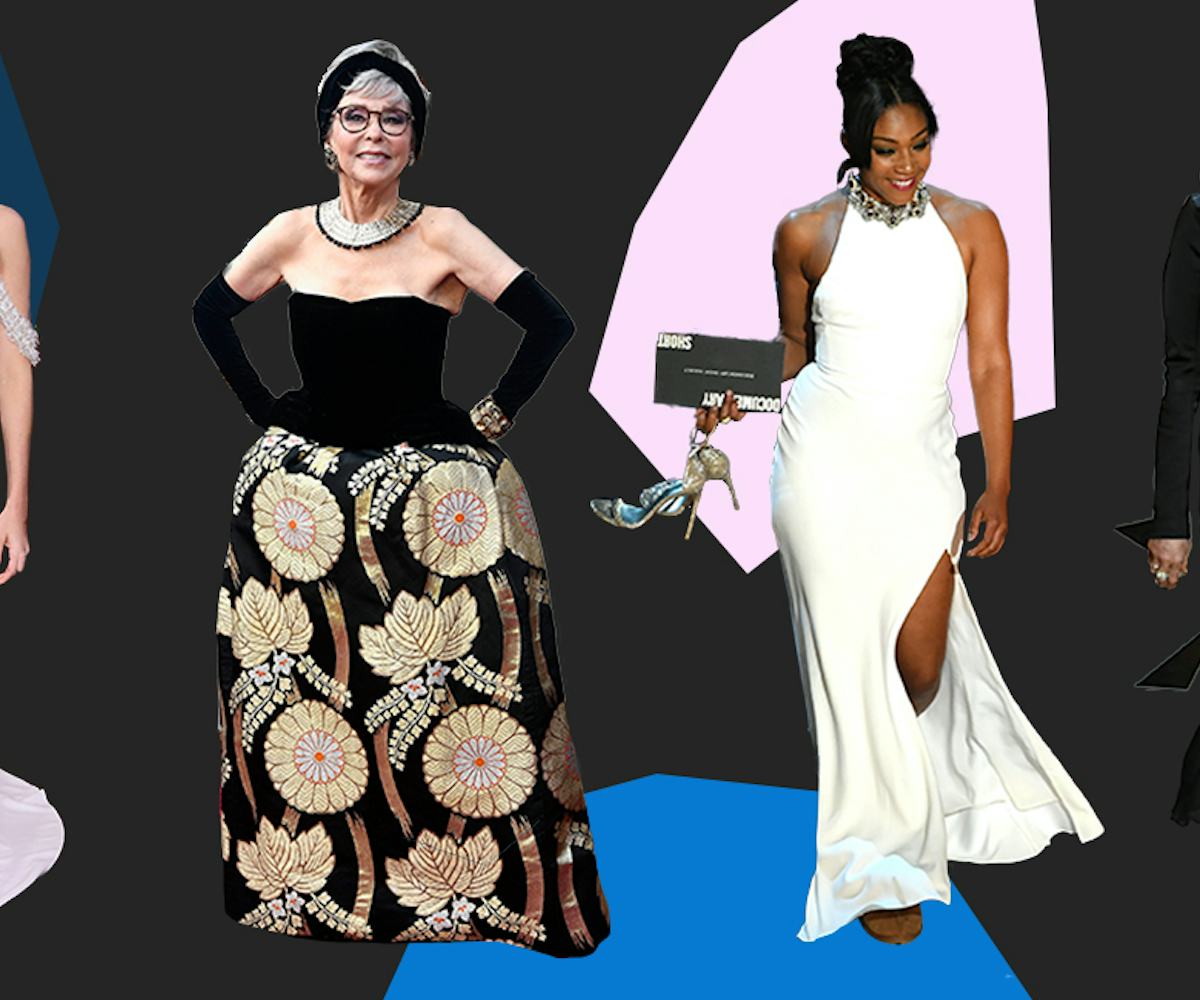 The Oscar Dresses With The Most Interesting Backstories
Tiffany Haddish wasn't the only repeat-wearer
Recycling was an unexpected fashion theme of last night's Academy Awards.
Tiffany Haddish wasn't kidding when she announced back in November that she would be re-wearing the white dress she donned during her monologue on SNL. "This dress costs way more than my mortgage," she said. "This is an Alexander McQueen, okay? It's a $4,000 dress!" And, she's truly working to get her money's worth. The actress first wore it during the Girl's Trip red carpet last year, then during the aforementioned SNL appearance, and again last night while presenting (she also wore a red carpet dress to honor her late father and fellow Eritreans). She's a woman of her word! But she wasn't the only repeat-wearer of the night. 
Rita Moreno walked the red carpet in the same black-and-gold gown she wore to the 1962 Oscars, back when she won Best Supporting Actress award for her role in West Side Story. "I would think it would tarnish," the actress told Ryan Seacrest. It didn't! Though she did alter it a bit, by making it strapless and adding a necklace and headband. Meanwhile, Faye Dunaway arrived in the same dress as last year to stand on the same stage where her and Warren Beatty famously flubbed the Best Picture winner. 
Margot Robbie didn't wear the same dress twice, but her custom-made Chanel gown did take more than 600 hours and 14 people to make. 
We're here for more interesting gown backstories and more repetition on the red carpet (we should really work on being more resourceful with our clothes). As Haddish said in her SNL monologue: You should be able to wear what you want, when you want, and however many times you want… as long as you Febreze it.